The traffic and income report for March is pretty similar to February; not much new to report. It's officially been 2 years since I start blogging but less than that since moving to a self-hosted site (so I don't totally count it as the anniversary). While I'm still only making pocket change from the blog it's for good reason. After reading a lot about the dangers of including backlinks to a blog post and accepting links for money I've stopped for the most part accepting this kind of payment. Sadly this was how I was making most of my money so obviously that has been affecting the outcome of the reports.
That being said, we continue to see great traction from Booking.com and Airbnb as affiliate sites. However, because it takes so long to actually get the money (they don't release payment until a trip is actually taken) a lot of the money we are making now we won't actually get to see until September or October. This month we had over 150 Euros in bookings for the  so I'm hoping the monthly traffic and income reports will start to get a lot better!
Because February was a shorter month, the numbers aren't going to be as good – too much to fit in, in too little amount of time!
Being a part-time blogger the to-do list for the blog is never ending, and most of the time I feel like it doesn't move anywhere at all! Either way, here are the laundry list of things I need to / want to work on for the blog (if I ever do find the time).
Continue to increase affiliate links placed throughout the site
Look at alternative advertising companies besides Google AdSense *did this but need to spend some time setting this up
Increase my outreach to work with companies
Have more guests post on the blog and write more guest posts for other blogs

Fix the image caching issue with Facebook, Twitter and Bloglovin

*I finally did this!!!!!!!!!!!!!!!! After what, like 7 months of this being on the to do list, it's finally done. Seriously can't wait to remove this from the post next month.
Monthly Income Report for March
All of the money that I've made on this blog is converted to USD*
Copypress – $0 (-$68)
Sponsored Posts – $0 (-$100)
Google AdSense – $38.53 (+$3.30)
Amazon Affiliate
– $4.42 ($+3.39)
Bluehost Affiliate – $0
Booking.com Affiliate – $0 (-$5.94)
Themeforest – $0
Airbnb – $120.00 (+$120)
Hotwire – $0 (-$13.52)
Made: $162.95 (+$120.75)
Expenses
All expenses are priced out in USD*
Facebook advertising: $0
Total: $120.75 (+$120.75)
---
Traffic Report
The traffic and income report for March saw an increase over February in many aspects. While having an extra 3 days in the month of March did help, overall traffic was looking good for March. While sessions and users are important I think the stats we are looking to increase over everything is Pageviews, pages per session and the average session duration. This shows us how well the actual content on the website is doing even if the traffic numbers aren't necessarily there.
After getting the social sharing images fixed, I have spent quite a bit of time making sure that Twitter is scheduled and that has helped for a little bit of pick up here and there. At the end of the day every little bit counts! I'm hoping that April will see a bigger pick up now that the Bloglovin images are working and it's far easier for people to share content.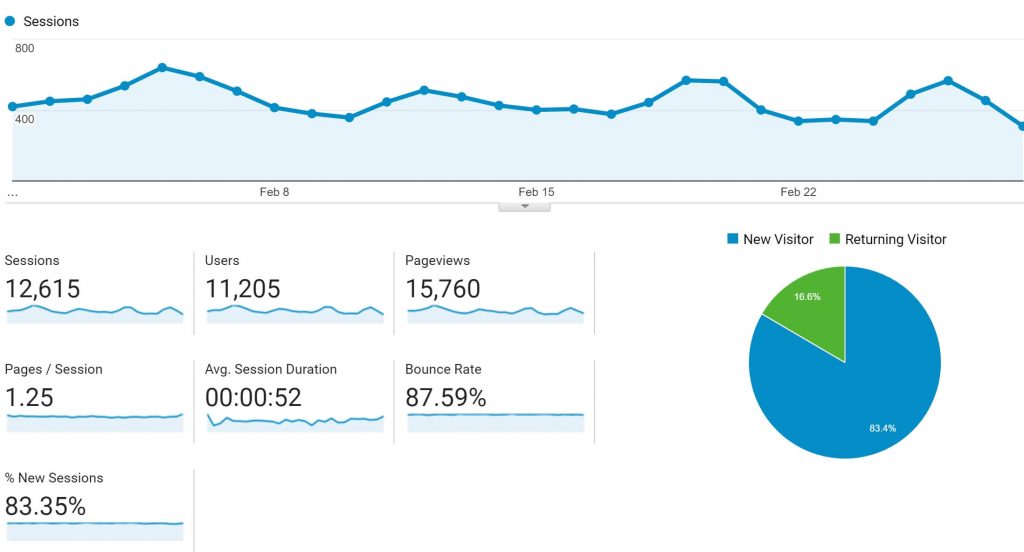 My Biggest Takeaway in March
I think the biggest takeaway is that sometimes you just need to pay money and find the right people to get what you need done. This month as mentioned I fixed the social sharing buttons. Apparently it was something super simple but I needed an expert to go in and look at my website from the backend. At the end of the day it only ended up costing me $5USD which is nothing and was 10000000000000% worth it. From now on when I need something done, I'm just going to find an expert to help me instead of wasting time trying to do it myself!
Top 3 Posts Published
How to see the best of Bali in two weeks: I love this post because it's one of my favourite destinations. It was, and remains the first time I've ever traveled to Asia and it was such a life changing experience. I also loved this post because as I always say, it's possible to see as much of a country as you're willing to try to see!
Why I won't quit my job, sell all of my things and travel: I'm not surprised this one did well actually, although I was hoping it would. Most people can't afford the luxury of going on a worldwide adventure by leaving their life at home. This blog was intended for the people who can't do just that, or don't want to. I'm just happy this post got the attention I was hoping it would.
18 UNESCO World Heritage Sites in Canada: I loved writing this post because it taught me a lot about my own country at the same time I was teaching others. There are so many more Heritage Sites in this beautiful country than I thought there were, the problem is – where am I going to find the time to see them all!
What successes did you have last month or in your income report for March?