It seems like forever ago now that I traveled to and saw Bali in two weeks. It was 2014 to be exact. I remember thinking about how incredibly long the flights were going to feel. I had never been on a flight longer than 7 hours. Yet there I was looking into the face of a 23 hour travel itinerary. Alone to boot.
I had never traveled alone. Heck, I could count on probably one hand how many times I had traveled out of the country and without my parents. Looking back I give myself kudos for that. It's not some huge feat and many people do it but for me it was a big stepping stone.
As you are reading this, you may be thinking to yourself why would anyone want to go and see Bali in two weeks? I think that now to be honest. The flights were long and expensive. The jetlag was terrible going and coming home. Honestly though? I would do it all again.
Indonesia is one of the most beautiful countries in the world, and certainly high on my list of places I've seen. It's also relatively cheap to travel around so if you're on a budget it's a great option. What you may spend in flights up front, you'll definitely save upon arrival. I remember staying in a beautiful hotel in Ubud thinking, how can I even be affording this right now?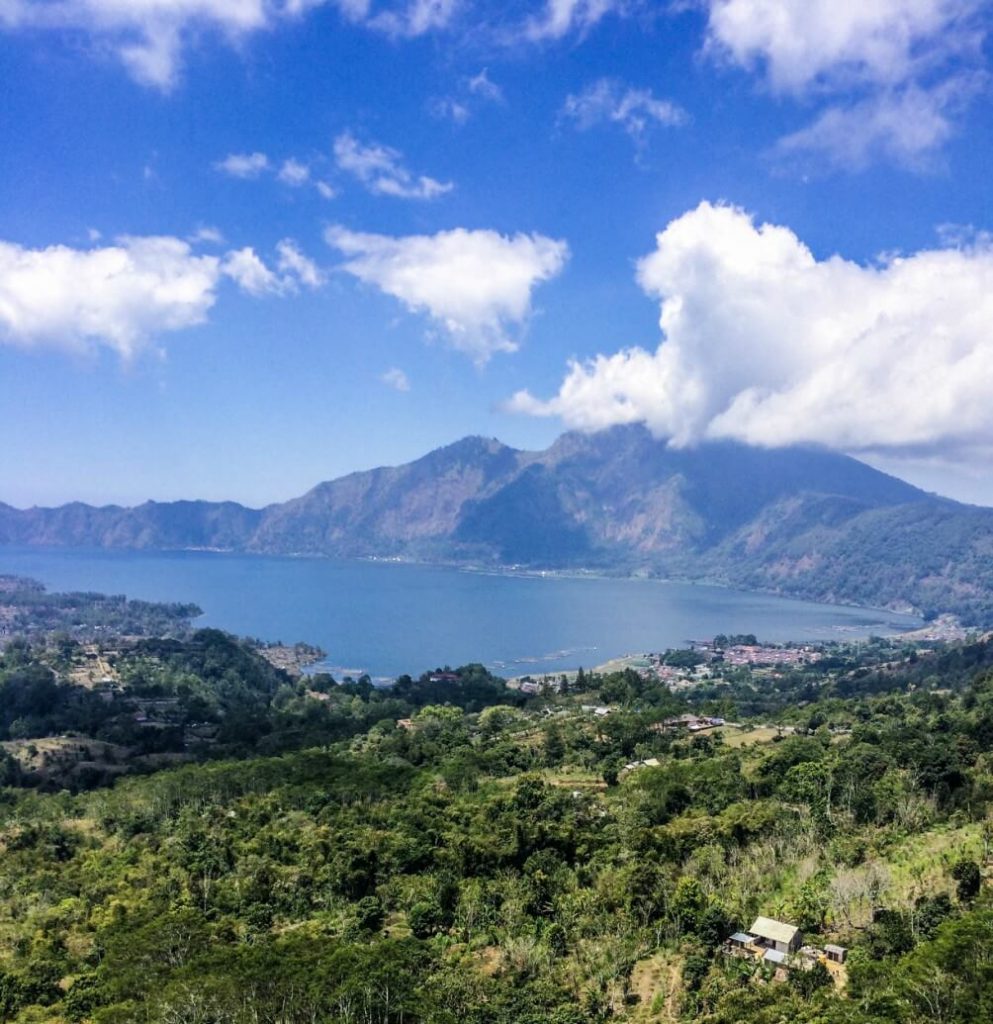 Getting There
Obviously the trip from Toronto wasn't an easy one. The cheapest, and best flights that I found were from Toronto to Hong Kong to Denpensar (Bali). On the way home I traveled from Denpensar to Tokyo to Toronto. Luckily it worked out that I had an 18 hour layover in Hong Kong on my way to Bali. I couldn't have planned this better myself. After such a long first flight I was so grateful for the chance to get off, stretch my legs and do a bit of sightseeing.
I booked myself into the airport hotel in Hong Kong (absolutely gorgeous and a bit out of my price range at the time). This left me the room to venture into the city, walk around a bit, and find my way back to the hotel. I didn't want to be travelling too far in the morning especially when I wasn't sure what state of jetlag I would be in.
When travelling long distances I would always suggest you take advantage of layovers for more reasons than one. Besides the obvious of giving yourself a break, it's also a great chance to see a destination you may not have otherwise. Obviously I wasn't able to see everything Hong Kong had to offer. I was however able to get a great sense of the destination to know I want to go back.
Once you arrive in Denpensar you can rent a blue bird taxi (it's really important to only use these) or pre-schedule yourself a car. Because I was staying at a resort that offered a car pickup I luckily didn't have to worry about this myself.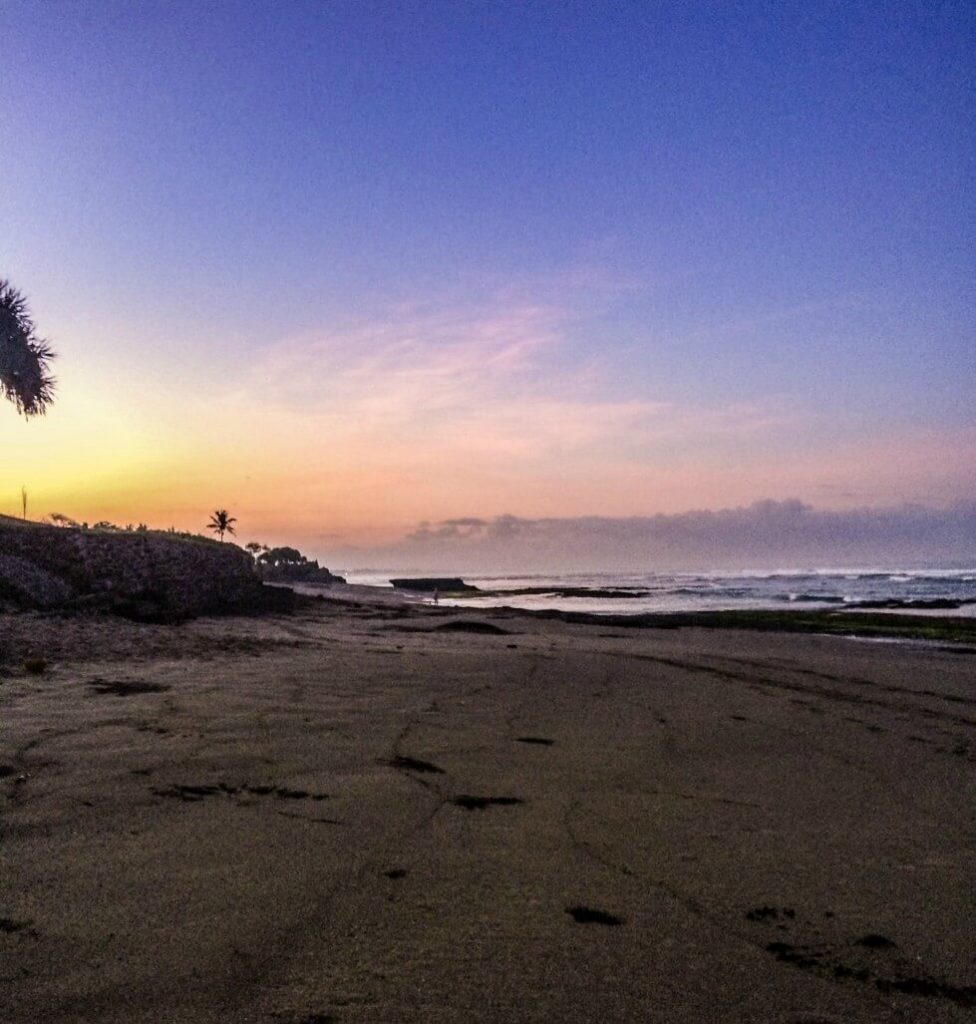 Day 1-4: Canggu 
For our Bali in two weeks itinerary we decided to start in Canggu. My friend had found a surf resort that looked really good so we thought staying there for the first week would be the best idea. Boy were we wrong.
I'm not sure what we were expecting but the surf camp was far beyond our capabilities and they didn't seem to welcoming to beginners. While our stay at this particular resort did not end well, or as expected, I did enjoy exploring the city of Canggu.
Canggu is a 10km coastal village in Bali on the south western coast. It's not too far from Kuta but the atmosphere and ways of life here seem worlds away from the infamous party town. There were actually quite a few Yoga and surfing resorts nearby so you'll have lots of different options if that's your thing.
The beaches in Canggu are stunning to stroll through especially at sunrise if you find yourself jetlagged.
You'll find tons of restaurants and bars nearby as well. Most of them healthy. Our favourite was the Bali Buda Cafe, the food was absolutely delicious and the atmosphere was really laidback.
While we didn't get a chance to do this, the Tanah Lot Temple is only a short drive from Canggu and one this I really wish we did!
Day 4-6: Kuta and Seminyak
Kuta and Seminyak are located so close to each other that you can effectively do both cities at the same time. Kuta is well known for being a tourist party town, or a surfers paradise really. Seminyak on the other hand was the most westernized place in Bali, with lots of shops and luxury restaurants.
Many people may actually choose to start their trip in these two cities before moving on to somewhere else. It would actually be best to start here because if it's your first time to Asia the culture shock may be a little more mitigated.
Spend the day walking through the posh streets of Seminyak, window shopping at the best stores in Bali. Barter with vendors on the street for some unique souvenirs you can bring home.
At night you can enjoy an evening at Potato Head Beach Club. Being there for sunset and watching the beautiful colours while enjoying luxurious cocktails and delicious meals was unforgettable. If you'd rather have a bit more nightlife you can venture into Kuta to any of their busy nightclubs. You can easily hail taxis or catch a ride on a vespa to your destination.
You'll find a wide range of accommodation types in Seminyak and Kuta so you'll have plenty to choose from. In fact you'll get to enjoy some of the most luxurious hotels Indonesia has to offer in Seminyak so if you feel like splashing out – this is the place to do it!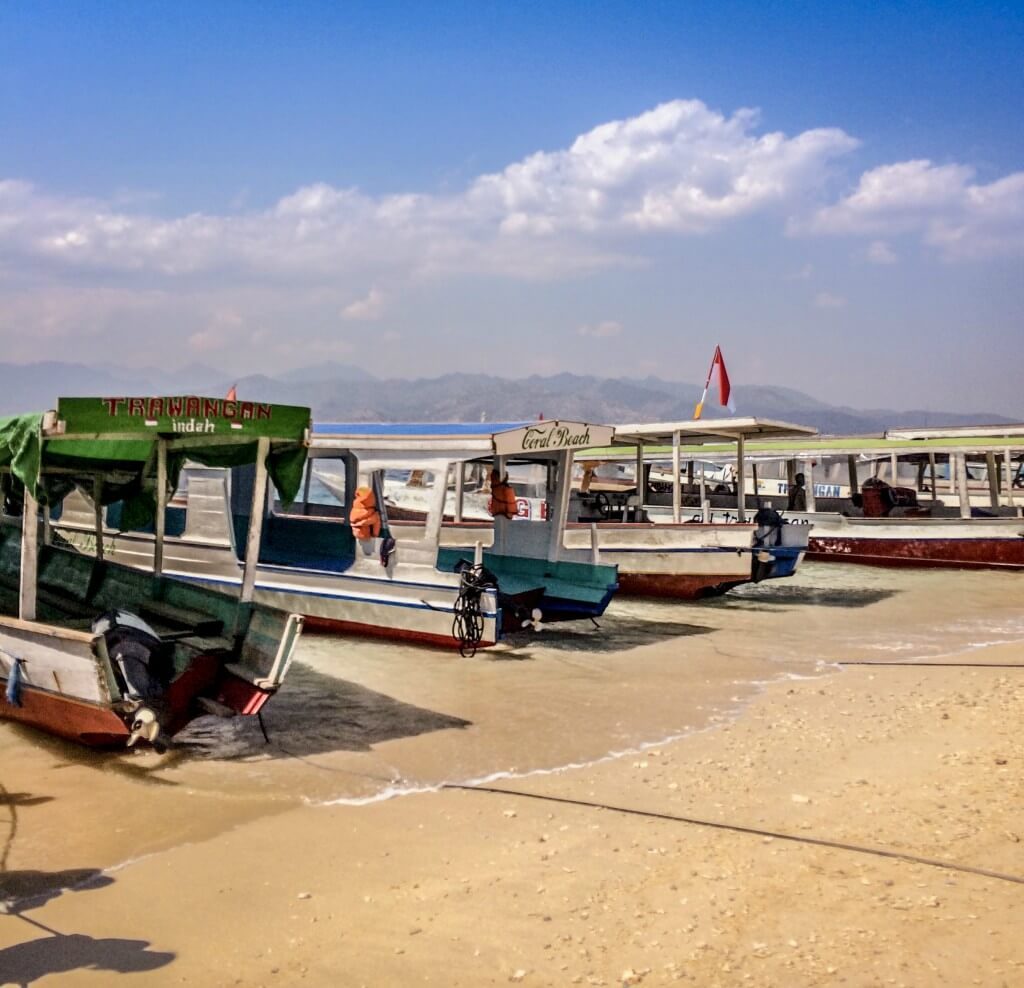 Day 6-9: Gili Trawangan
I had no idea what to expect from Gili Trawangan (Gili T) before venturing there actually. I must say I was pleasantly surprised.
The trip to the island from Bali is 1-2 hours depending on the weather. I'm a bit of an anxious person (and can be a nervous traveler) so we decided to spend a little more and opt for the ferry that was reputable. We booked Gili Getaway. They actually give you motion sick pills just in case before you board the boat which I found to be a nice gesture.
Once we arrived on the island I thought I was in paradise. The water was so blue and clear, the sand was so bright it was unbelievable! The best thing about the island? There are no motorized vehicles whatsoever. You can walk or bike anywhere you wan to go.
There are quite a number of activities on Gili T (the biggest of the three Gili islands) so you can easily fill your day if you want to. Many people choose to get certified as a diving instructor here. We tried stand-up paddle boarding for the first time on this trip and it's one of the most incredible experiences I've had while travelling. Renting bikes for a day is also a fun thing to do. We actually biked around the whole island in a couple of hours.
Travelling away from the main strip you'll find some beautiful resorts and of course that famous swing that's half in the ocean.
Every other night is a party night in Gili T. I can't remember if there are set nights or if it just alternates so make sure to book yourself at least two nights so you can have the chance of experiencing. We stayed in a hotel and hostel while on the island to get both experiences. The hotel, Gili Palm Resort was wonderful, just off the main strip with a private pool and not too many rooms. The hostel, Gili Hostel was a great place to meet people and have a good time.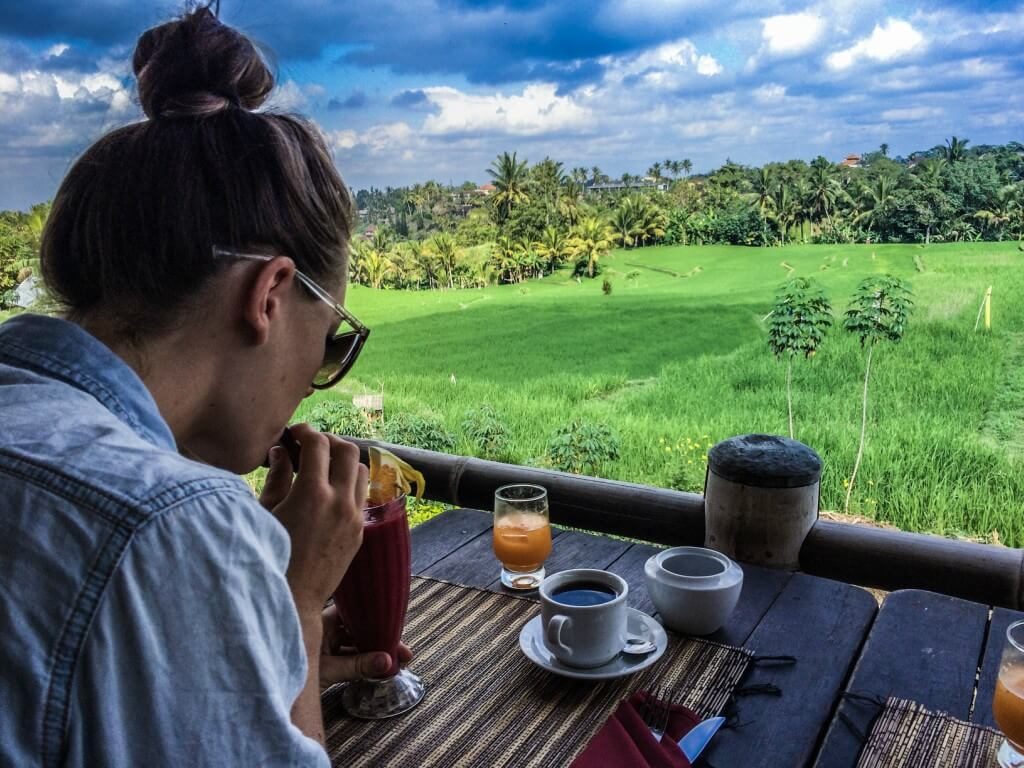 Day 9-12: Ubud
Our last stop for our tour of Bali in two weeks was Ubud, saved the best for last. I had really been looking forward to visiting Ubud. In part this was because one of my favourite books was based here (Eat, Pray, Love). It was also because I had read and seen more about Ubud than any other place in Bali.
We chose to stay in Indira Cottages on our trip to Bali. These little cottages were adorable, clean and the staff was amazing. Plus, the brought breakfast right to your balcony! The hotel is also located basically right beside the Monkey Forest which is really convenient.
There were two amazing things I did in Ubud. The first was that I took a yoga class at Yoga Barn. This facility was a yoga (or pretend yoga) person's dream. Their organic cafe was outstanding, I actually ventured over there a couple of times just to have a meal. One of their yoga classrooms is actually located high above in an open air studio so you can listen to the monkeys and birds while moving through your sun salutations.
The second amazing thing in Ubud was Sari Organik. This restaurant is located right smack in the middle of rice fields and is Ubud's best kept secret.
There is enough to do in Ubud to keep you busy for a few days which is why we chose to stay here the longest. If you prefer beaches though I would recommend spending a could of days somewhere close to the ocean!
From Ubud you can also take a private car to tour the amazing rice fields nearby as well as some sacred temples. Our hotel organized the entire thing and it was amazing! I wish I could tell you who the driver was or how to contact him. There are lots of tour operators on the streets of Ubud that could help you so no need to worry there.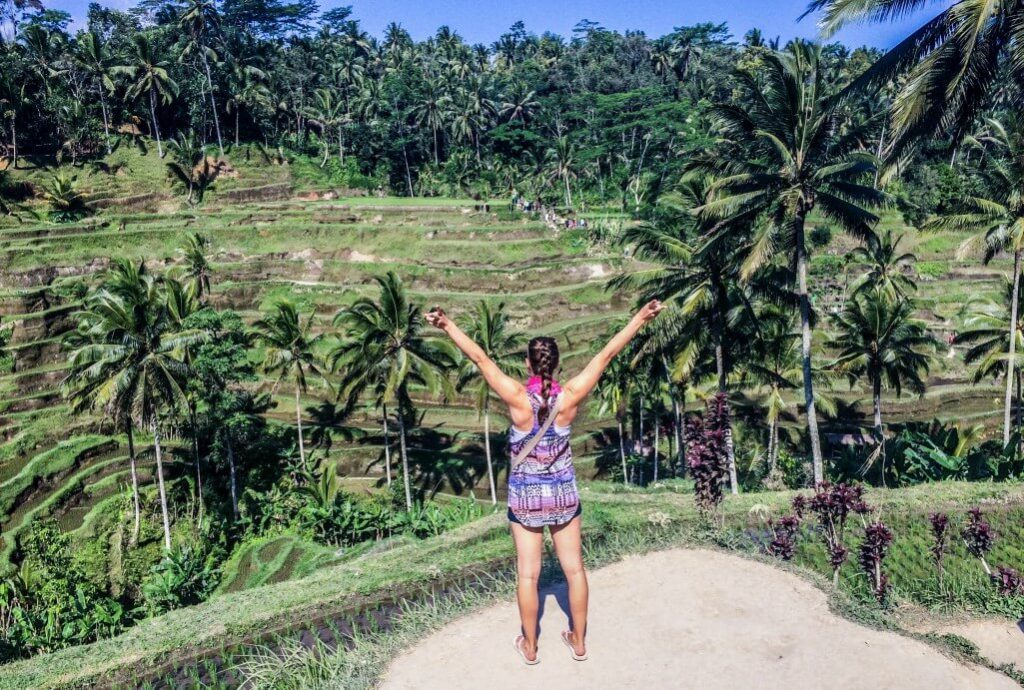 This itinerary stops at 12 days because of the travel time returning home. Going back to North America you loose a day and it's about a day in travel time as is. It's an ambitious and tiring itinerary but I promise you it's worth it!
---
Additional Notes
Accommodation
Airbnb is a great resource when travelling to Bali, there are so many unique and beautiful places you can stay at you've just got to look! For tips about booking Airbnb check out my post here.
Booking.com is another great resource if you're looking to book a hotel instead of an apartment. Most of our stays were booked through Booking.com and I couldn't have been more pleased.
Bali Travel Books