Welcome to The Restless Worker, I'm Madisyn (but prefer to be called Madi), the founder. I started this blog back in 2015 for many reasons but most importantly as a way to encourage other young professionals to see the world while working the regular ol' 9 to 5. On my long commutes to work I realized most of the travel blogs I was reading were people who had quit their jobs, sold all of their belongings and travel full-time. While this way of life is admirable, it's not reality for a lot of people so I created this space on the internet as a way to encourage others to have the best of both worlds, a career and a wanderlust lifestyle.
Madi | Founder, Writer, Web Developer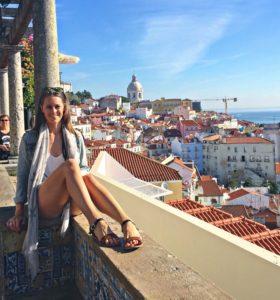 Travelling came later than most for Madi; her first trip overseas was at 16 on a 3-week trip to Ireland and not again until she was 22 for a 10-day road trip to Croatia. In between she travelled to several places in Canada and the United States. Madi spends most of her time online; she works full-time as a Social Media Manager and blogs during her other waking moments. Originally from Toronto, Madi loves discovering locations nearby as much as abroad. Madi mostly travels with her handsome fiance and blog photographer Ben, who she met by fate on a trip to California.
Ben | Photographer, Trip Planner
Ben became the photographer & official trip planner of The Restless Worker in 2016. Ben loves to travel as much as Madi so joining forces on The Restless Worker was a no brainer. Being able to give readers real glimpses of the places we travel too is very important. Ben usually spends his time behind the camera or on Pinterest helping to plan and document the trips. Originally from London (England), Ben moved to Canada in 2013 for the love of his life, Madi.
---
 Our Travel Philosophy
We believe in immersing ourselves in the countries or cities in which we are visiting. While we don't have the luxury of slow travel, we do our best to eat local cuisine, participate in local tours, and get lost as much as possible (within reason of course, we do have itineraries). Our goal is to expose you, the reader, to new destinations, new landmarks and new ideas for discovery. Have a suggestion or want to learn more about somewhere we've visited? Let us know!
---
Where have you been?
[Madi]
Canada / United States / Cuba / Dominican Republic / Bahamas / England / Ireland / Spain / Portugal / Croatia / Gibraltar / Vatican City / Italy / Belgium / The Netherlands / Hong Kong / Indonesia / Iceland / France / Denmark / St. Lucia / Germany / Austria / Mexico
[Ben]
Canada / United States  / England / Spain / Portugal / Gibraltar / Vatican City / Italy / Belgium / The Netherlands / Iceland / France / Turkey / Wales / Greece / Denmark / St. Lucia / Germany / Austria
---
Check out our favourite posts