Canterbury is one of the cutest places I've been. Okay, who am I kidding? Everywhere in England is the cutest place I've ever been. However, Canterbury is right up there! Whenever we go back to England to visit family and friends we always like to try and see somewhere new. With so many day trips available, and pretty close by – it's not hard to get away for a day trip from London (it's less than an hour away).
The small city of Canterbury was founded in the year 587 A.D. Walking around the area it's hard not to see the history either. There's no short of cobblestone roads or timber-framed houses. The city is probably best known for its cathedral which is a UNESCO World Heritage Site. It's worth visiting this small town just for that!
One of my favourite buildings in Canterbury was a bookstore nestled in a corner on the edge of the 'old city'. It was half leaned over, like it was spilling out onto the street with a quote painted on it that said, ".. a very old house bulging over the road .. leaning forward, trying to see who was passing on the narrow pavement below", Charles Dickens, 1849.
Getting There
Canterbury is located less than an hour outside of the city of London making it a perfect place to spend a day. If you're comfortable driving on the other side of the road and navigating the English streets than renting a car is always a good option. You can find pretty cheap car rentals for a day in Europe. Our go-to source for car rentals is Hotwire.
If you'd rather rely on public transport, which let's be honest is the best in London, than you can easily take a train or a bus to get there. The train would definitely be the fastest way to get there (55 minutes) but will cost you between £26 – £40. Another alternative is taking the bus which will take you longer (1 hour and 20 minutes) but will only cost you £12- £15
Rome2Rio has some great itinerary options.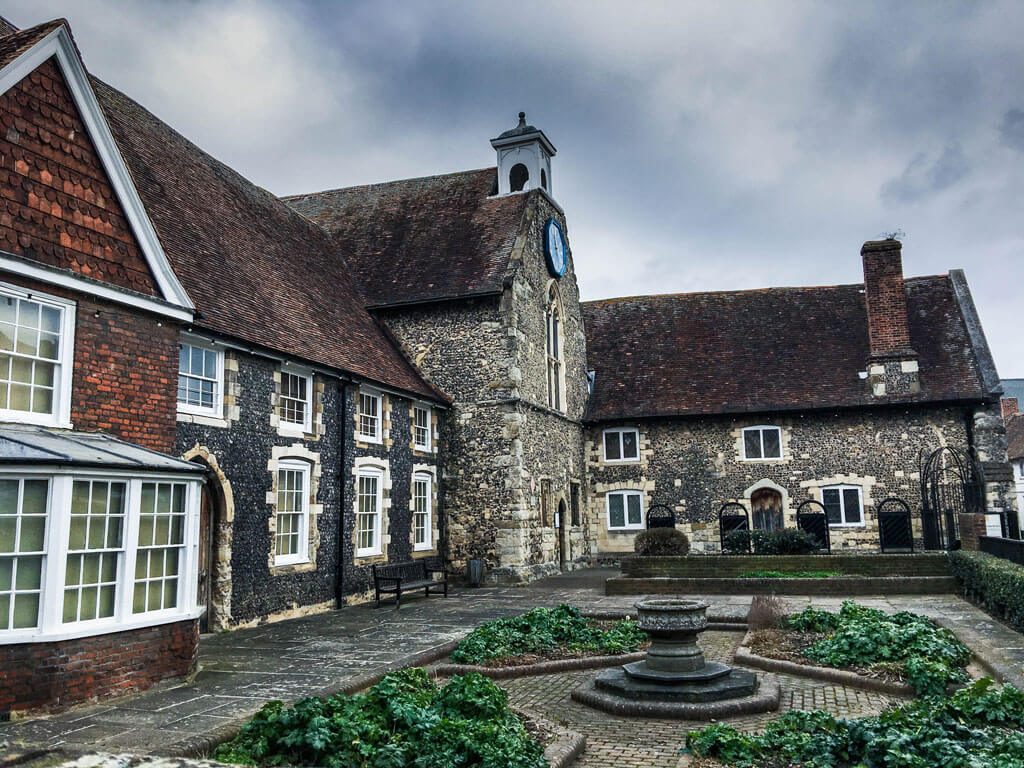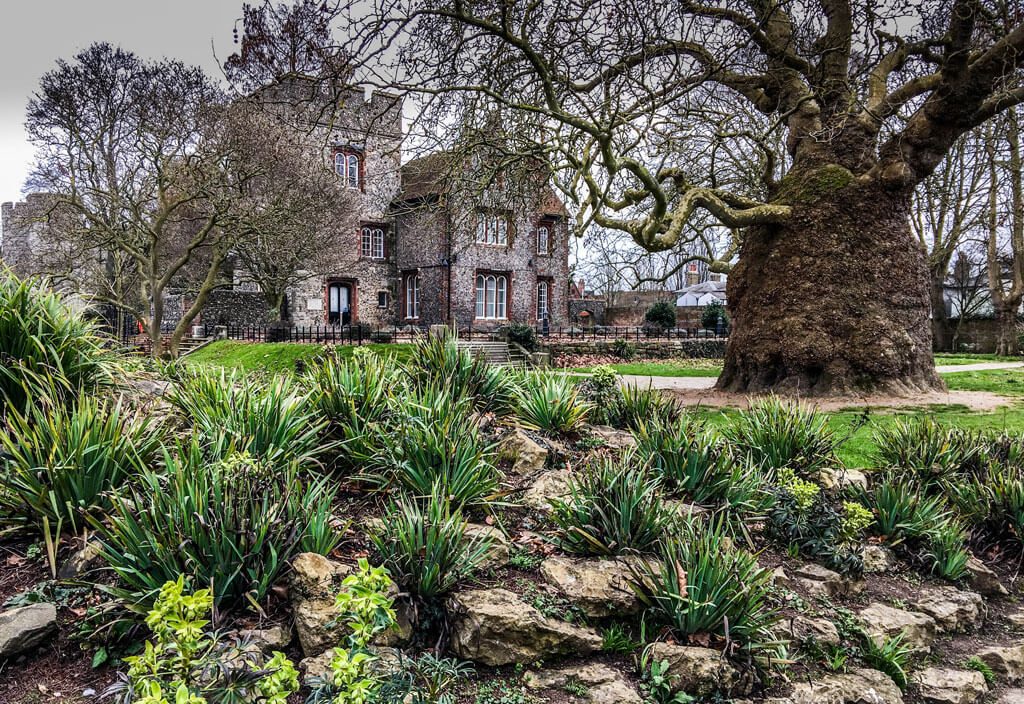 What to do
Canterbury isn't a large city which makes it very easy to see in a day. Really, you only need several hours to see what you need to see but you can definitely add time in there for relaxing in a pub or grabbing some local fish and chips (which are always worth it).
Canterbury Cathedral
As mentioned, the Cathedral is the star of the show in Canterbury, it's the real tourist driver. Located in the middle of town, you have to pay roughly £18 – £20 to get inside. It's a bit steep but I promise you it's definitely worth it. You'll easily need to give yourself the better part of a couple of hours to truly explore the Cathedral.
Unfortunately during our visit there was a funeral service going on so we didn't get to see the entirety of the inside but we did see quite a bit. As you walk in the main entrance you can't help but admire the tombstones lined up all along the wall from different centuries. Right in the middle of main area you'll find steps downwards that lead you to the crypt. On your way down you'll see the exact spot where Thomas Beckett was murdered many years ago (the crime that inspired the Canterbury Tales).
Walking through the crypt is, as you guessed it, quite creepy but eerily beautiful at the same time.  It's important you make no noise or take photos (unless you're really, really sneaky while you're down there – oops).
When we thought we had seen it all one of the women who worked for the cathedral pulled us aside to take us to the back gardens for more. I'm eternally grateful to this woman as we would never have seen the Great Cloister, Chapter House, Water Tower or the beautiful surrounding gardens.
St. Augustine's Abbey
Located just outside of the Canterbury Cathedral you'll find one of my favourite spots in Canterbury; St. Augustine's Abbey. The Abbey was founded a year after the city itself but the ruins have been as well kept as you can expect from something built in the early 500s.
Westgate Towers and Museum
We didn't actually go inside the museum during our visit but we did take a stroll through the Westgate Towers which was pretty cool. This gateway is the oldest and largest surviving gateway of England. It's also the last gate that still stands today in Canterbury where there used to be 7.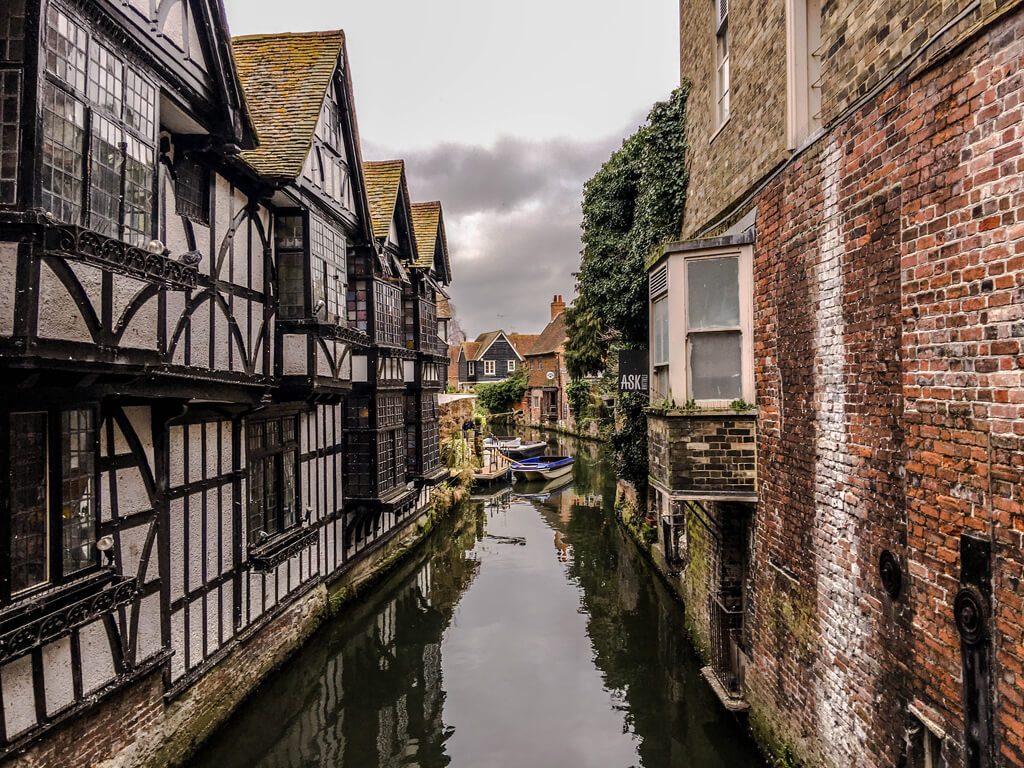 Westgate Gardens
Of course what city would be a city without a beautiful garden nearby? We visited in February, which obviously isn't ideal for flower growing or prime garden viewing, the area around the Westgate Towers is really beautiful. The small river that flows throughout the city is also quite ideal for punting (which is an experience in itself). You'll also find a 200 year old tree here which is pretty damn crazy.
Norman Castle
It may not be much to look at now but back in the day the Norman Castle was one of the biggest in the region. Today it stands as a roofless structure, originally built by King Henry I between 1100 and 1135. It's not the most glamorous or epic of castles in England but at the very least it's worth a walk over and around while you're in the area.
Where To Stay 
As mentioned, you don't necessarily need to stay in Canterbury during your visit but there are plenty of cute places to choose from if you decide to stay. Because there aren't too many hotels in the area, if you do plan on staying we would suggest booking as soon as possible.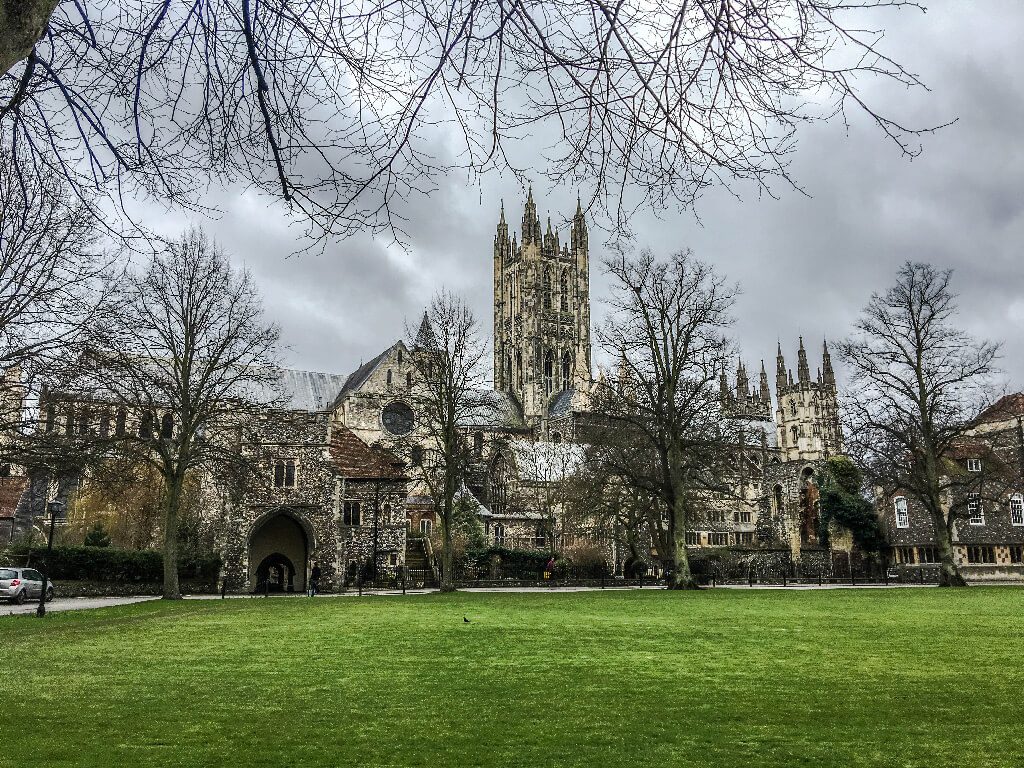 Hotel Abode ($200-250): The Abode is probably one of the best located hotels in Canterbury, and also the most elegant. If you've got a little extra money to splurge on a beautiful hotel for a night, this quaint place would be worth it!
Castle House Hotel ($130-160): This hotel is a good mid-range option in Canterbury with only 15 rooms in the whole hotel. It's also walking distance to the Canterbury Cathedral.
Pilgrims Hotel ($100-120): For the best budget friendly option you'll find the Pilgrim Hotel is best. This family run hotel offers you breakfast in the morning so you won't have to worry about it before a day of sightseeing!
See Also: 
The perfect London walking route