This past New Years Eve, Ben and I decided to travel and spend a winter weekend in Quebec City. I had been a few times before, ironically both times in Winter but I had never been for New Years. This small historical city is easy enough to see in a weekend. We spend three full days there and that was plenty of time.
For those of you who aren't familiar, Quebec City is located in the province of Quebec in Canada. The Province is the only one in my country that has it's first language as French (although almost everyone in Quebec City speaks English because it's so touristy).
Quebec City was founded in the early 1600s by French settlers and has since become a UNESCO World Heritage Site. The city is surrounded by stone walls that have been largely untouched in hundreds of years. The main parts of the old town are also located on top of a hill so be prepared for a little bit of muscle aches if you plan on walking around extensively.
Spending a weekend in Quebec City is probably the best alternative for a Canadian than travelling all the way to Europe. The small streets and historical buildings make you feel as if you've been transported to another continent. There really isn't anything like it in Canada.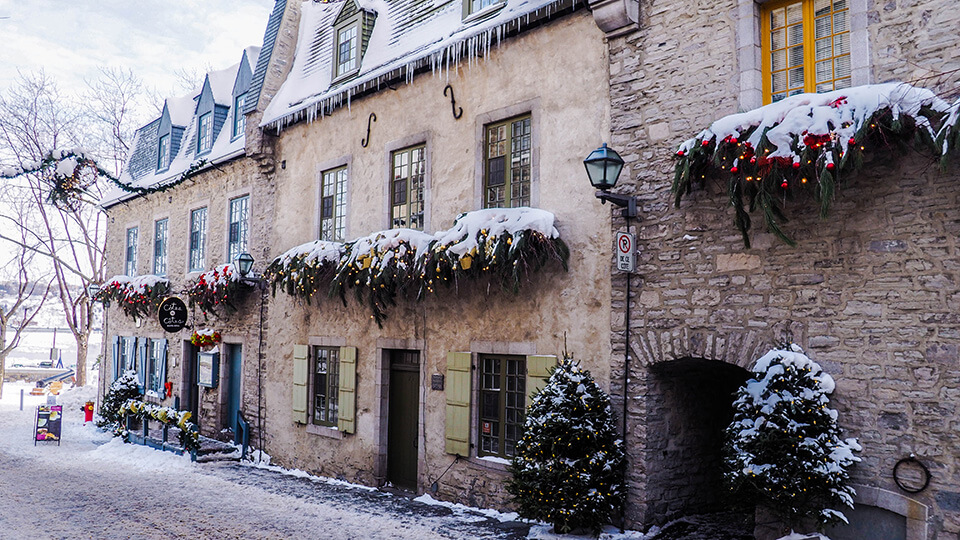 Getting There
Depending on where you're traveling from, Quebec City is quite accessible. You can take a train right into a station centrally located in the city. A train takes about 8-10 hours (or more depending on your stop overs and travel itinerary). To be honest the tickets with Via Rail aren't cheap either.
Driving is another option. While Quebec drivers are known for being a little more aggressive behind the wheel (sorry guys), driving in for a weekend in Quebec City is really quite easy. There are lots of options for street parking but if you're staying in a hotel they often have parking garages for you to use.
Lastly, you can fly in for your weekend in Quebec City. That's what Ben and I did on our most recent trip. We had a few points left over with Aeroplan so we decided it was the perfect time to use them. The flight is just under 2 hours and quite easy if you leave out of Billy Bishop. The Quebec City airport is located just outside of the old town. The cab ride is around $30 CAD which is pretty reasonable.
What to do
While the city is small, there are plenty of things to do to keep you busy in Quebec City in the winter. Not to mention, the dumps and dumps of snow made the whole city absolutely magical. Walking around is pretty easy and most of the major sites are located within walking distance from each other.
Winter tobogganing
This was one of my favourite things I did in Quebec City. Every winter the people of Quebec City set up this epic tobogganing ramp. There are three sections so you can race family or friends. While you have to pay per slide, it's seriously well worth it. If memory serves me right, it's only $5 per ride.
Chateau Frontenac
This isn't so much a thing to do as a place to see. The Chateau Frontenac is the most iconic building in Quebec City. If you have the budget it also makes for a great place to stay for your weekend in Quebec City. If you aren't staying there, take a walk around the grounds and have a drink at one of their hotel bars.
Aux Canadiens Anciens
If you're looking for a delicious and classic Quebecois meal than Aux Canadiens Anciens is where you want to eat. The classic restaurant is well-known for being the oldest house in Quebec. It has obviously since been converted into a restaurant and serves gourmet French comfort food. I would recommend eating at lunch for cheaper prices.
Place Royale
This small square is the cutest little spot in Quebec City. It's best to just walk around and admire the buildings, you know, take a few photos but there are also a few restaurants that you can eat at in the meantime. If you want to take a photo of the area I would recommend visiting earlier in the morning before it gets really busy.
Grande Allee
The Grand Allee was actually where most of the New Years celebrations took place. It's well known for its nightlife, located just outside of the city walls. The strip has some fantastic restaurants (and patios in the summer time). Make sure to pop off for at least a drink at one of the bars during your weekend in Quebec City.
Plains of Abraham
In the winter the Plains of Abraham transform into a snow sport lovers dream. In the mid 1700s, the plains were home to a battle against the British and the French for the rights over Quebec City. The British won but the battlegrounds live on. In the winter, you can cross-country ski, snowshoe or simply enjoy the winter air.
Petit Champlain
This quaint little area of Old Quebec is the most touristy spot. The little shops area lined up on either side of the small streets. In the winter, the area is decorated as if it's Christmas all season long. The colours here are beautiful as well! It makes for some of the best photos of Quebec City.
Fortifications of Quebec
While they aren't exactly the Great Wall of China, walking the walls of Quebec City is a popular thing to do. With roughly 4.6km of walls surrounding the city, it's actually the only fortified city still remaining in North America. You'll get some pretty amazing views.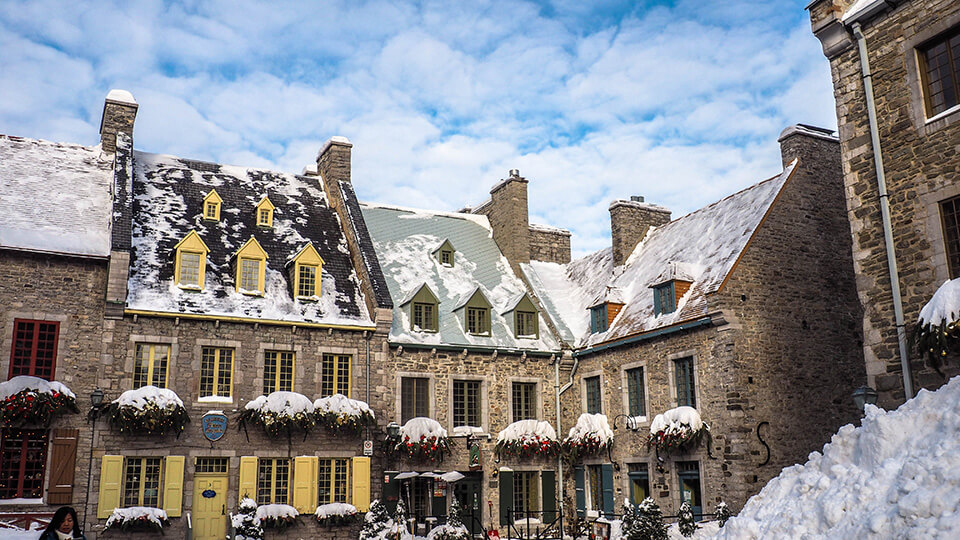 Where to stay
There are so many different places to stay for your weekend in Quebec City it's almost hard to choose. In fact we booked about 3 hotels through Booking.com (where you can cancel for free up to a certain date) before we decided where it was we actually wanted to stay.
The Chateau Frontenac is obviously the most popular choice for accommodations for your weekend in Quebec City. From the outside it looks like a castle and the inside exudes the same elegance. Depending on your taste though, this elegance can seem a bit dated. The rooms are an average size and the location is unbeatable.
Average price: $250 
This is where we stayed during our New Years weekend in Quebec City. It was a nice hotel, a boutique vibe with clean rooms. The hotel is centrally located, a little outside of the old town but walkable in a couple of minutes. The room walls were thin and you could hear lots but value for the money was definitely there, especially on New Years Eve.
Average price: $175
We almost stayed in Le Saint Pierre but changed our minds last minute. It's a nice enough hotel, with all of the amenities you would want. It's located a bit outside of Quebec City so you'd have slightly more walking to do if you wanted to get to anything inside but other than that looks like a decent enough place to stay!
Average price: $115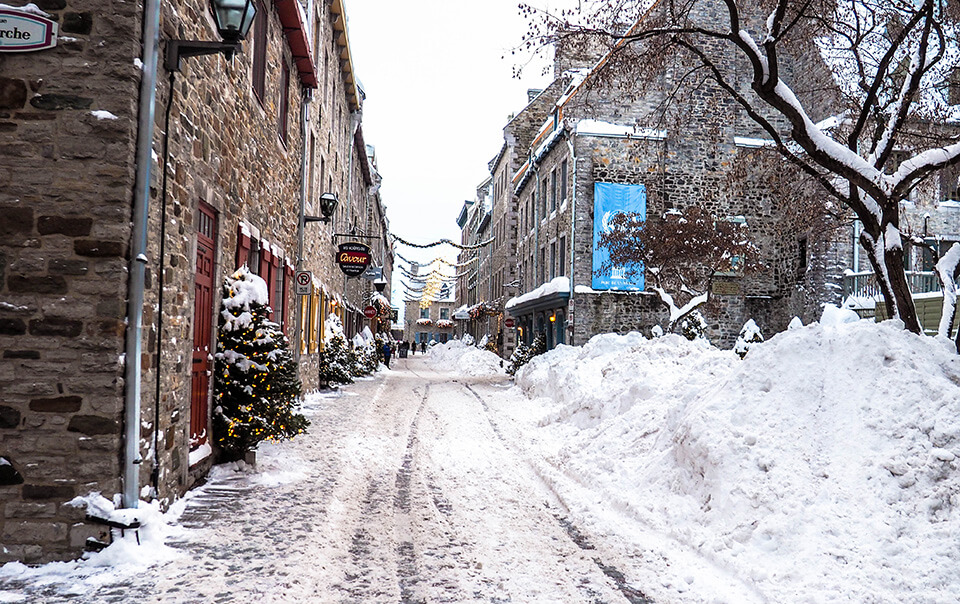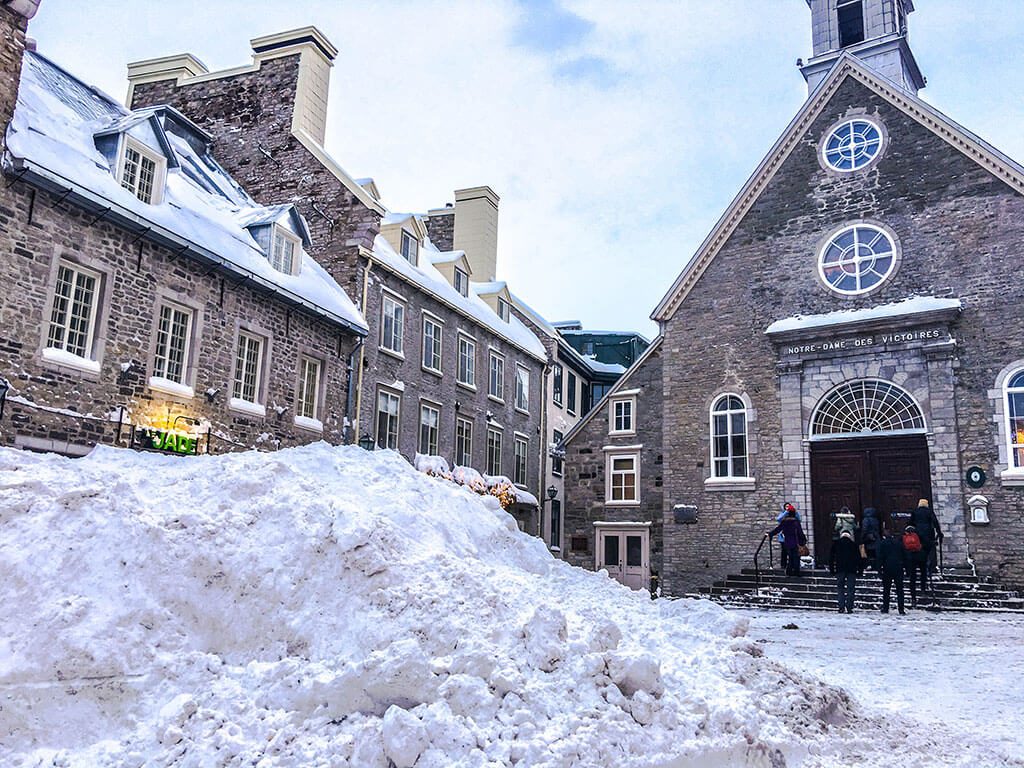 ---
Additional Notes
ACCOMMODATION
Airbnb stays are quite easy to find in most areas in Quebec City so you shouldn't have too much trouble finding something within your budget. For tips about booking Airbnb check out my post here.
*Click here to get $40CAD off your first stay
Booking.com is another great resource if you're looking to book a hotel instead of an apartment. Most of our stays in were booked through Booking.com and I couldn't have been more pleased.
Quebec City Travel Guides