An Iceland stopover is becoming a popular addition to any Europe trip these days. Everyone from Iceland Air, Wow Airlines and Air Canada offer passengers a day, or even a couple in Iceland for little or no extra cost. It originally was started by IcelandAir as a way to promote tourism to the country.
Now, as tourism booms and Iceland has made its way to everyone's bucket list, travelers are wondering how they can see the best of Iceland in a stopover. Last year, we visited the beautiful country for a glorious 10 days. If you have the chance I would strongly recommend you take the time and travel the Ring Road.
If time isn't on yours side and an Iceland stopover is all you can manage, I've put together a list of the top 5 things you should put on your list.
The drive from the Iceland Airport to Reykjavik is only about 20 minutes. It may be worth your time to rent a car while your'e there. If you're short on time, relying on buses may not be the way to go. Driving around Iceland is much easier than I thought it would be and for the purpose of this trip you definitely won't need a 4×4.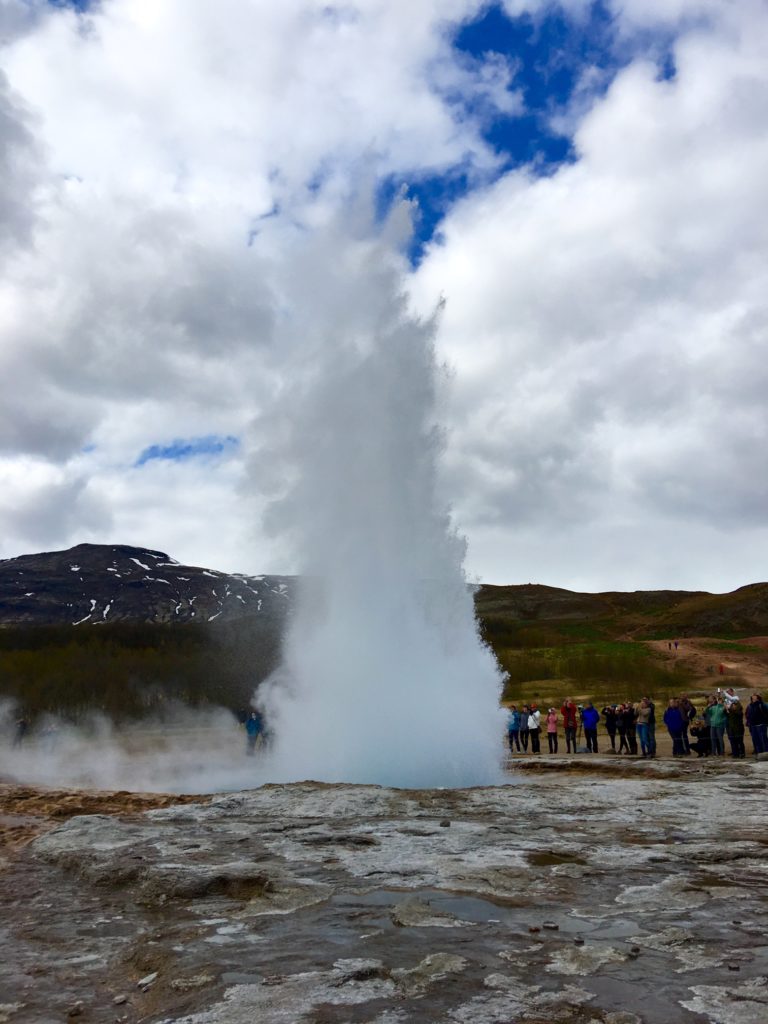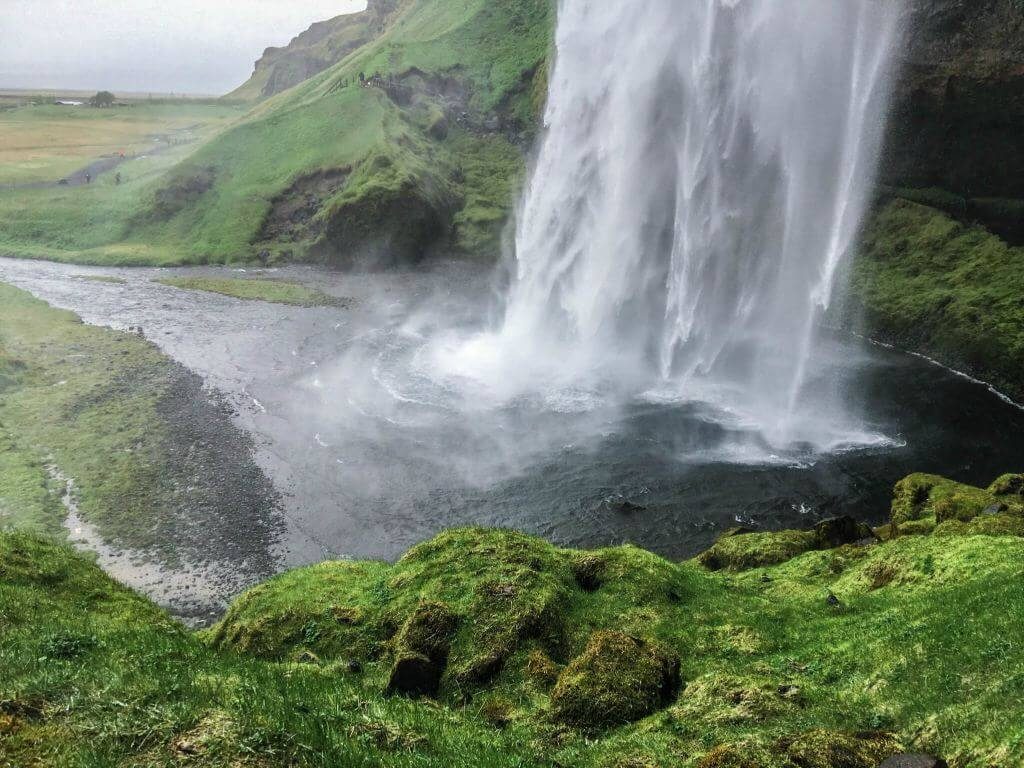 Drive around the Golden Circle 
Just East of Reykjavik you'll find the infamous Golden Circle. It takes just over 3 hours to drive around the circle but you'll want to give yourself some extra time for the stops you'll be making along the way. We did the trip more haphazardly doing the bottom part on the way home but the loop itself is a pretty easy one to navigate.
Driving around the Golden Circle on your Iceland Stopover is definitely the best way to see the best of the country. The most popular stops are; Pingvellir National Park, Gulfoss Waterfall, Kerid Crater and Litle Geysir.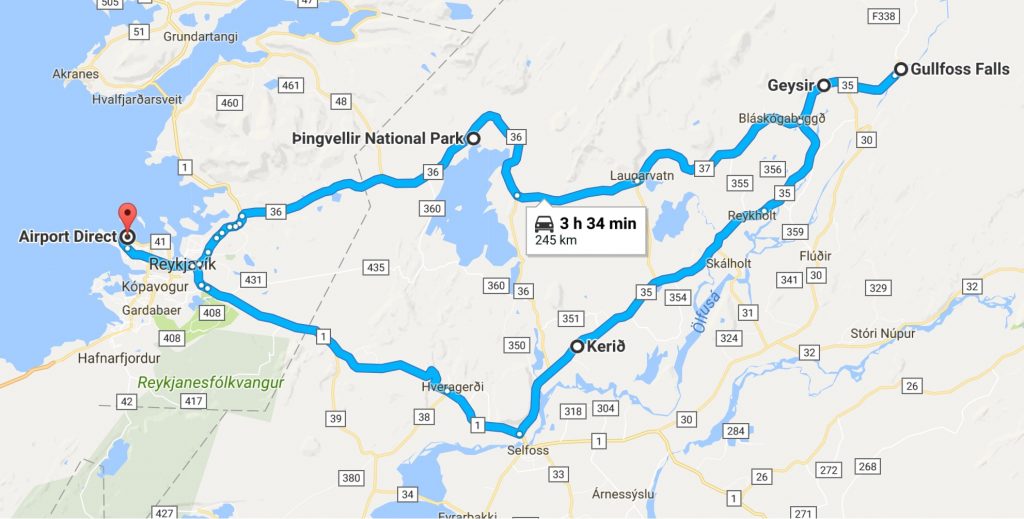 In my opinion, I would start at Pingvellir National Park and make your way clockwise. This is especially true if you arrive early in the morning. The crowds can get rather large at Geysir and Gullfoss so you'll want to do them as soon as possible. Plus you can work in a tour of the Silfra Fissure first thing in the morning which is ideal.
Depending on the time of year you visit, your experience of the Golden Circle can vary. If you're travelling in the winter months, make sure to set expectations. The weather on your Iceland Stopover will really determine how much you will be able to do. Stick to the main roads, as they'll more likely be groomed and well kept.
Snorkeling Silfra Fissure
Snorkelling through Silfra Fissure was definitely one of my all-time favourite travel experiences. I will admit though, I was f**king freezing the whole time. In fact, my lips were so cold I honestly looked like I got lip injections when I got out of the water!
When you first get there they help you get into your dry suits. That was an experience in itself. Neither Ben nor I had ever worn dry suits before so trying to wiggle our way inside was one of the funniest things I'd ever seen. Especially when it comes time to put your head through the hood.
The best part of the dive? The snorkel takes you in between the tectonic plates of North America and Europe. You are literally in two places at one. Plus, you snorkel in dry suits meaning you can wear your clothes underneath during the whole time you're in the water.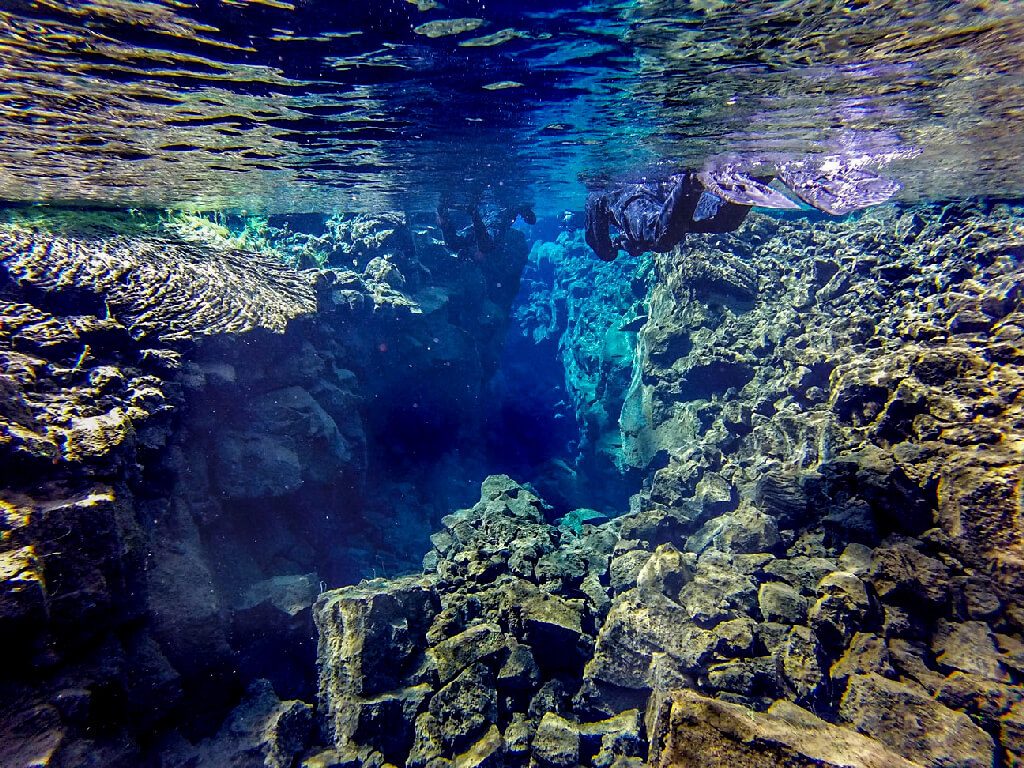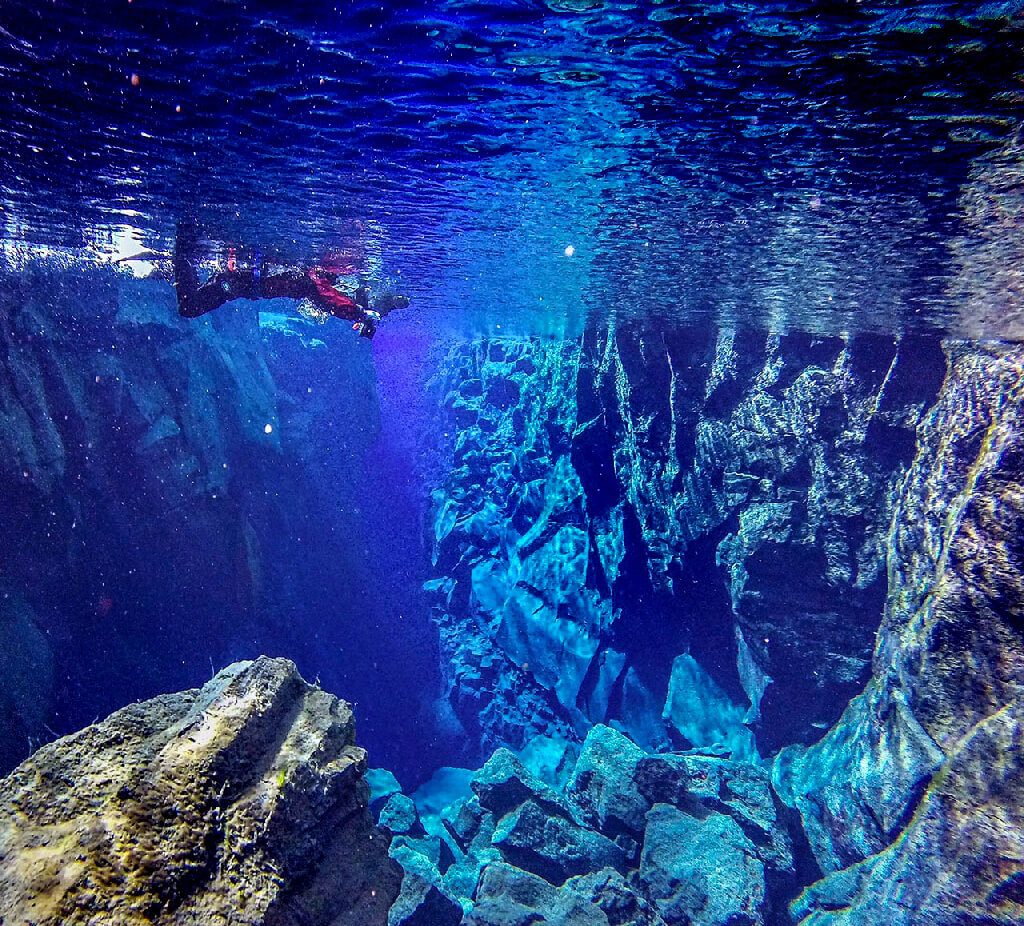 Swim the Blue Lagoon 
The most popular of the tourist stops for an Iceland stopover is the Blue Lagoon. Although some people may claim it to be an overrated tourist trap I promise, it's worth it. The experience is both relaxing and incredible as you swim through the sauna-like pool. You won't believe the colour of it as you walk out either, bright cloudy blue that almost seems to glow no matter what the light outside.
Only a certain number of people are allowed into the lagoon at one time to make sure you get your tickets in advance. Visiting earlier in the morning is recommended because it can get pretty busy later in the day. We arrived when the Lagoon first opened and by the time we were leaving, it was getting pretty full.
You can also get food or drink on location but the prices are rather expensive so if you can, buy something before you get to the Lagoon and bring it in with you.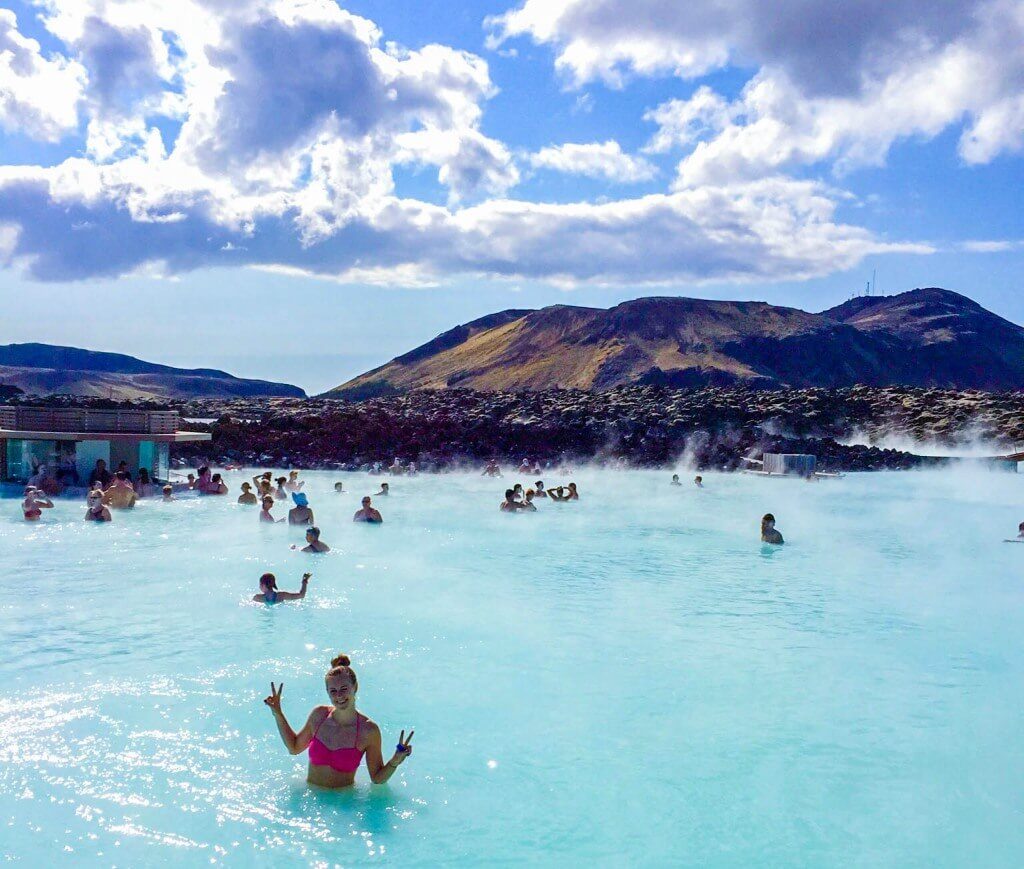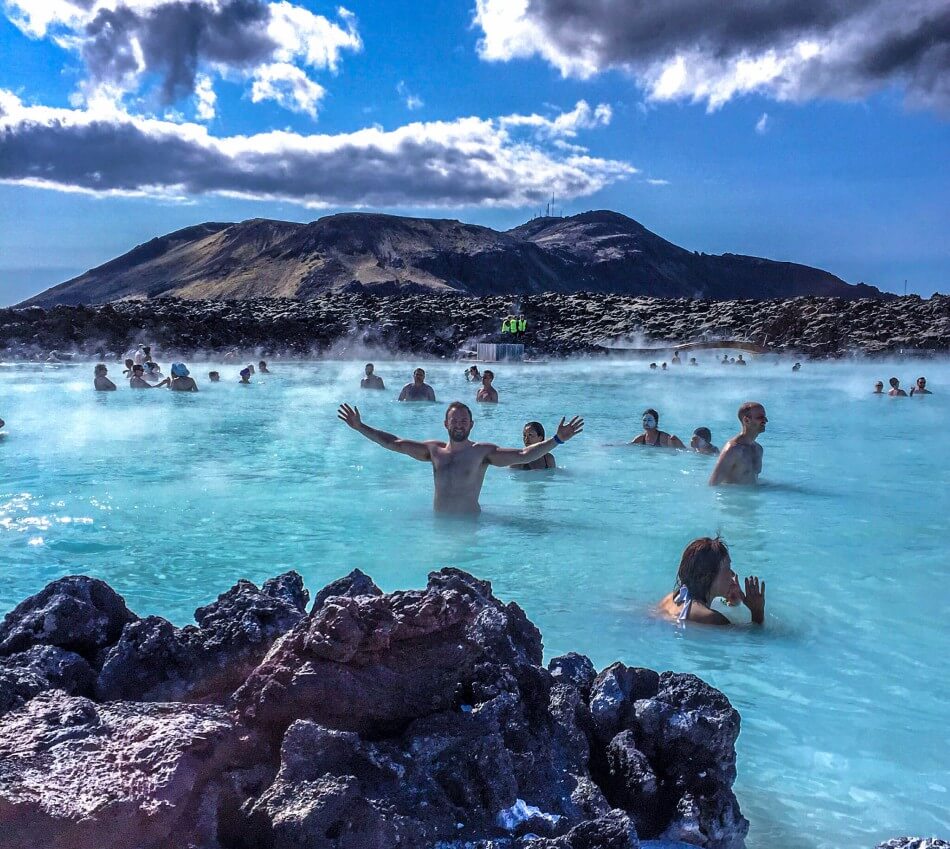 Take a tour around Reykjavik
Reykjavik as a city isn't overwhelming. There are no skyscrapers or glorious buildings. It looks similar to most other fishing towns around the world. The buildings are colourful, the streets are easily walk-able and the people are friendly. It's not a place that you need several days to see, you could easily see the city sights on your Iceland stopover.
Drinking in Iceland can be rather expensive so make sure to find out when happy hour is at the bars near where you'll be. Most, if not all, of the bars have happy hours and usually at different times. You could do a pretty cheap pub/bar crawl if you plan it correctly!
Make sure to try some local cuisine while you're there as well. Iceland is known for their lamb and trust me, there's a reason for it. Splurge on one meal while you're visiting Iceland, you won't regret it. Try Lækjarbrekka, located in the centre of the city if you're looking for great food with a cosy atmosphere. It's where we had our last meal in Iceland and I definitely wasn't disappointed.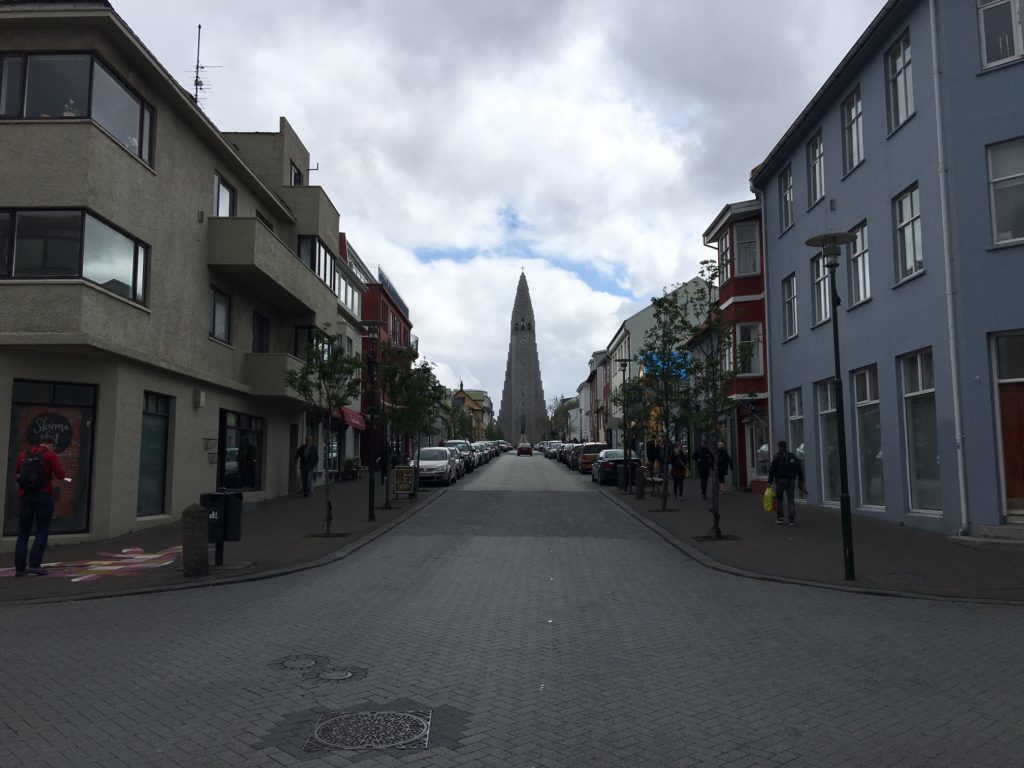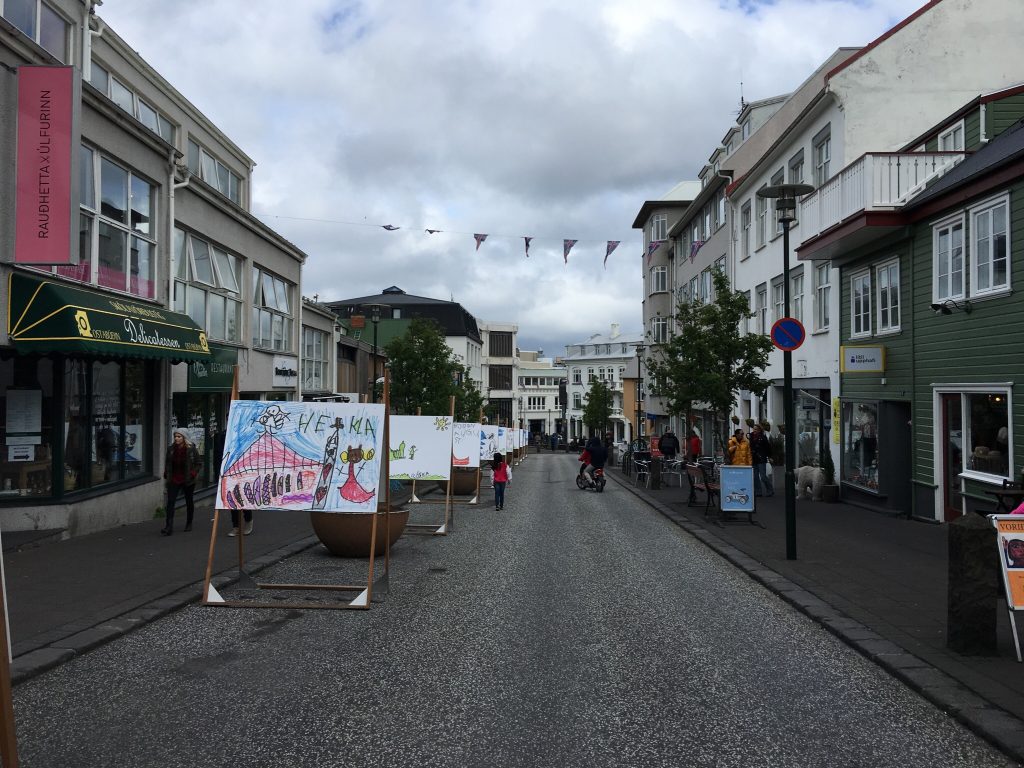 Take a ride to the top of Hallgrimskirkja Church
I'm a bit of a hypocrite in saying this because we didn't actually go up the bell tower but we did go inside. I actually regret not doing this now because some of the photos I've seen from people who've gone up are gorgeous. It really boiled down to us not wanting to wait in line, we only had so much time in Reykjavik that we didn't want to waste it standing around. I'm also typically not one for high-up views but because the city of Reykjavik is so short it really was a gorgeous view.
Make sure to take a snap of the interior as well, the beautiful white walls and high ceilings are quite stunning. I love seeing the insides of churches from all around the world because they are all so different and this one didn't disappoint!
Now that you've got some ideas for your Iceland stopover, which one will you choose?
---
Additional Notes
ACCOMMODATION
Airbnb stays are quite easy to find in most areas in Iceland so you shouldn't have too much trouble finding something within your budget. For tips about booking Airbnb check out my post here.
*Click here to get $40CAD off your first stay
Booking.com is another great resource if you're looking to book a hotel instead of an apartment. Most of our stays in were booked through Booking.com and I couldn't have been more pleased.
CAR RENTAL
Hotwire is my go-to source when booking car rentals. I always find the best rates with them and it's so easy to use. Most of the time I just use their app when travelling because it's so convenient.
For the purpose of this trip we used Cars Iceland and had a very good experience with them.
---
You may also like: