There are so many unique things to do in Iceland it's hard to narrow down just a few. For being such a small country, the activities are truly endless. Not only is the breathtaking landscapes on the country's side but there are quite a few activities that will have you telling stories for years to come.
For better or worse, Iceland is not longer Europe's best kept secret. In fact, I feel as if everyone and anyone I know has been in the past 2 years, or have a trip planned shortly. We were no different. Having embarked on a 10 day trip last May, we didn't quite know what to expect but we knew it would be beautiful.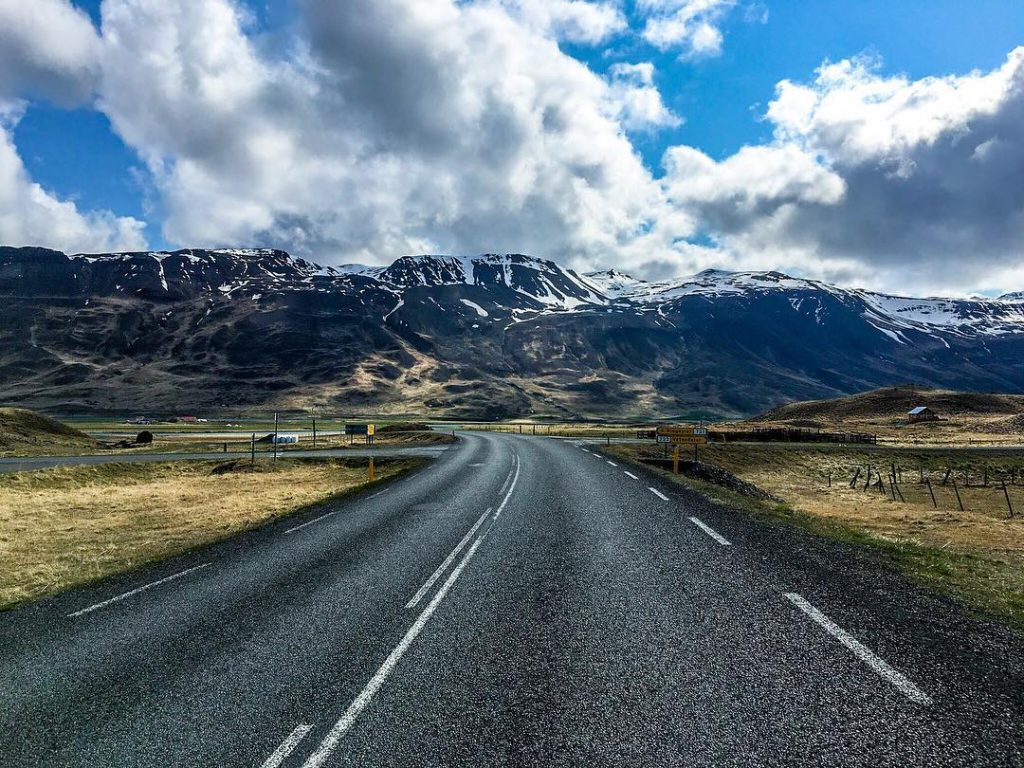 As we travelled along the Ring Road it felt as if every 5 minutes we were catching a glimpse of some new unbelievable landscape in front of us. Traveling from mountains to beaches to fields in the span of an hour truly isn't uncommon. Even if you don't have the time to be travelling through the whole country while you're visiting, you'll still get to experience some incredible landscapes.
People often ask me now what my favourite things to do in Iceland are. I don't think I have a favourite if I'm being honest but if I would have to choose, it would be all of the unique things to do in Iceland that you couldn't do anywhere else. I've compiled a list of the best things for your next trip to help you get your planning underway.
Diving or Snorkeling through Silfra Fissure
Of all the experiences in Iceland you can have I think this one is the most unique. It's also the one that will likely humble you the most. Located in the Thingvellir National Park you'll find one of the top diving sites in the world. Silfra Fissure is one of the best unique things to do in Iceland because you literally are in two places at once (hello bucket list!).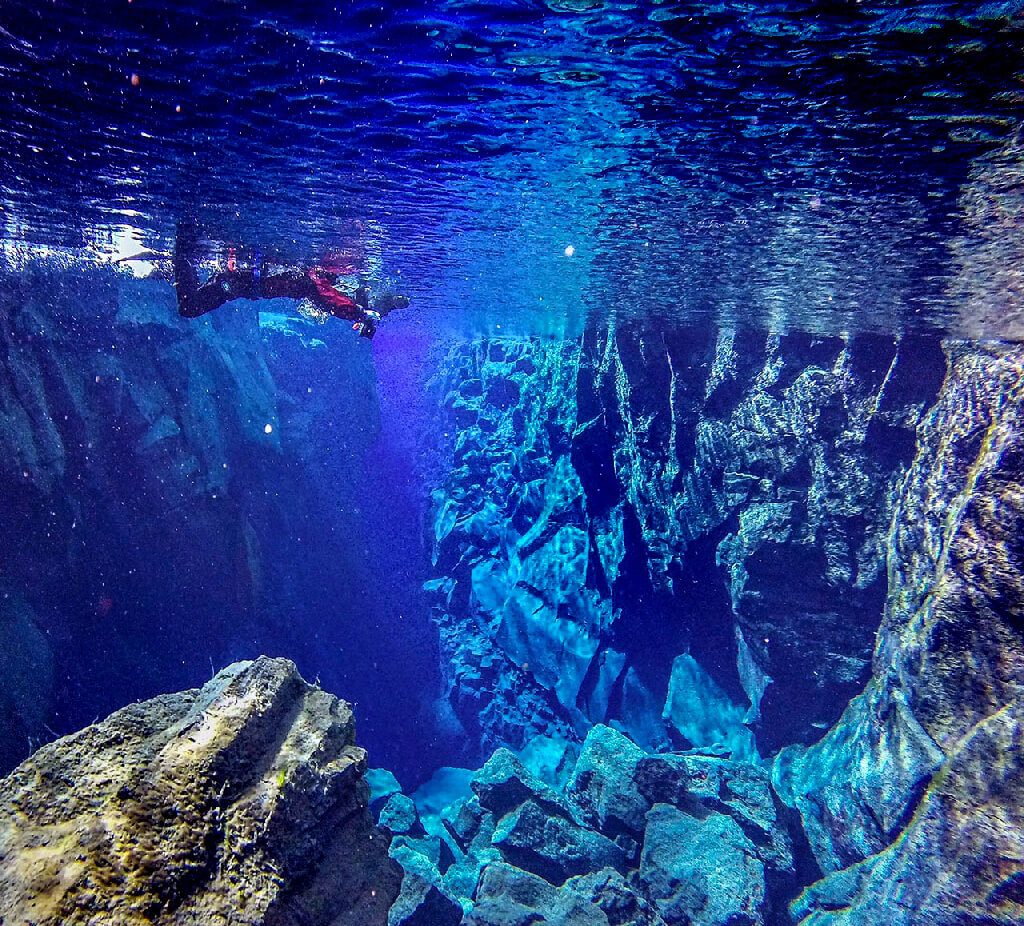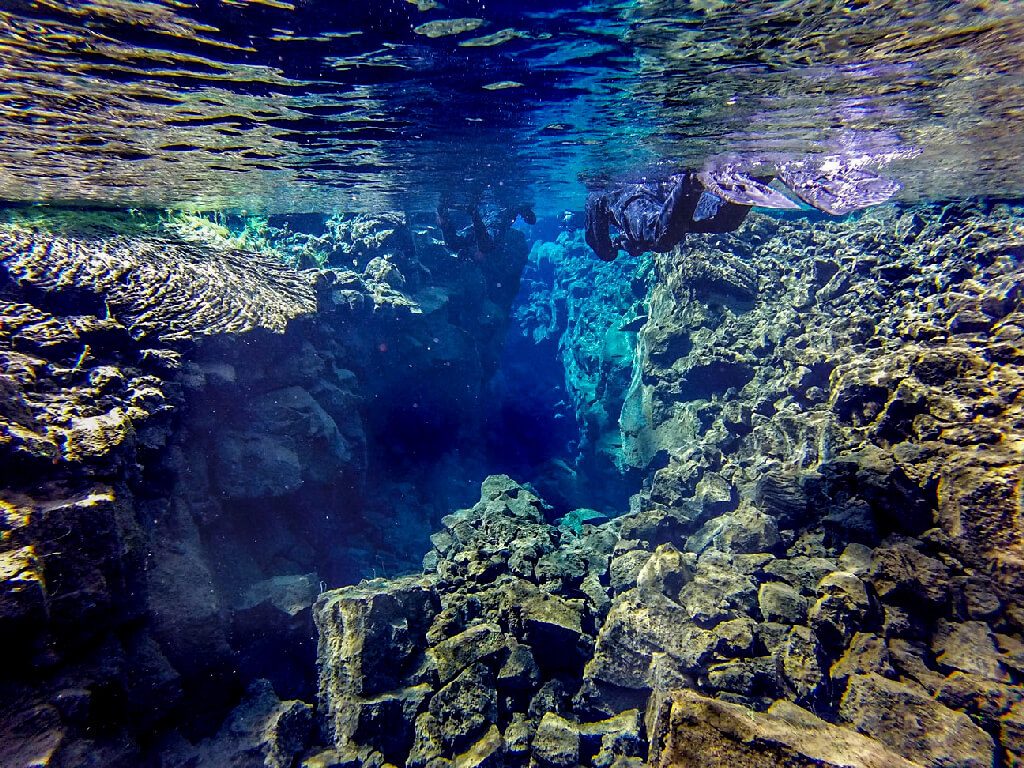 This special spot is where the North American and the European tectonic plates meet. At one point they were joined together but as they continue to move, it's created a large canyon like structure that you can dive or snorkel between. While it's cold AF down there (and we swam it in May), it's definitely something you won't want to miss.
For more read: Snorkelling Silfra
Blue Lagoon 
No trip to Iceland is complete without a trip to the Blue Lagoon. While this isn't such a unique thing to do in Iceland anymore (it's a stop for basically every tourist that travels through), it's not something you can do in most places.
I'll admit that before visiting I thought it would be an experience that I had to do but not necessarily one of the best things. You know how those over-touristy things work. I was definitely wrong. Even though it was busy and started to get overcrowded by mid-morning, swimming in the Blue Lagoon is one of the coolest travel experiences I've had.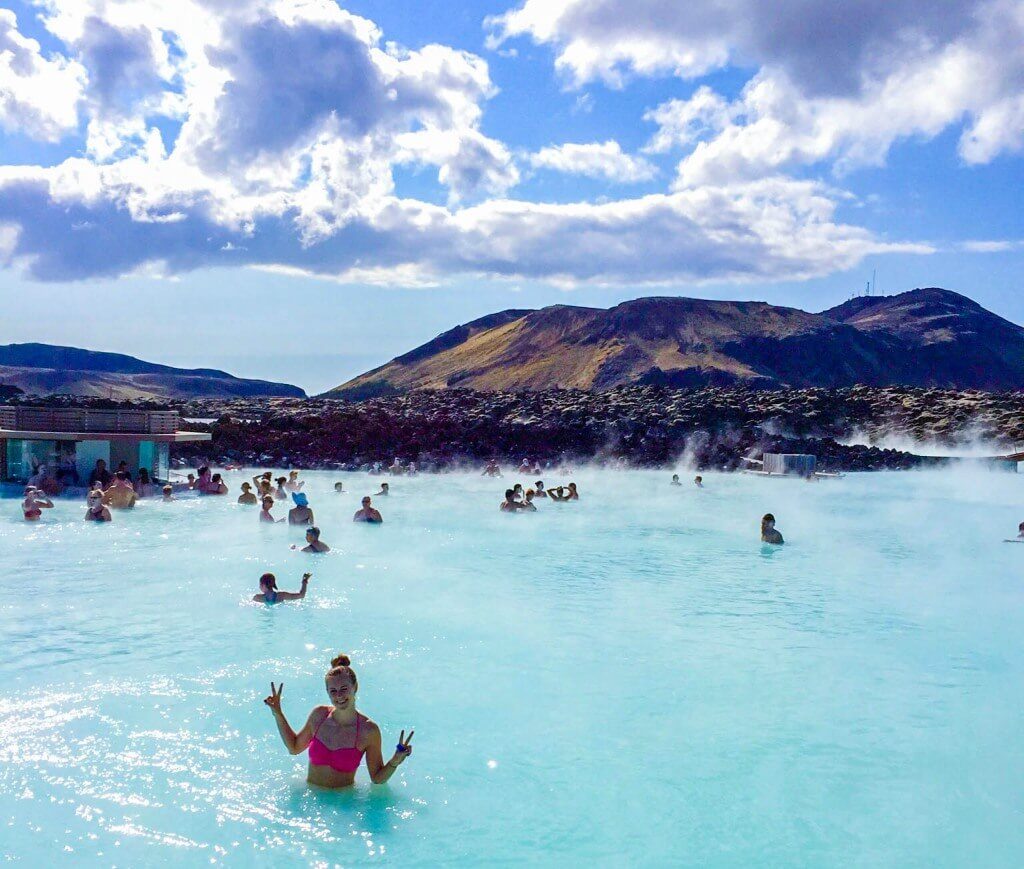 My one advice is to make sure you get there as early as you can and also book tickets in advance. As the destination gains in popularity more and more people are making the trek and the Lagoon does have capacity. We had one family turned away when we got there first thing in the morning because the tickets were sold out.
Seljavallalaug Pool
Try saying that 3 times fast! This 82 ft pool is really one of the best and most unique experiences to have in Iceland. Located on the southern part of the island, almost in the middle of nowhere we thought it would be harder to find than it was.
If you have a good GPS system you'll be able to find the place pretty easily. However we didn't expect the walk to be so far from the parking lot! We also stupidly left our bathing suits in the car on our first trek over because we weren't sure how hot the water was going to be and it was a pretty cold day out that day.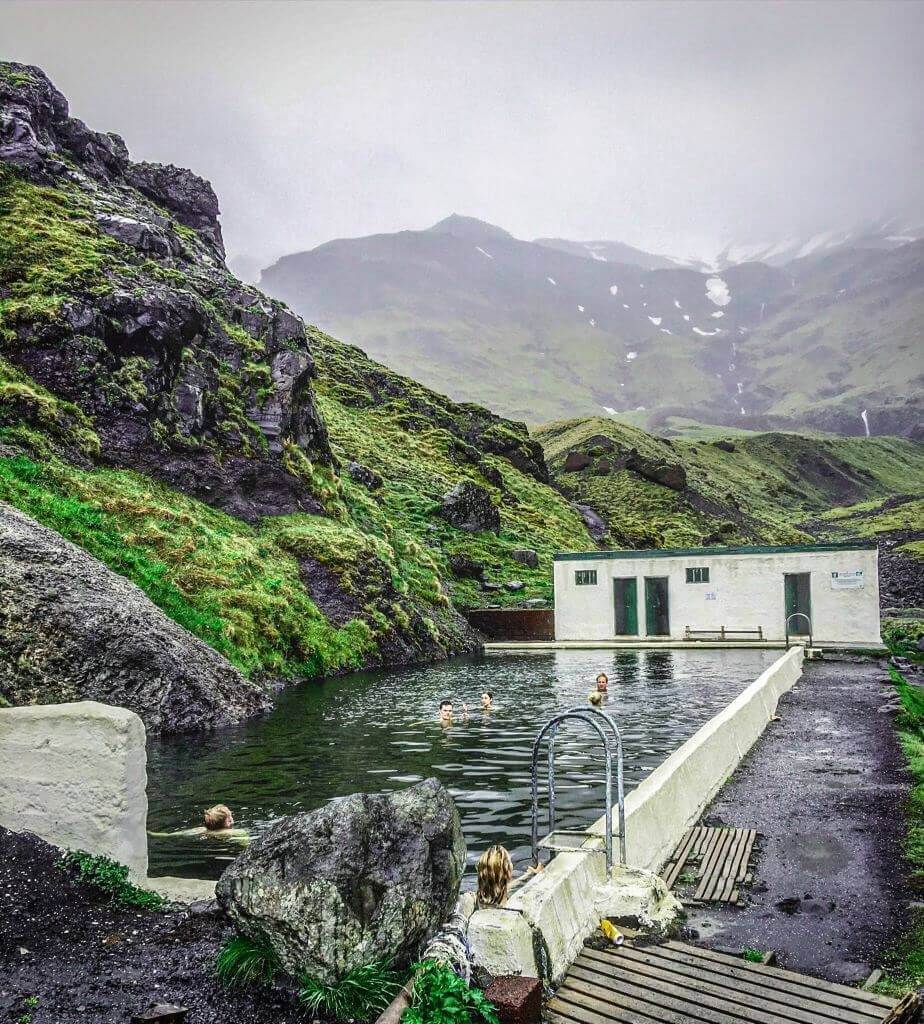 The pool is one of Iceland's oldest, built in 1923. Originally constructed to teach Icelanders how to swim, it has since become a free site and a popular spot for tourists. The pool is heated naturally from water that trickles down from a nearby volcano. Some people claim the water is actually good for your skin but who knows.
There are two sets of change rooms at the pool if you wish to use them but take head, the doors don't fully close and men and women generally change quickly and quietly in the same room.
Puffin Spotting
This is the one thing on the list that we actually didn't have the chance to do during our trip to Iceland. Mostly due to time constraints, we found that every legit place to see puffins was just too far out of the way. They are also tricky creatures and not guaranteed to be at the spot most maps say they migrate to. Go figure, they are animals at the end of the day.
The more popular spots for finding puffins are the West and North West parts of the island. This is definitely one of the unique things to do in Iceland we wish we had have embarked on.
Stay in a tiny house
After our trip to Iceland Ben and I became obsessed with the idea of tiny houses. Icelanders have it figured out. If you're travelling around the Ring Road you'll be able to find tons of tiny homes dotted along the main highway. All of them are inherently different but generally contained to one or two rooms with unbelievable views.
I think the coolest place we stayed was in Akureyri where the tiny house had large windows looking out onto the mountains and ocean in front. We could see whales breaching from the comfort of the couch inside. It was seriously incredible.
For more read: Our accommodations around the Ring Road
Visit Jokusarlon Glacier Lagoon
I had never seen a glacier or an iceberg before this trip to Iceland. If you're going to be travelling around the entire country during your stay I would highly recommend you add the Jokusarlon Glacier Lagoon to your list. Sadly the lagoon is the result of a warming climate. You can watch huge chunks of ice break off of the Breiðamerkurjökull (lol what?!) glacier and float into the lagoon.
It's really quite a mesmerizing thing to see if you're there on a windy day. While we didn't do any of them, there are tours that you can partake in that boat you around the different icebergs explaining the importance of them.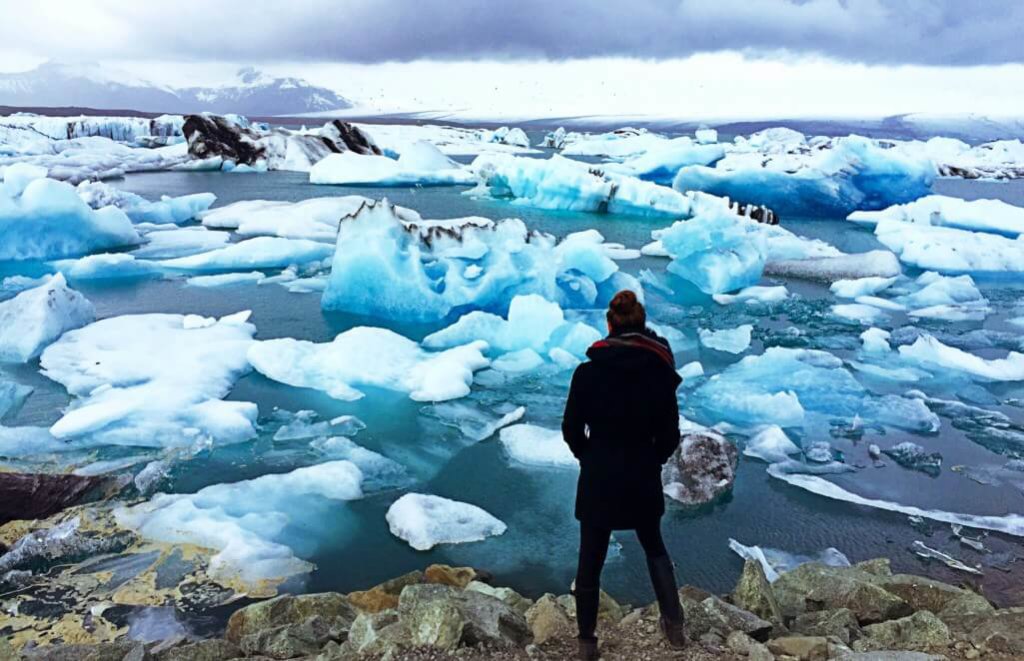 Ready to take your trip? 
Iceland Accommodations Around The Ring Road
Our Budget For 10 Days In Iceland
---
Additional Notes
ACCOMMODATION
Airbnb stays are quite easy to find in most areas in Iceland. You shouldn't have too much trouble finding something within your budget. For tips about booking Airbnb check out my post here.
Booking.com is another great resource if you're looking to book a hotel instead of an apartment. Most of our stays in were booked through Booking.com and I couldn't have been more pleased.
CAR RENTAL
Hotwire is my go-to source when booking car rentals. I always find the best rates with them and it's so easy to use. Most of the time I just use their app when travelling because it's so convenient.
For the purpose of this trip we used Cars Iceland and had a very good experience with them.
ICELAND TRAVEL BOOKS