If you're traveling to Canada for the first time let me start off by saying, yay! Welcome to my home country. The land of the poutine, loonie and Justin Trudeau (yeah, we think he's dreamy too). I've been noticing that Canada seems to be popping up more and more on people's bucket lists and it's for good reason.
In case you're wondering, the rumours are true: we are super friendly and polite people. Well, for the most part. Get us in a pair of skates or in front of a TV cheering on our local teams and you might just change your mind.
Whatever reason you have for traveling to Canada there are a few things you should know. Let me start off by saying, we are not Americans and we are not exactly like the United States. While we love our neighbours to the South, we have very different ideas on many subjects so don't get us confused.
Oh, and we don't live in igloos or eat blubber.
All that being said, what do you actually need to know when traveling to Canada? I've put together a list of the most important things to help you prepare for your first trip.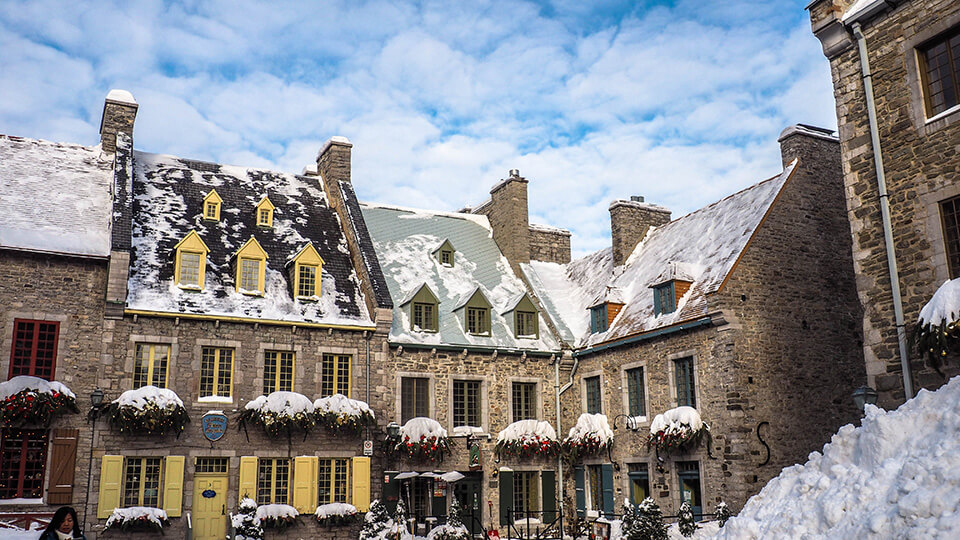 You can't see the whole country on your visit
As much as I wish this statement wasn't true, sadly it is. Unlike other countries like Belgium or Iceland, there's no way you'll be able to see the whole country in one trip. Actually, if you had a shit ton of money you might be able to but for the normal Joe, no chance.
We are the second largest country in the world which means you have to travel over 5,000 km to get from one side to the other. Imagine trying to do that in 10 days? Good luck!
When planning you're trip you really have to sit down and think what kind of adventure you want to have. If you're looking for mountains and epic scenery consider the Banff and Jasper area, if you're looking for coastal city look into Vancouver, if Ireland-like landscapes are more your thing visit Newfoundland and Labrador or Nova Scotia. The list could go on but I think you get the picture.
We love tips 
Well we don't but as employees we do I guess. It's customary to tip in Canada for basically everything you can think of under the sun. When in doubt? Just tip anyways, odds are you're meant to.
I'll prepare you for this now, when dining out always add an extra 15-20% on top of your bill for tips. I hope you didn't choke on whatever drink you're drinking. In Toronto servers are now even expecting closer to a 20% tip. If you tip 15% that generally means you've had poor service. Even when I've had the worst service ever I as a Canadian could never leave no tip. I just can't.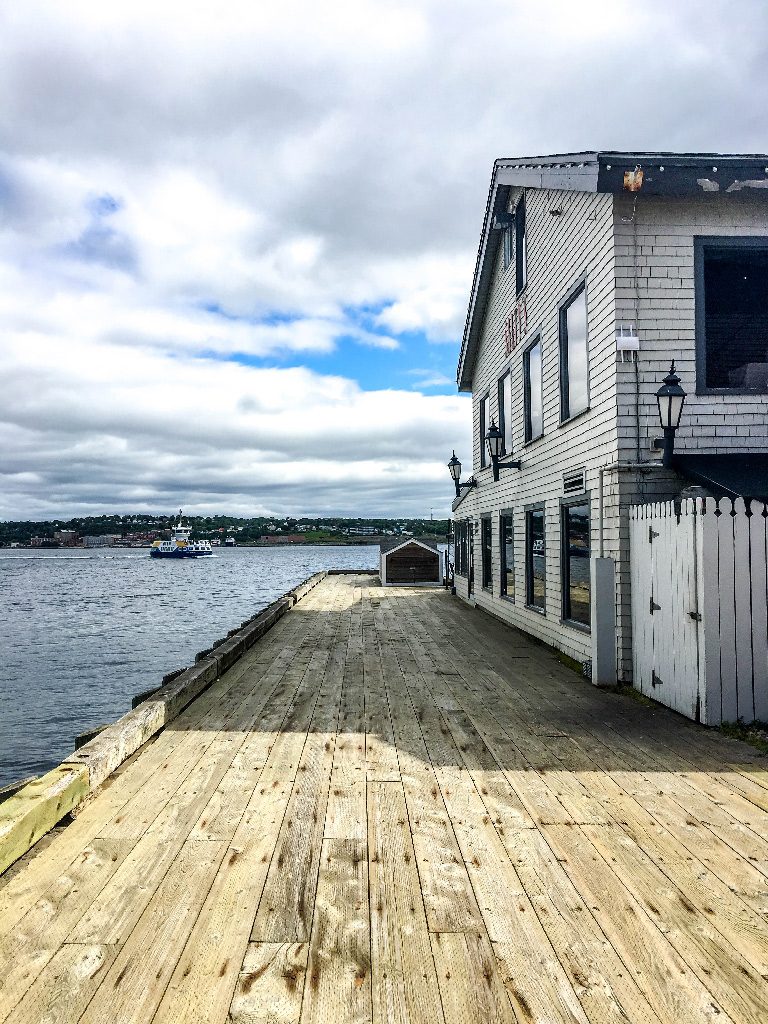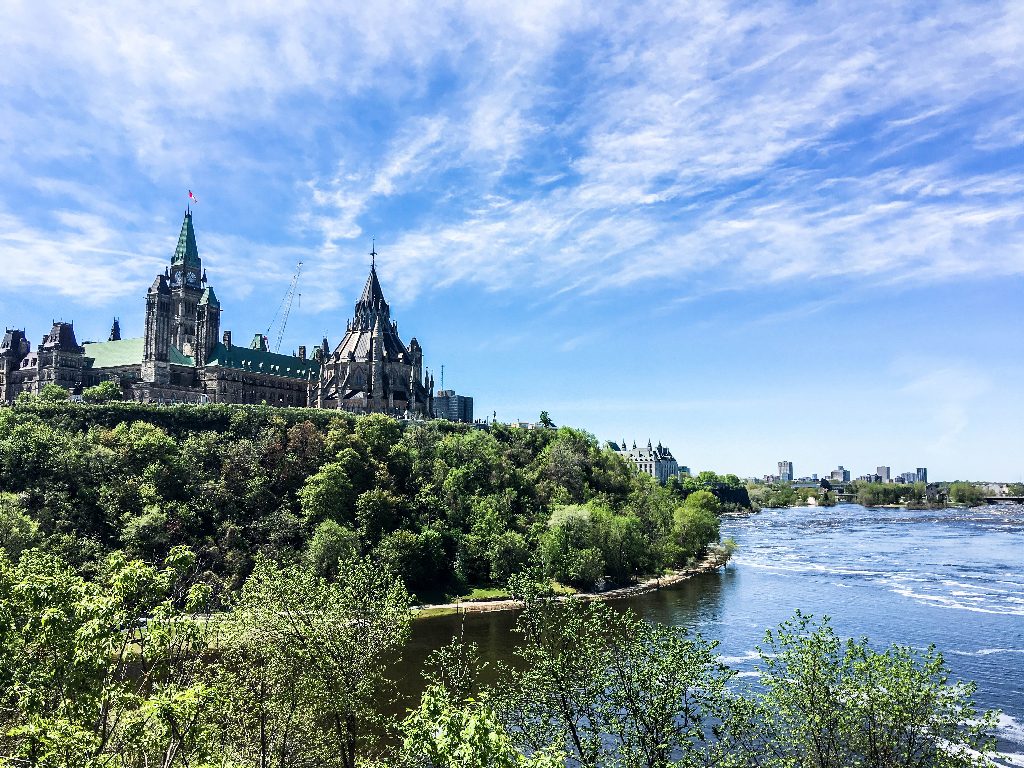 One thing that surprised Ben when he first moved here was that you actually also tip bartenders. If you're out at night, leave a toonie or loonie (yup, those are real names for our currency) on the bar as appreciation. It seems silly if you're coming from somewhere like England, paying to have someone pour you a beer but it's reality here!
We also seriously love taxes 
If you weren't stewing in anger from having to pay all that money, skip this section. All of our prices listed anywhere, menus, retail shops, convenience stores are all dollar values before tax. Which means whatever you're picking up to buy, add another 10-15% on top of that too.
The actual percentage really varies based on where you're travelling but in Ontario we pay 13% tax on top of everything. You can look up the different tax rates per province online on the Government of Canada website for the most up to date information.
Looking for a late night? 
I've got news for you if you're travelling to Toronto, Ottawa or anywhere in Ontario. Our bars close at 2am and the last call for alcohol at a bar is usually 1:30. Yea, it sucks but at least you can go home relatively early and get a good night sleep? Ha! On special occasions bars are open until 4am but those are very rare occasions.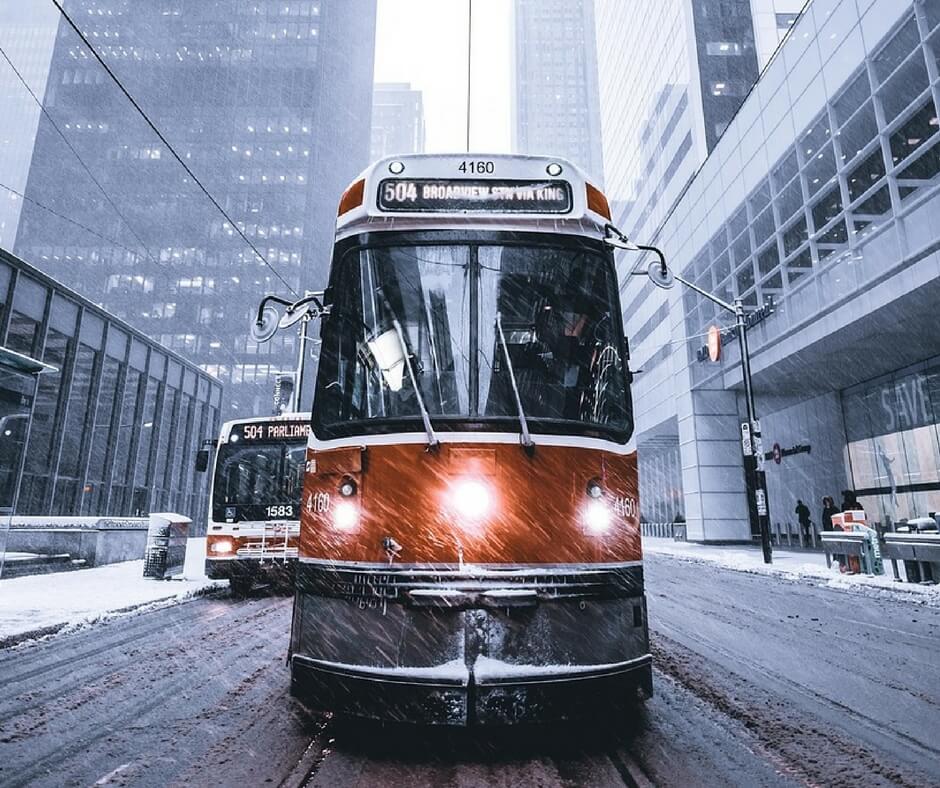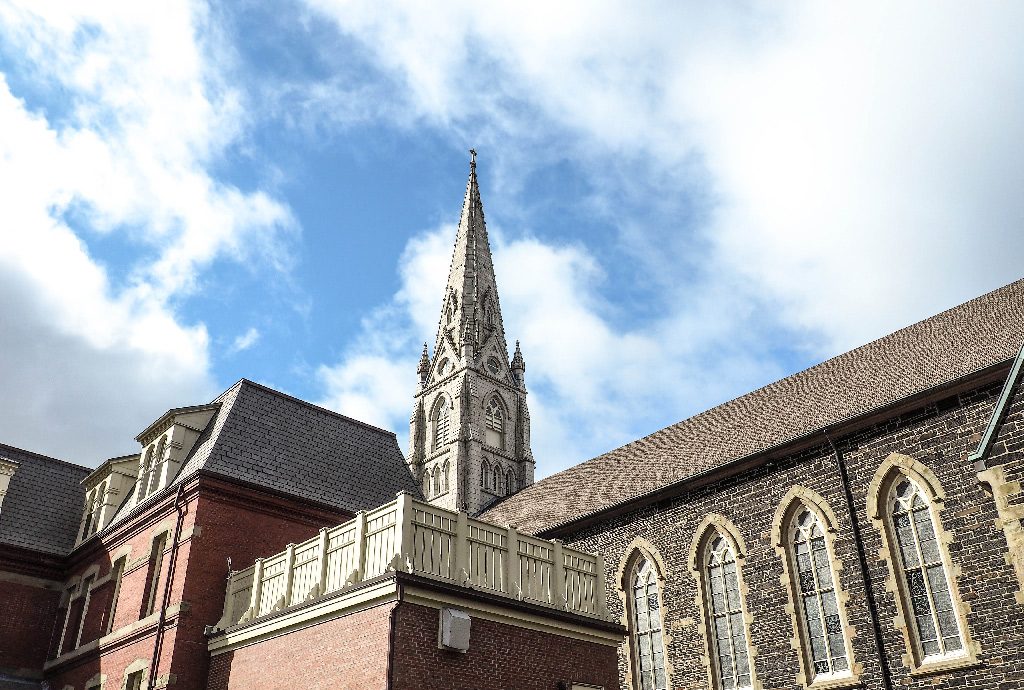 The rest of Canada ranges from 1:45 a.m (I know super random but that's the East coast for you) to 3 a.m (also the East coast, go figure). Make sure to look ahead before taking your trip so you can plan your night accordingly. I would also suggest leaving the bars slightly before close because otherwise you're definitely not getting a cab or uber (especially in Toronto).
Try our food! 
What good is traveling somewhere new if you aren't going to try their local cuisine right? While Canada has a bizarre culture, mixed with some of the best cultures from around the world, we've somehow found our niche. This comes in the form of food. We've taken the best from all over the world and created our own, what's better than that?
Want to try new foods? Here are some of the best, uniquely Canadian foods you can try when traveling to Canada:
Poutine: Duh, this is one you can't miss. It's the perfect after bar food to help sober you up or satisfy your hunger. What is poutine? It's fries topped with gravy and cheese curds. When the gravy is poured over cheese curds they melt into this ball of absolute deliciousness. The toppings all change depending on where you eat. Ben's favourite? Pulled pork poutine. I'm hungry now.
Timbits: Ever wonder where the hole in the middle of the donut goes? They become timbits! These little balls of sugary heaven are not something you can miss. You'll only find them at Tim Horton's but don't worry there's a Timmy's on every g-d corner.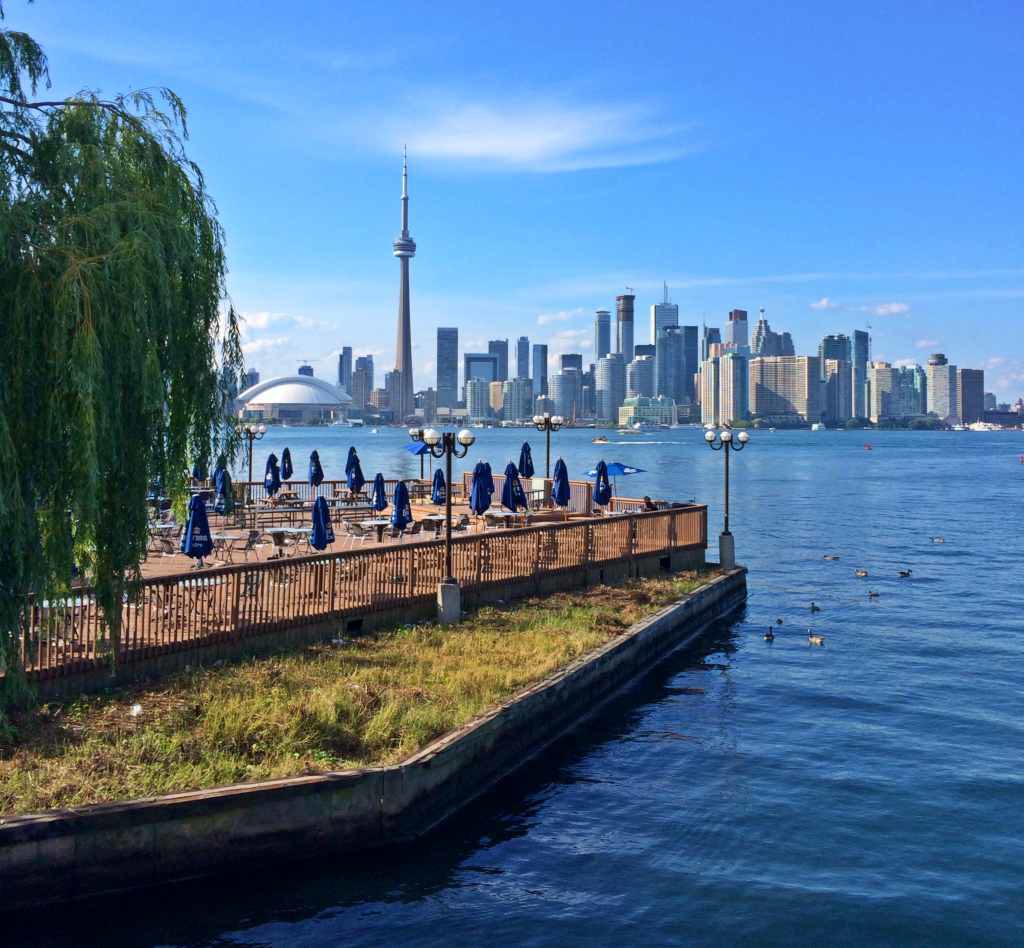 Caesar: My favourite of all the Canadian things. The Caesar is a cocktail used often as a hangover cure or afternoon pick me up. The best way to describe it is a Bloody Mary on crack. It's way better. In Canada, there's an unspoken competition between many restaurants on who can make the most extravagant concoction. One place in Toronto puts a whole damn pizza slice in the drink!
So there you have it – the top 5 things you need to know when traveling to Canada. Ready to take your trip yet?
---
Additional Notes
ACCOMMODATION
Airbnb stays are quite easy to find in most areas in Canada so you shouldn't have too much trouble finding something within your budget. For tips about booking Airbnb check out my post here.
*Click here to get $40CAD off your first stay
Booking.com is another great resource if you're looking to book a hotel instead of an apartment. Most of our stays in were booked through Booking.com and I couldn't have been more pleased.
CAR RENTAL
Hotwire is my go-to source when booking car rentals. I always find the best rates with them and it's so easy to use. Most of the time I just use their app when traveling because it's so convenient.
---
You may also like:
18 UNESCO World Heritage Sites 
The perfect winter weekend getaway in Quebec City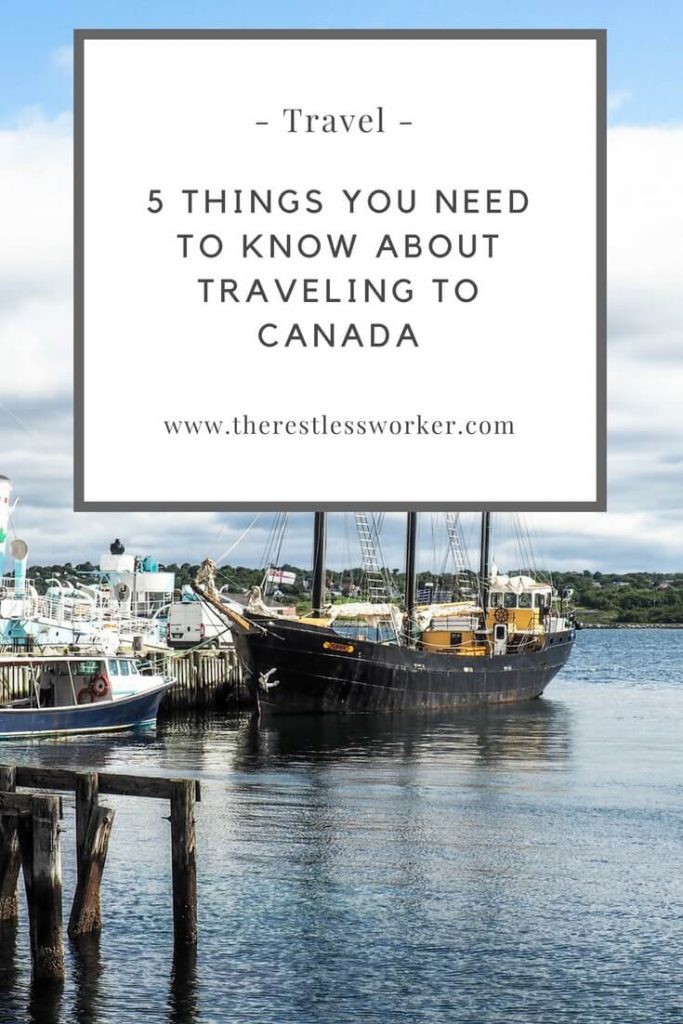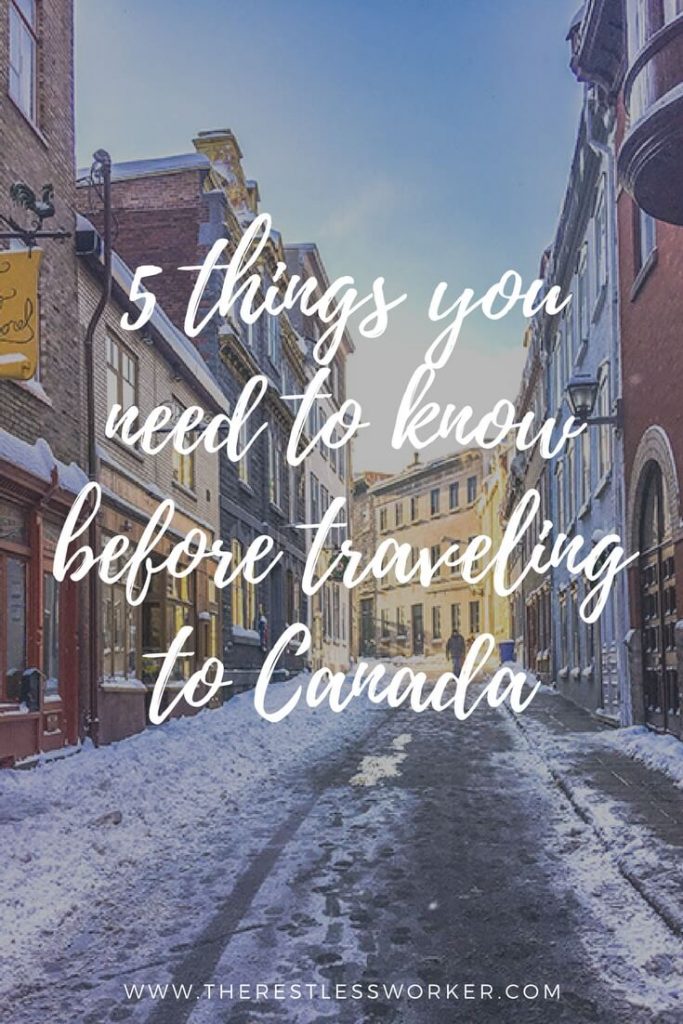 *This post contains affiliate links. We may make a small commission when you click on a link.