You need to add one day in Ypres to your list the next time you plan on visiting Belgium. This small town has more history than most other cities in Europe and I found to be completely underrated.
For those of you unfamiliar, Ypres was home to one of the main battlefields in World War One. In fact, the city itself was pretty much desecrated during the war. It's hard to explain the feeling I had walking into this small town but it sobered and humbled me. There's almost a strange feeling of haunting within the city walls, though you never feel unsafe. Considering the large number of deaths that happened on the cities soil, it makes sense (if you believe in that sort of thing).
What I didn't realize however before visiting was how many Canadian soldiers parished on the soil. As I walked around, especially through the Menin Gate, I really got a sense of how many people were affected, even those so far from home. The city has of course recovered since the war but they've never forgotten.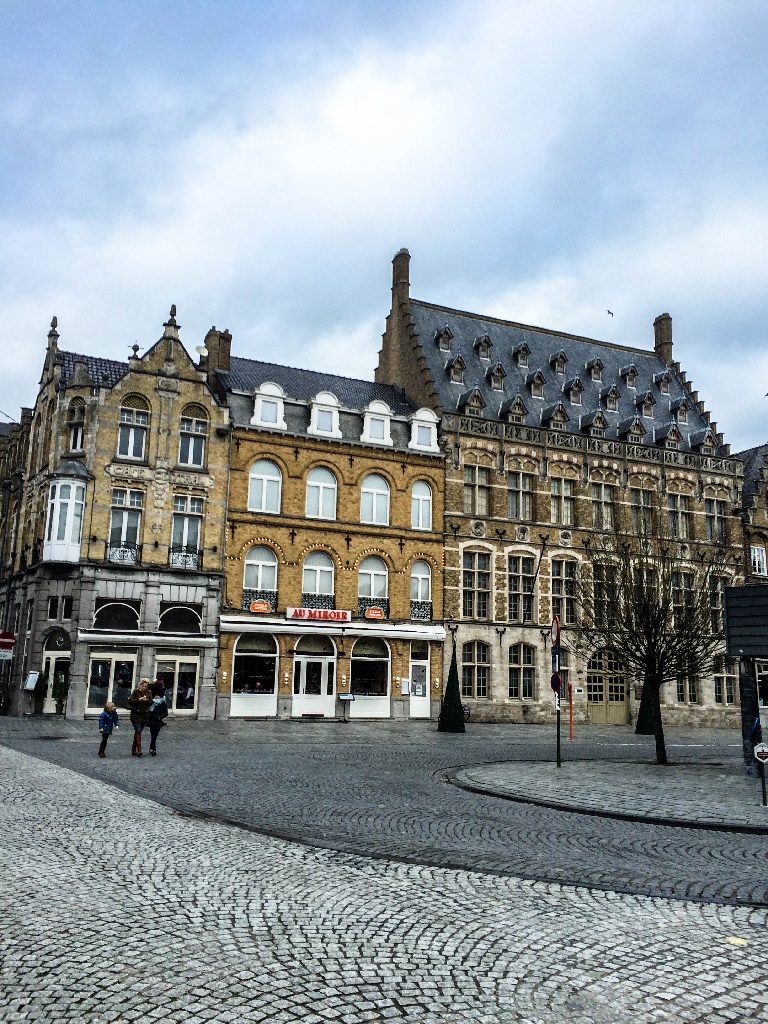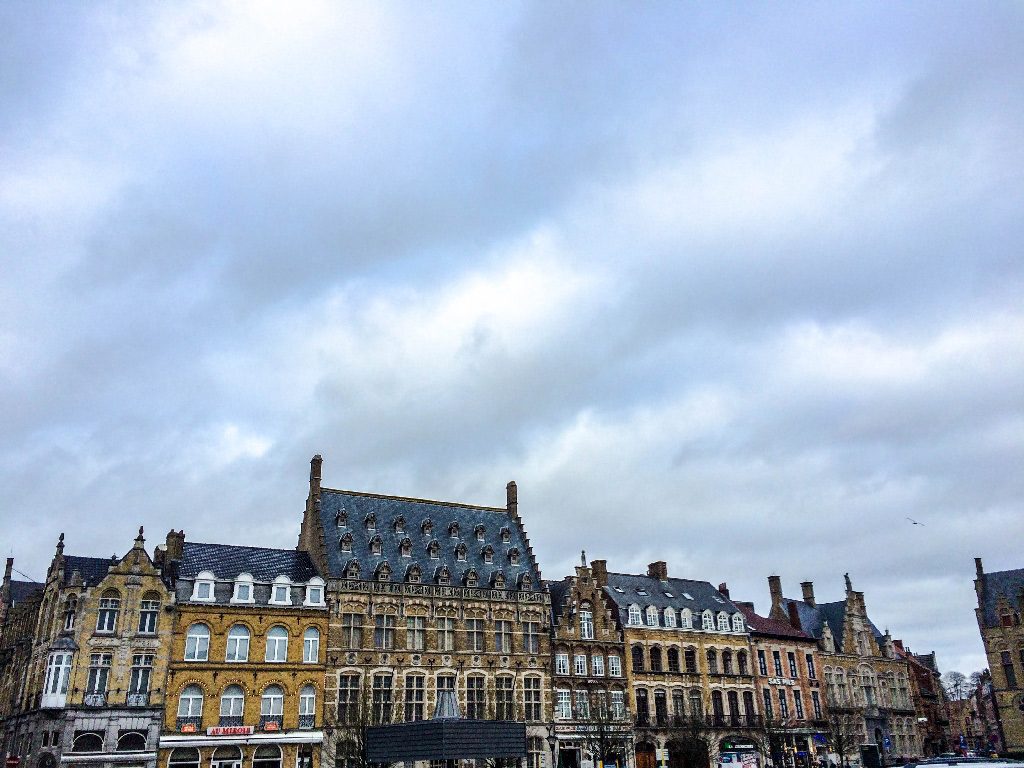 The main tourism focuses largely on the Great War and is visited by hundreds of history buffs every year.
It's easy enough to spend only one day in Ypres during your travels. We got the chance to see everything that we wanted to in the small area with a bit of time to spare as well.
| What to do |
Tyne Cot
Tyne Cot is the biggest cemetery of fallen soldiers. If memory serves me right there are about 12,000 soldiers with tombstones and far more with names engraved along the stone walls. The names of these soldiers are the ones whose bodies were never found.
The cemetery is surrounded by vast farm fields which only intensifies the quietness. There is a building before the entrance that you can go inside to learn more about the war and Tyne Cot but unfortunately because of the time of year we were there it was closed.
It's a beautiful and horrible spot at the same time. The pristine white tombstones are lined row upon row upon row. Each one the exact same as the one before the only difference is the names and nationalities. I couldn't even believe how many Canadian stones there were. It hit really close to home.
While Tyne Cot isn't actually located inside of the Ypres walls, it's close enough and important enough to justify making the trip. You'll need a car to get there.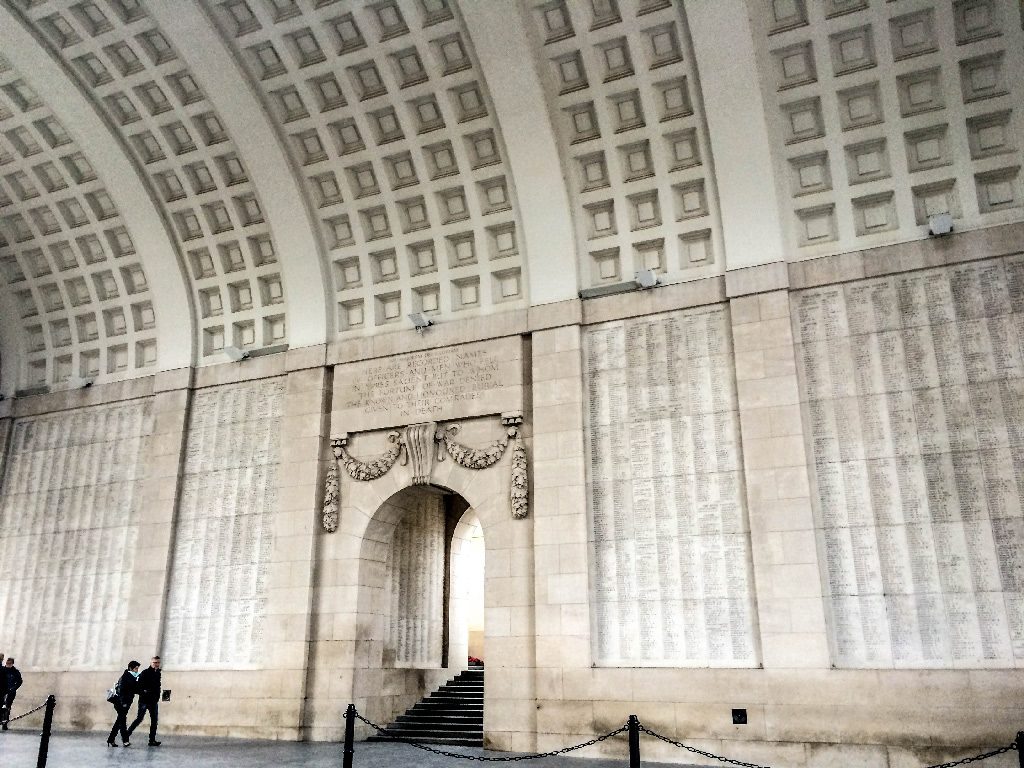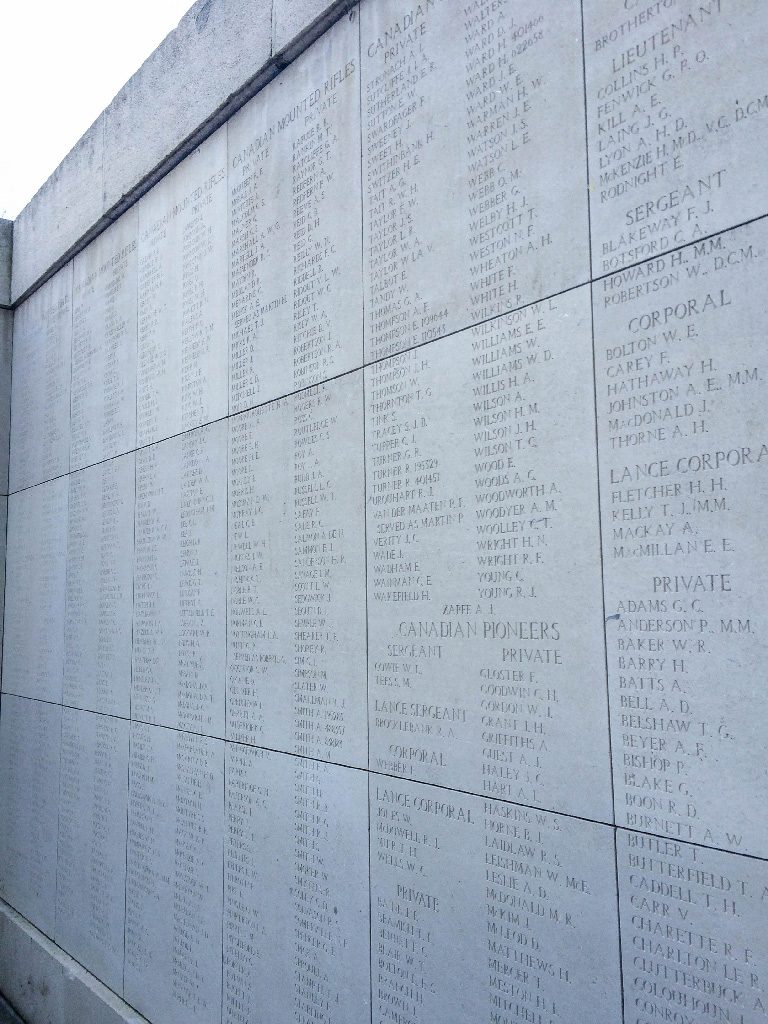 Market Square 
Like most Market Squares, this spot is located right in the middle of Ypres. The architecture of the buildings in the square is, as most Belgium buildings, breathtaking.
During World War One the square was completely destroyed. It was rebuilt years later to look just as it had before and better and today it's one of the most beautiful squares in Belgium.
In the winter and during Christmas, the Christmas market is housed in the square. We caught the last day of the market during our trip and they had all the locals out drinking free beer and taking shots. I guess at the end of the market they get rid of the excess alcohol by giving it away!
In Flanders Fields Museum
The battle of Ypres is known as the bloodiest battle in recent history. Even though it took place about a hundred years ago, the history is very much still felt in this region.
In Flanders Fields Museum is located in the market square and is home to some of the biggest World War One collections. It's really quite incredible. It takes about an hour or two to walk through it. There are interactive displays and videos that teach you about the history.
There's even a library at the end of the museum where you can find people who participated in World War One. I tried searching for my family but couldn't find anything.
As a person who doesn't generally like walking through museum's, this one was definitely worth it. In generally I know much more about World War Two than one so it was also very much a learning experience for me.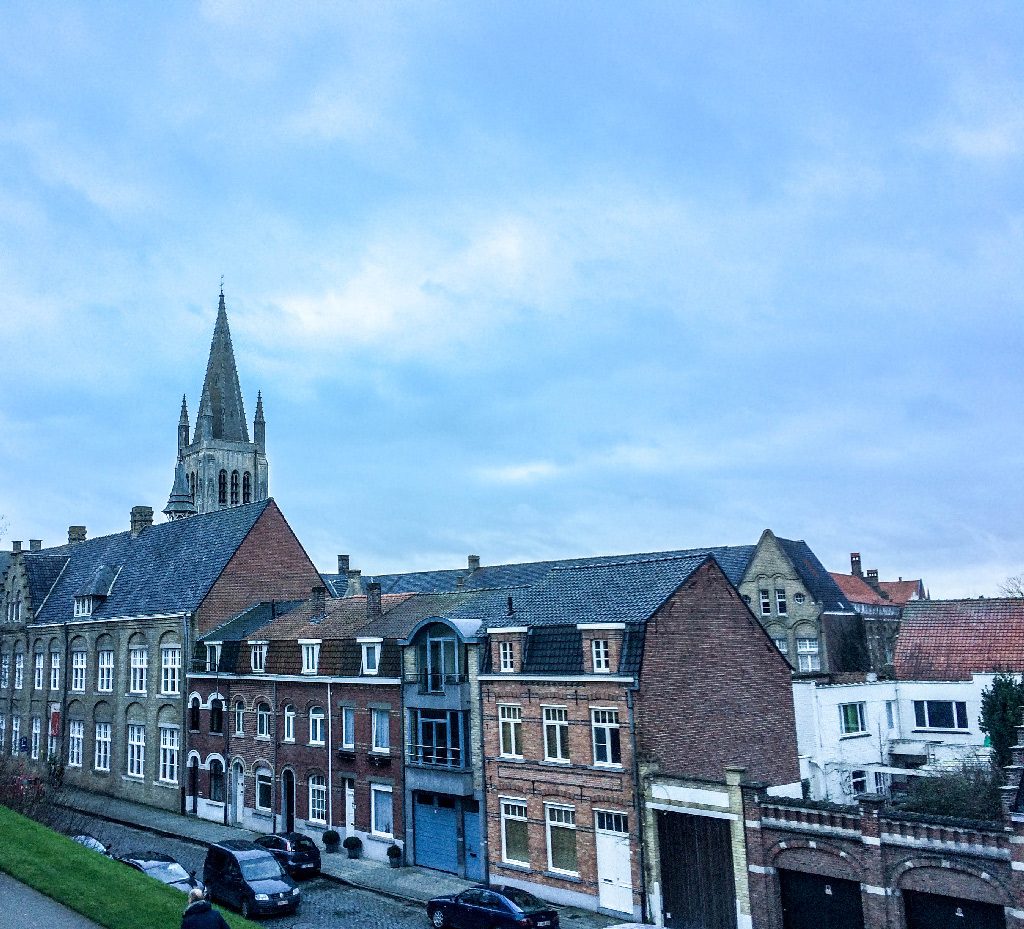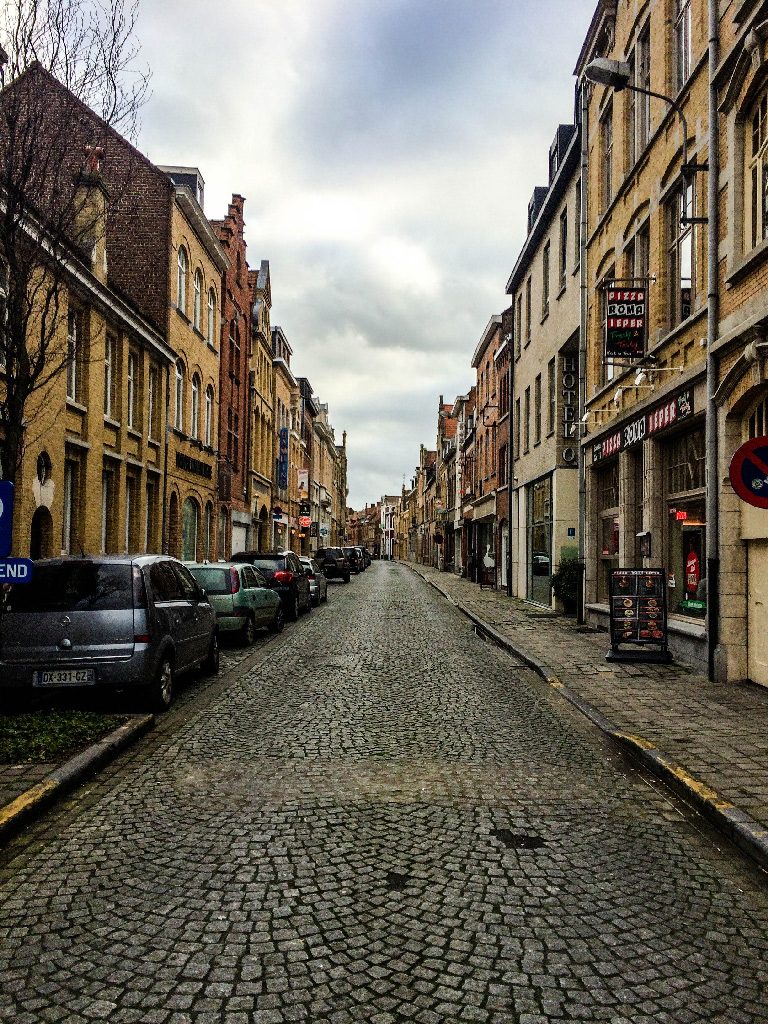 Menin Gate 
This large monument is probably the most famous of Ypres and a big reason why people come and spend one day in Ypres. The monument itself is like a giant tombstone. It contains the thousands upon thousands of names of men who were killed in the war.
The monument is located on the grounds of the old Antwerp Gate, it's where everyone passed through on their way to battle. It's a giant arc with every inch of stone covered with names of fallen soldiers. Every single one of the men who's name is found on the Menin Gate was never found.
I would definitely suggest taking the time to take it in and look around. I found quite a few of my family names – whether they were related to me or not I'm not sure.
As part of a promise many years ago the Fire and Emergency services team in Ypres said they would honour the fallen men every night for eternity. 100 years later they have held strong to that promise. At 8pm a small crowd gathers and three soldiers come out to play the last post.
Walk the City Walls 
Last but not least one of my favourite memories of this small town was the ability to walk all around the city on the walls. There were some beautiful spots to take pictures from and it was a really great place to go for a run in the early morning.
The stone walls cover about 2.5 km and can take most people about 90 minutes to walk around then. As you walk along the route you'll find information panels that explain some of the things that you're seeing.
You can also get the chance to walk around or just spot the Natural Reserve, Palingbeek. This spot was the frontline of battle and held by British troops.
| Where to stay | 
This is one of the coolest places I've stayed. It's an apartment-style hotel that's located directly above a restaurant. The restaurant looked fantastic, although due to a budget we didn't actually eat there.
The rooms at De Voerman are locked from the restaurant side so that you don't mistakenly get disturbed. There are other entrances to the rooms that bring you to the back of the building are easily accessible as well. Don't worry though you won't be able to hear any noise from the restaurant at all.
While you can easily only spend one day in Ypres, it's a place that you could stay for a couple days quite comfortably. Especially because it's close to Ghent and Bruges. There are quite a number of really great restaurants as they are all largely family run or owned.
*This post contains affiliate links. You can learn more by visiting our Privacy Policy and Disclaimer page.