Iceland seems to be on everybody's bucket list these days, and for good reason. This small European country is incredibly easy to get to from North America or Europe. Icelandair and Wow airlines offer great deals on nonstop flights and from Toronto, a 5 hour direct flight is basically the same as travelling to the other side of the country!
The thing that surprised me the most about the country was how easy it was to see all the 'major' sites. Actually I lied, what surprised me the most was that you could be in two completely different climates within an hours drive of each other. Either way, you will do yourself a big disservice by not trying to do the entire Ring Road on your trip.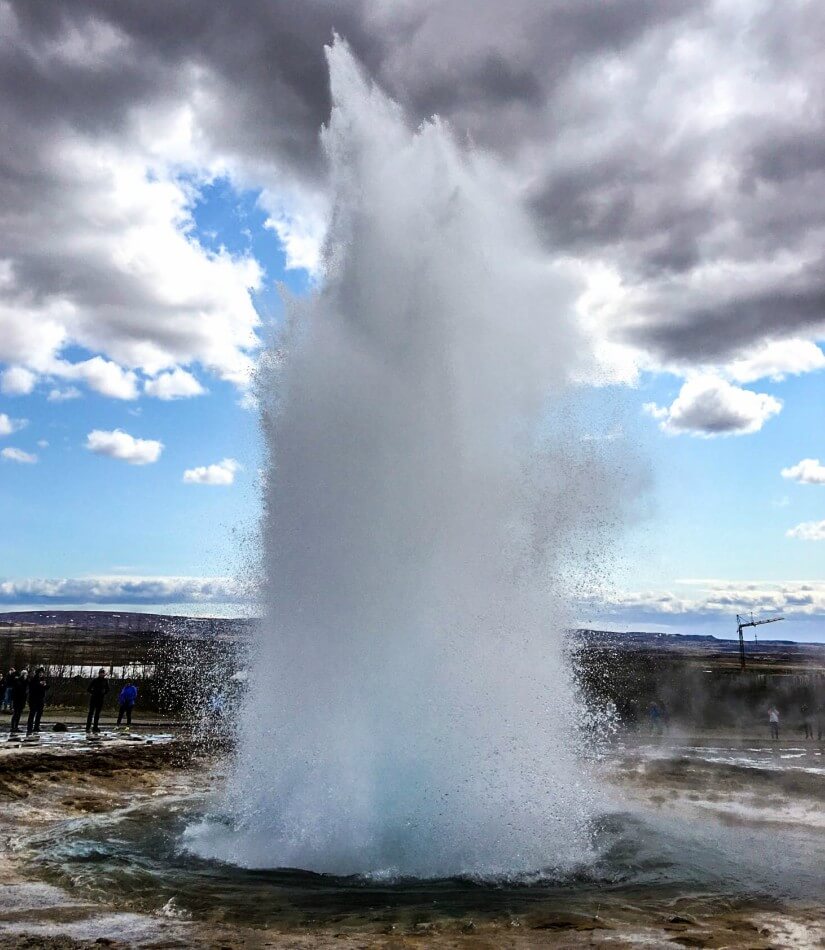 Driving in Iceland was pretty easy as long as you stay on the main roads. Most of the main sites we wanted to see were located just off of these main roads so we had no problem getting to them.
Before the trip I really thought we would struggle to see all of Iceland in 10 days. We didn't. Most days we didn't leave our accommodations until 9 or 10 in the morning, and then reached our next destination by 5 or 6 at night. If we were doing more tours I'm sure it would have taken longer but because we were driving on our own schedule, we could go see something for a long as we wanted. We stayed in a combination of Airbnb's and hotels depending on how remote the area was.
*Click here to get $40CAD off your first stay with Airbnb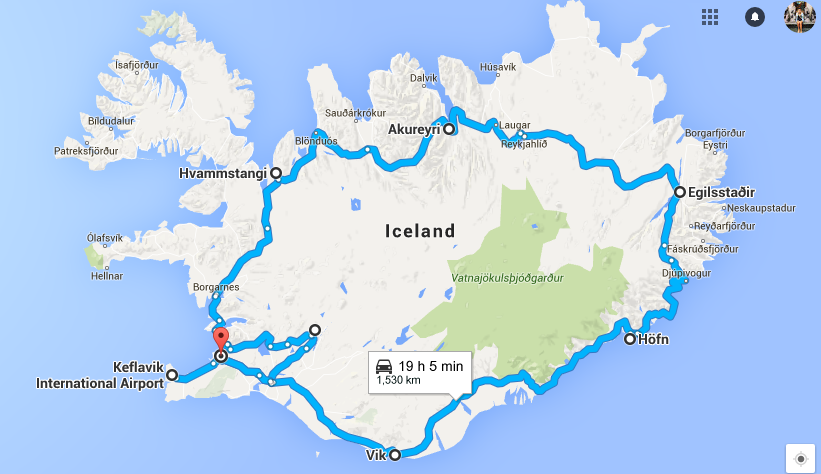 Day 1: Geysir Area
We landed in Iceland around 7am which was perfect timing for us to pick up the car and grab a spot at the Blue Lagoon. My word of advice is to get the earlier tickets for Blue Lagoon. Because we got there right when it opened there, the pool wasn't too busy. We left around noon and it really started to pick up around that time, I can only imagine what it would be like later in the day.
After a refreshing dip we made our way to Geysir. It was really surreal watching the water jet out of the ground the way it did! It's funny having a crowd of people standing around waiting so patiently for the moment it explodes.
Gulfoss was last on the list that day. The waterfall was our first of the trip and definitely an incredible one to see our first day!
Make sure to stop at:
Blue Lagoon
Geysir
Gulfoss
Sudurland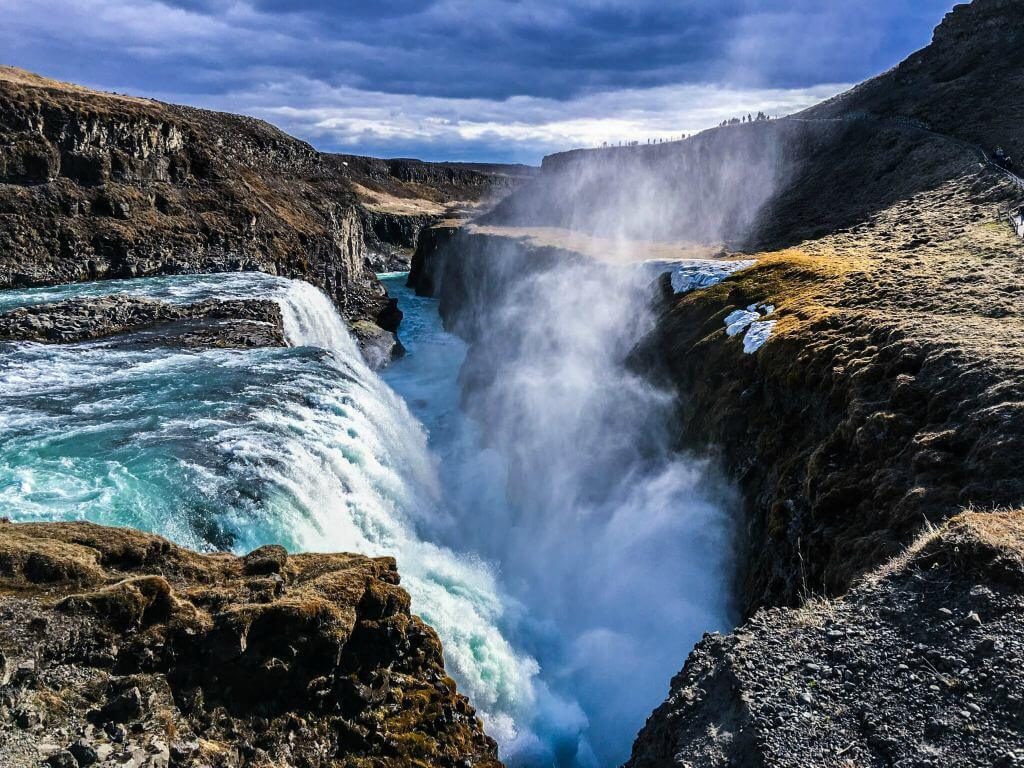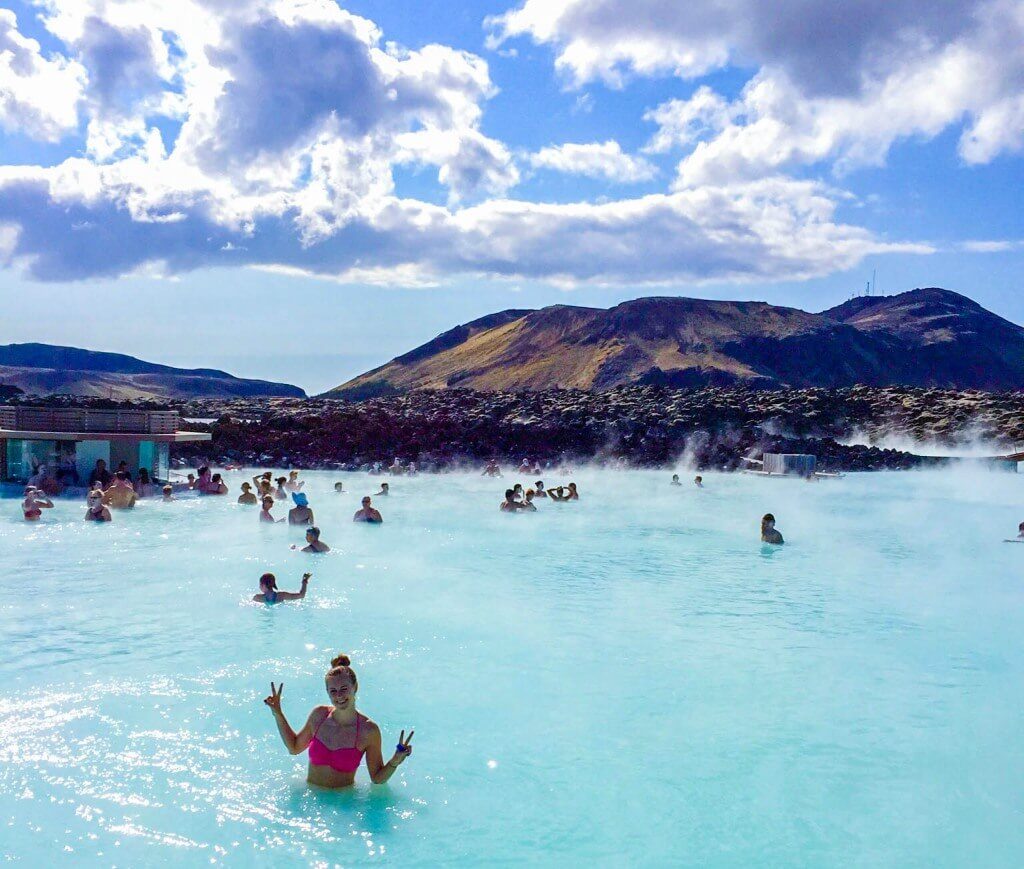 Day 2: Hvammstangi
We started the morning with a snorkelling tour in Silfra. This was by far one of the most incredible things I've ever done but holy hell was it cold. I couldn't feel my lips, hands or feet. It was unfortunate because I spent almost as much time floating on my back trying to stay warm as I did looking under water. For those of you who aren't familiar with Silfra, the snorkelling tour takes you right between the North American and European Tectonic plates. Incredible.
The afternoon was a busy one as we made our way to Hvammstangi and made some stops along the way. There wasn't much to do in Hvammstangi so it was a good thing we arrived tired and ready to sleep!
Make sure to stop at:
Pinvellir (Thingvellir)
Hraunfossar & Barnafoss Waterfalls
Deildartunga
Glaumbaer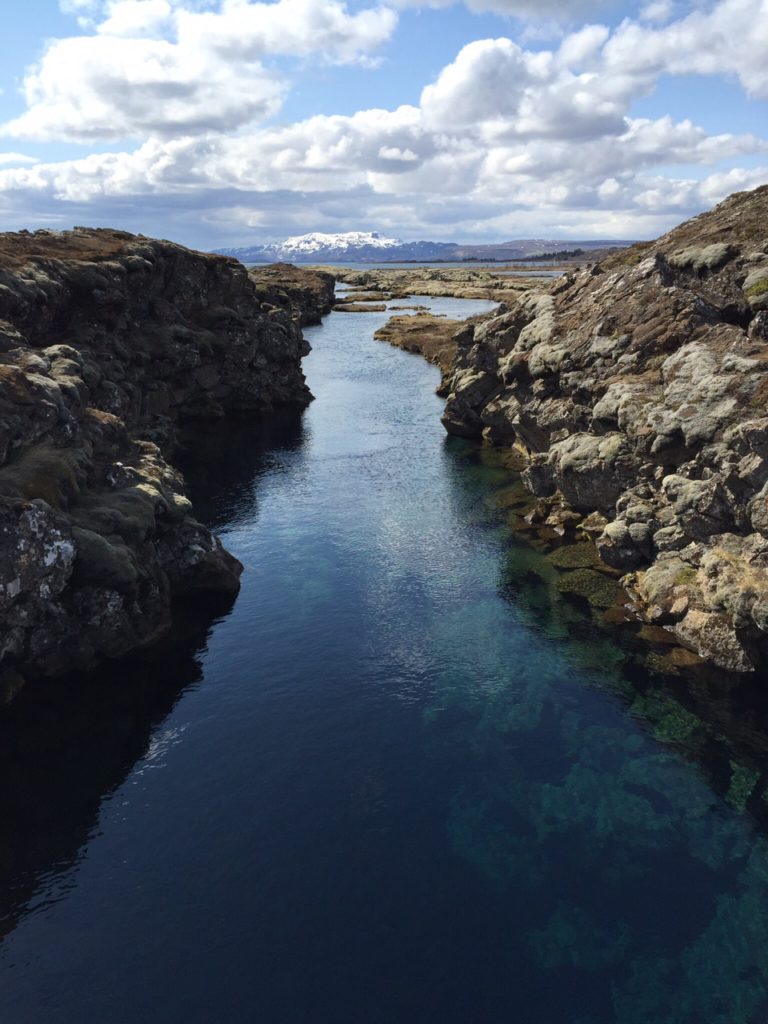 Davy 3: Akureyri
This day we took a little bit slower. We had heard that Akureyri was the biggest 'city' in the northern part of Iceland so we figured we could spend a couple of hours wandering around. Uh, not really. It was so small! We walked the whole city in basically 20 minutes. Because our accommodations were the ones we were looking forward to the most on the trip we decided to just head over to enjoy them.
The little home is definitely the coolest place I've ever stayed. Akureyri is really known for its whale watching but because we were on a bit of a budget we decided to forgo the tours – especially since we were able to see some whales right from our window! Instead we made the trek to Godafoss Falls for a few hours before heading back.
Make sure to stop at:
Godafoss
Akureyri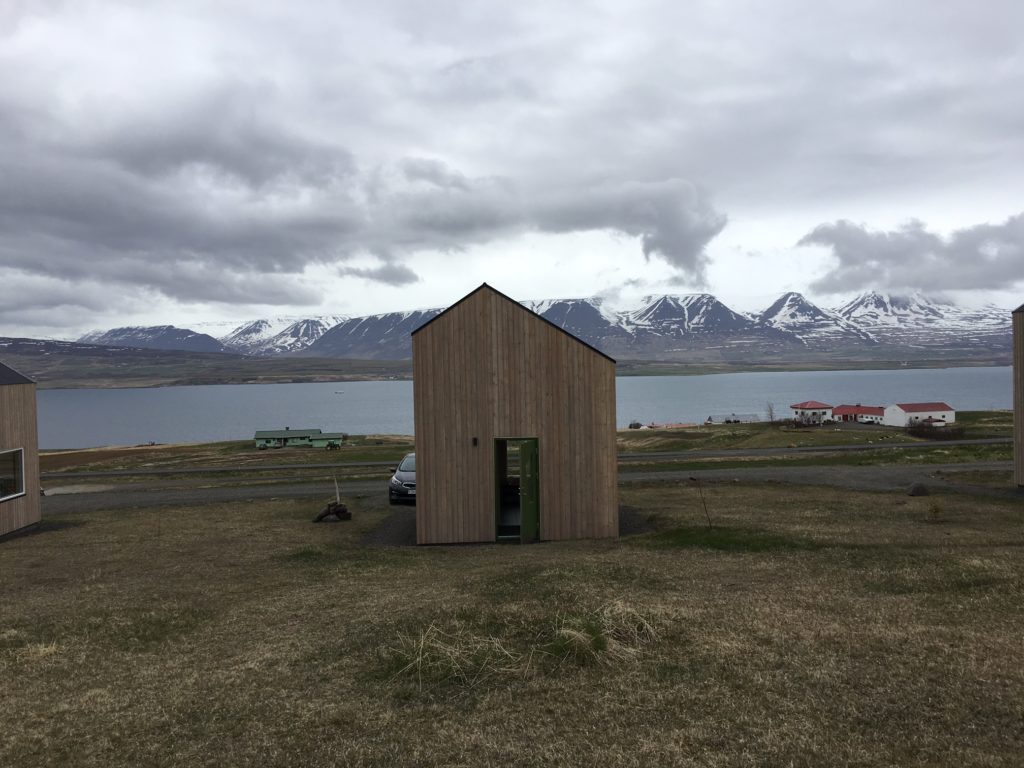 Day 4: Myvatn and Egilsstadir
This was another busy day for us as there were quite a number of things in the Myvatn area we wanted to check out. We luckily found a brochure the night before that listed all of the things we wanted to see so we mapped it out all out so we were ready to go that morning.
Sadly, because of the time of year, we found out that many of the things we wanted to see in Myvatn were closed or completely overrun with bugs (those tiny little black bugs that follow you around everywhere).
I would still definitely recommend checking out there area because there really are so many cool things to do!
Egilsstadir is another very small city (although the biggest in that region) so you don't really need to take time here to explore.
Make sure to stop at:
Skutustadagigar (try pronouncing that)
Hverir
Viti Crater
Dimmuborgir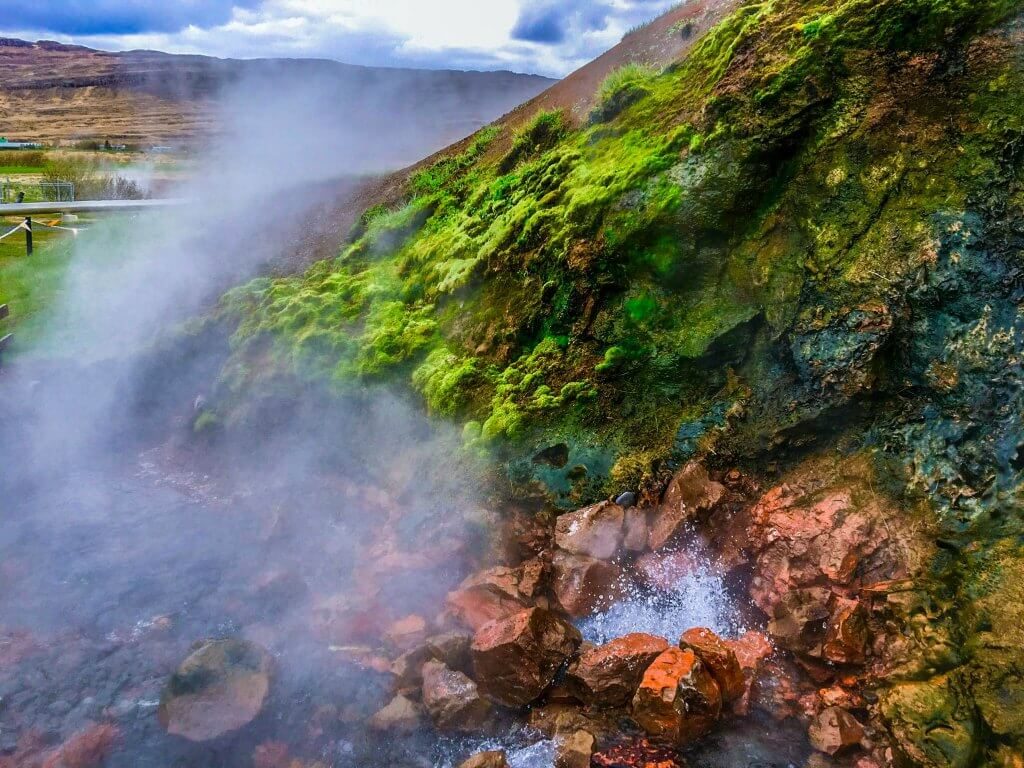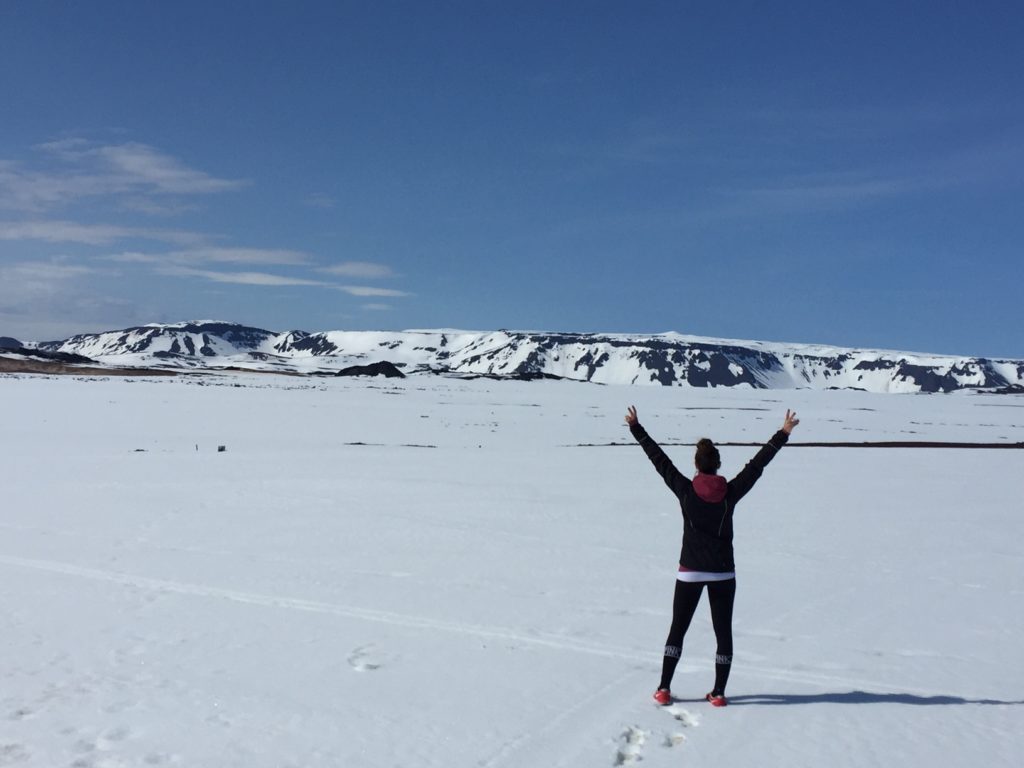 Day 5: Hofn
When leaving Egilsstadir we veered off the Ring Road a bit and headed down to check out Lagarfljot lake. Apparently this lake has a similar mythical creature to the Lochness Monster in Scotland. While we didn't spot any weird creatures around, we did enjoy the scenery. In fact the landscape reminded us quite a bit of Canada with the Evergreen trees and mountains.
The landscape as you travel through Egilsstadir to Hofn is something incredible. You are driving through, in, and over giant mountains (which still had quite some snow on them), but also driving past quite a number of beaches. You almost need the day to just enjoy the scenery around.
Make sure you stop at: 
Lagarfljot Lake
Djupivogur
Everywhere you can along the way!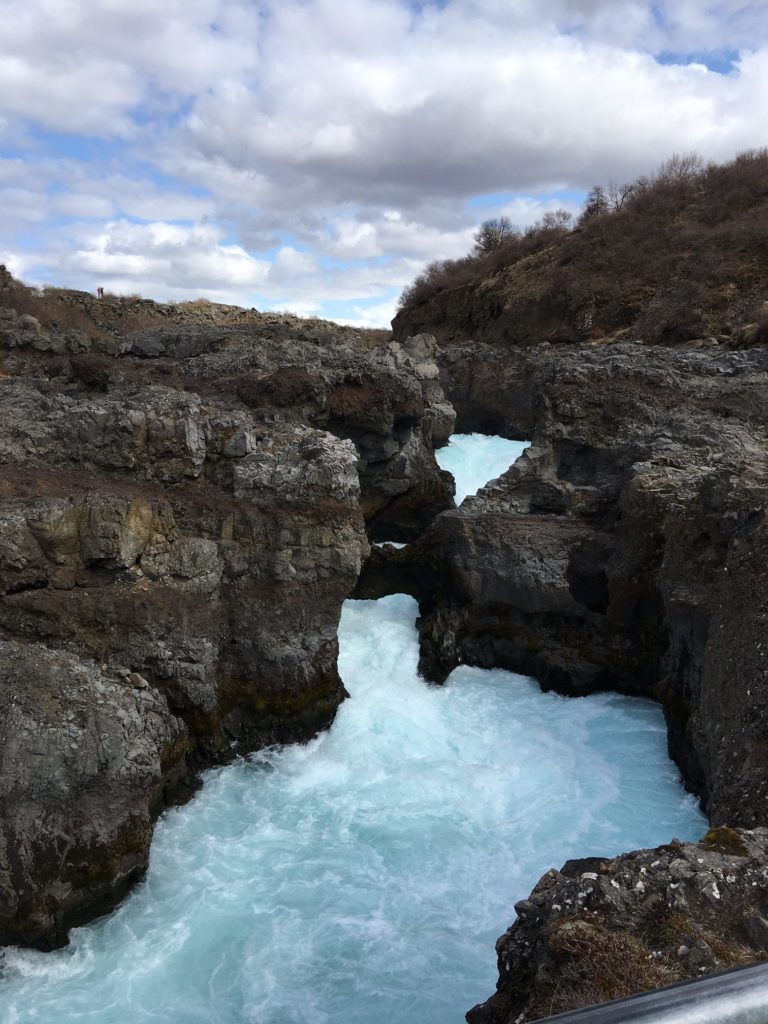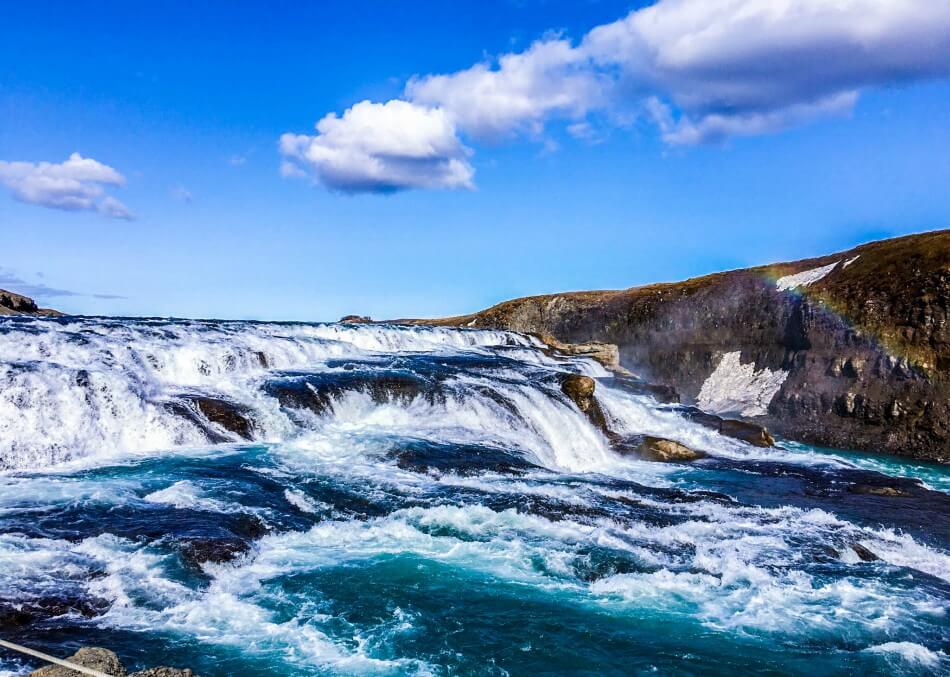 Day 6: Hofn
We stayed in Hofn for two nights because I couldn't find accommodation in Vik for the night before. I also thought it would be good to give ourselves a break from the go, go, go of the trip. I'm willing to admit that it probably wasn't worth spending two nights in Hofn.
The small seaside town is quite quaint and also boasts of some of the best restaurants on the East side but they are also the most expensive. We decided to go out of our way to see Glacier Bay that day and I'm so glad we did because the weather was perfect and it's one of the most amazing things I've ever seen.
Make sure to stop at: 
Hofn
Glacier Bay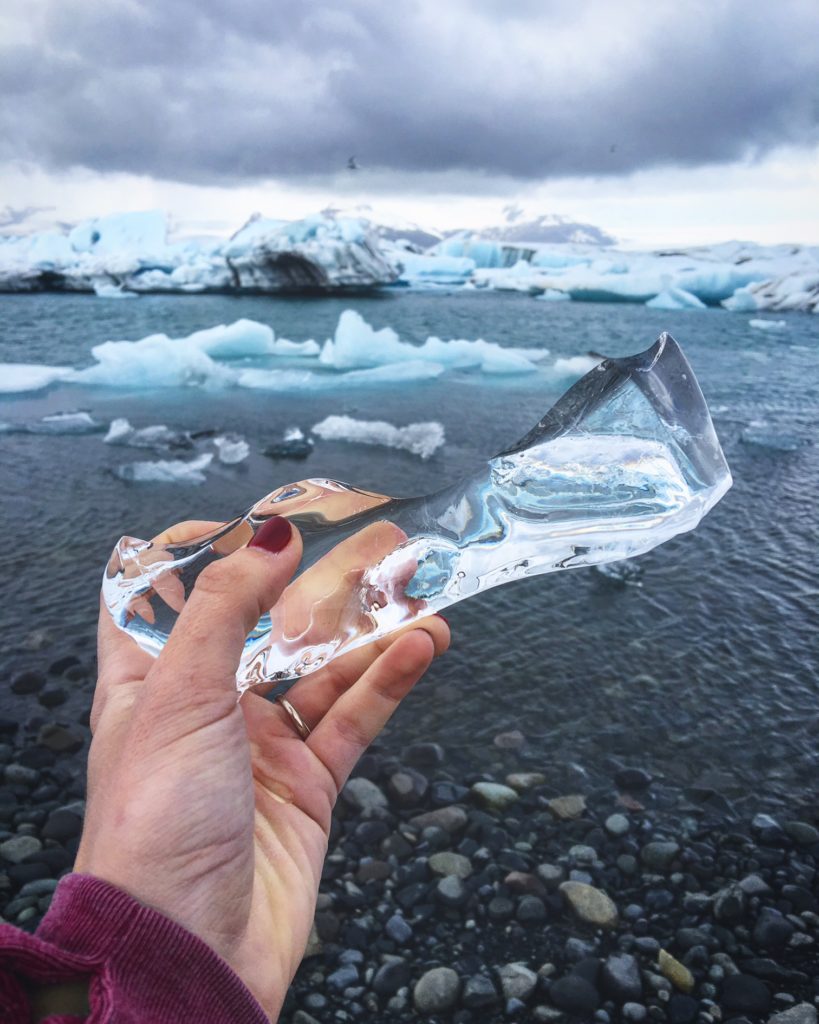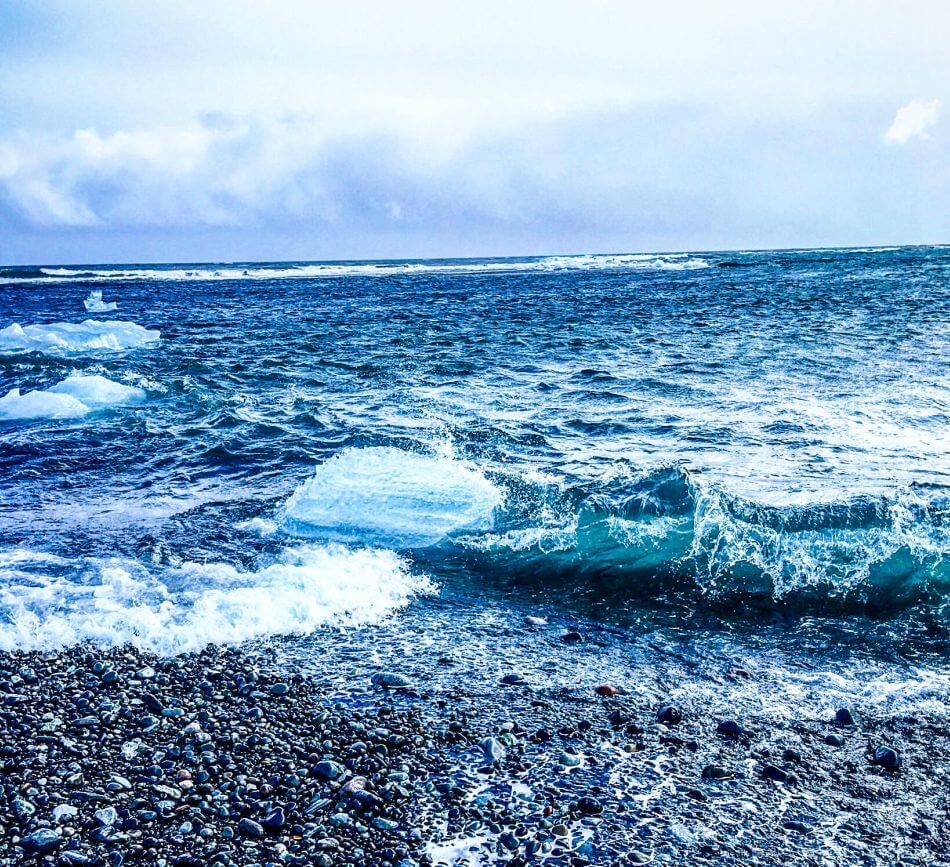 Day 7: Vik
Because we had massively worn out all there was to do in Hofn, we got up super early this day and headed out on the road. We also had quite a number of things to see! It took us pretty much the full day to do it all but we managed to see quite a bit on the way.
We drove to Skaftafell and Svartifoss right away. Thank goodness we did because what we didn't realize was that you have to hike quite a ways to get to the waterfall – so be ready for some exercise. We also stopped at Dyrholaey which was beautiful and quite amazing to see but unfortunately for us the weather was terrible.
The Black Sand (or volcanic ash) beach was creepy but beautiful. It was hard to see because it was rainy and not a clear day but I think that added a wonderful element to the landscape. The waves were also extremely rough, which was not something I expected.
Ben was also hell bent on seeing the abandoned plane so we made the 8km trek (4km there and back) along a very flat, very black and very rainy surface to see it. I'll admit it was cool but looking back I probable could have not gone and been okay with it.
Make sure you stop at: 
Skaftafell and Svartifoss
Dyrholaey
Reynisfjara Beach
Abandoned U.S. military plane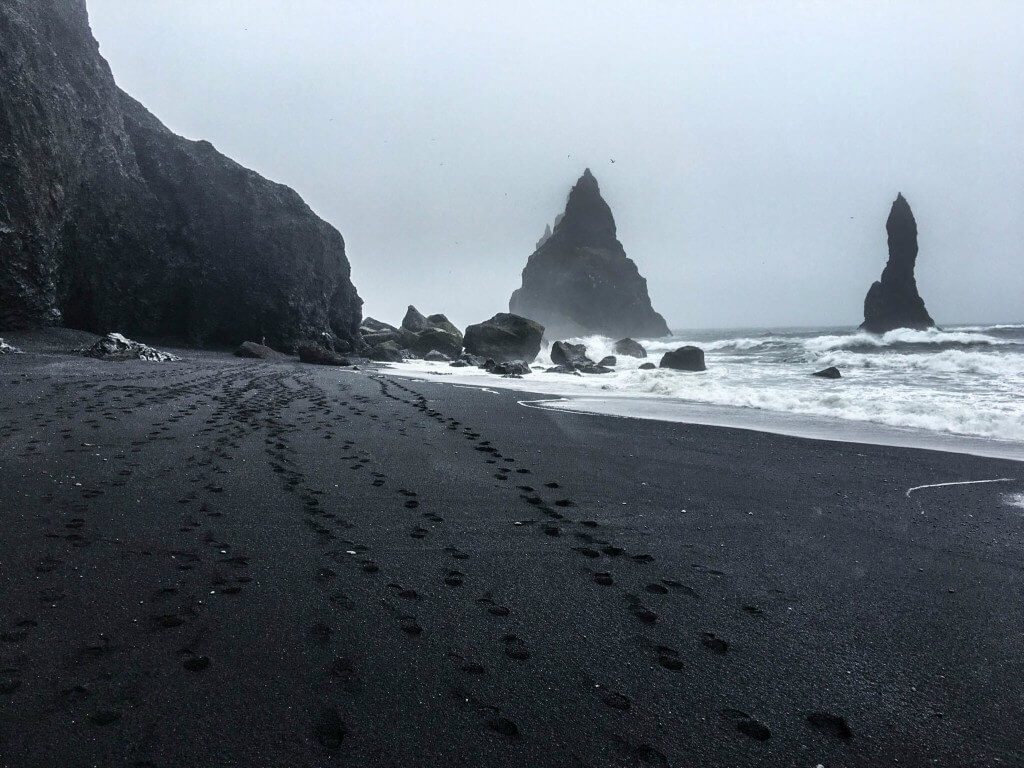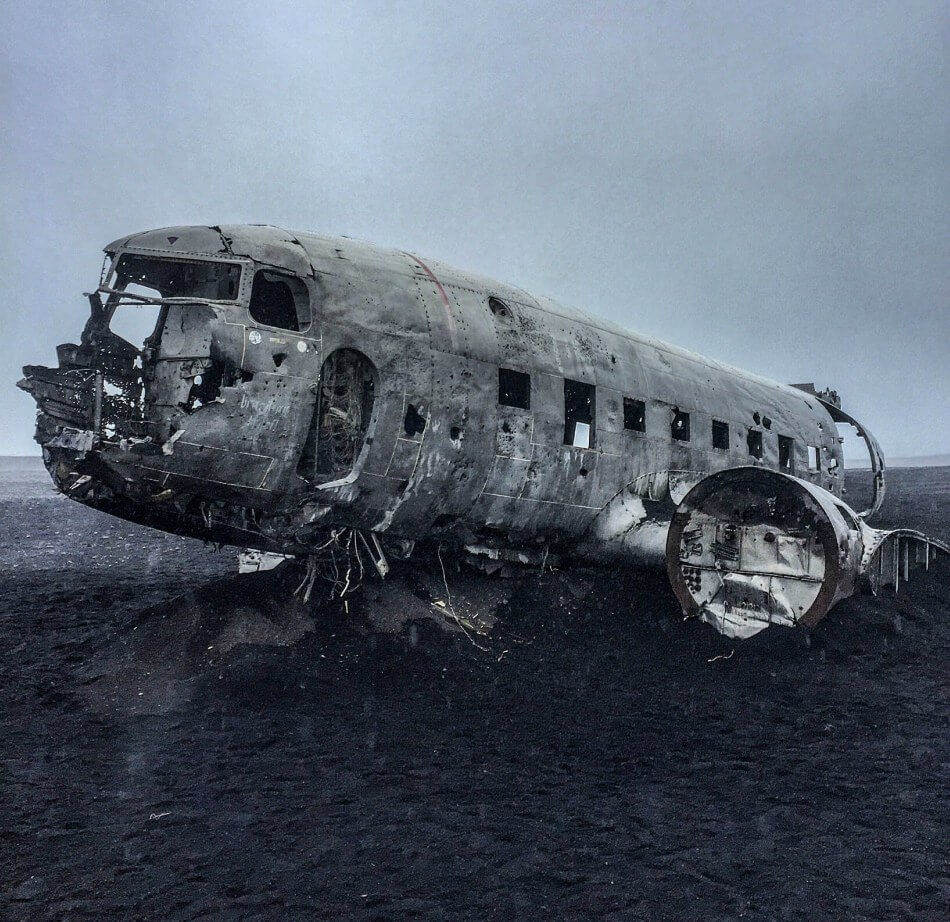 Day 8: Vik and Reykjavik
When driving from Vik to Reykjavik you cannot miss going to see Skogafoss. You actually get to walk behind the waterfall! This was something I've always wanted to do so I'm glad we got the chance.
If you like pools, mountains, and epic scenes you ABSOLUTELY cannot miss Seljavallalaug Pool. I'm serious. This place was absolutely epic. Don't make the same mistake as us though and bring your bathing suit the first time. The pool is heated so you don't have to worry about the weather when you're there. Just be aware the 'change rooms' are a bit grungy and unisex so if you're shy, maybe change in the car!
Make sure to stop at: 
Skogafoss
Merkjarfoss
Seljalandsfoss
Kerid Crater
Seljavallalaug Pool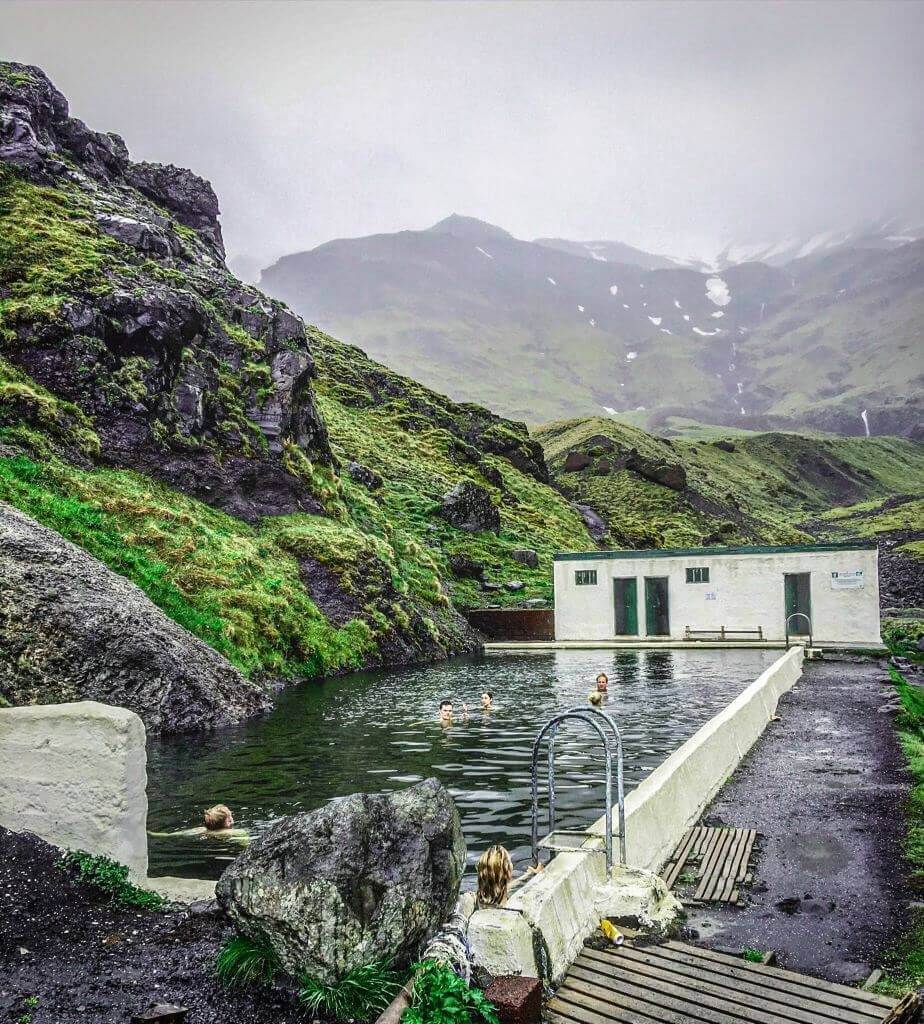 Day 9 – 10: Reykjavik
Our last two nights were spent in Reykjavik. I honestly thought we would have needed more time in the capital city but truthfully one would have been enough. The city is small and everything is easily walkable. It has a bit of a mix between old and new as well which I found interesting.
If you enjoy cocktails you need to make sure to remember to look up Happy Hour in whatever restaurant you're planning to eat at. Pretty much every bar has it and you will save a FORTUNE trust me.
*Click here for hotels in Reykjavik
Make sure to stop at: 
Hallgrímskirkja
Laekjarbrekka Restaurant
Dillon Whiskey Bar
Svarta Kaffi (best bread soup bowl ever)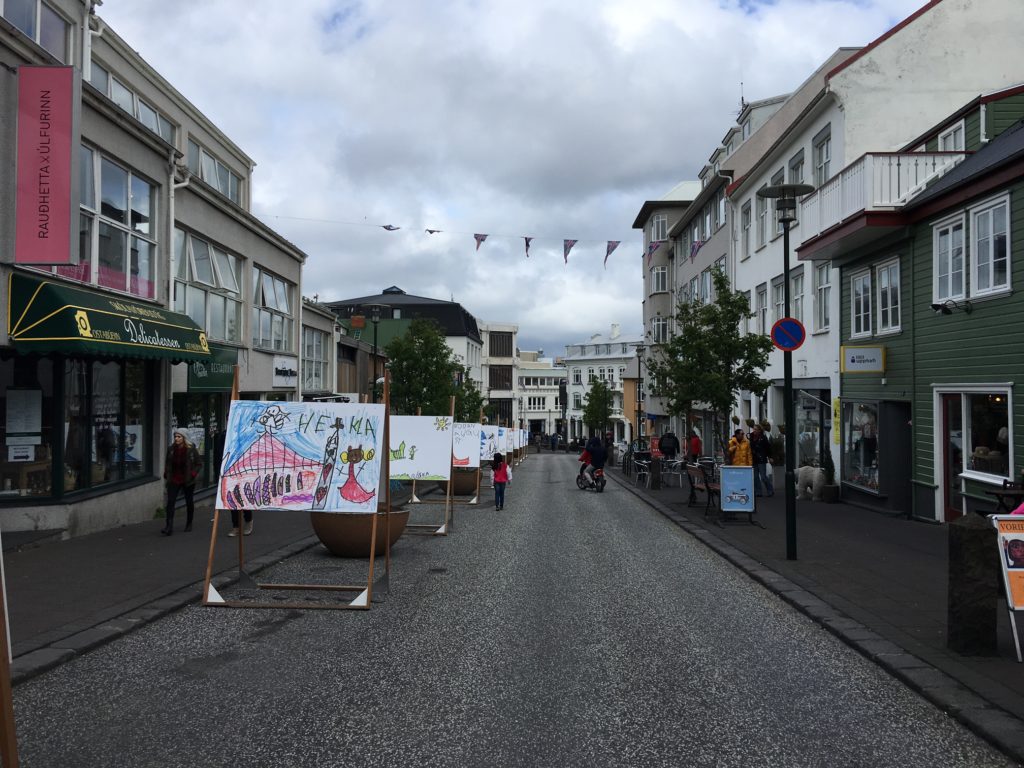 There you have it! Iceland in 10 days. Would love to hear from you about your experience driving around Iceland or what you would love to visit!
---
Additional Notes
ACCOMMODATION
Airbnb stays are quite easy to find in most areas in Iceland so you shouldn't have too much trouble finding something within your budget. For tips about booking Airbnb check out my post here.
*Click here to get $40CAD off your first stay
Booking.com is another great resource if you're looking to book a hotel instead of an apartment. Most of our stays in were booked through Booking.com and I couldn't have been more pleased.
CAR RENTAL
Hotwire is my go-to source when booking car rentals. I always find the best rates with them and it's so easy to use. Most of the time I just use their app when travelling because it's so convenient.
For the purpose of this trip we used Cars Iceland and had a very good experience with them.
---
You may also like: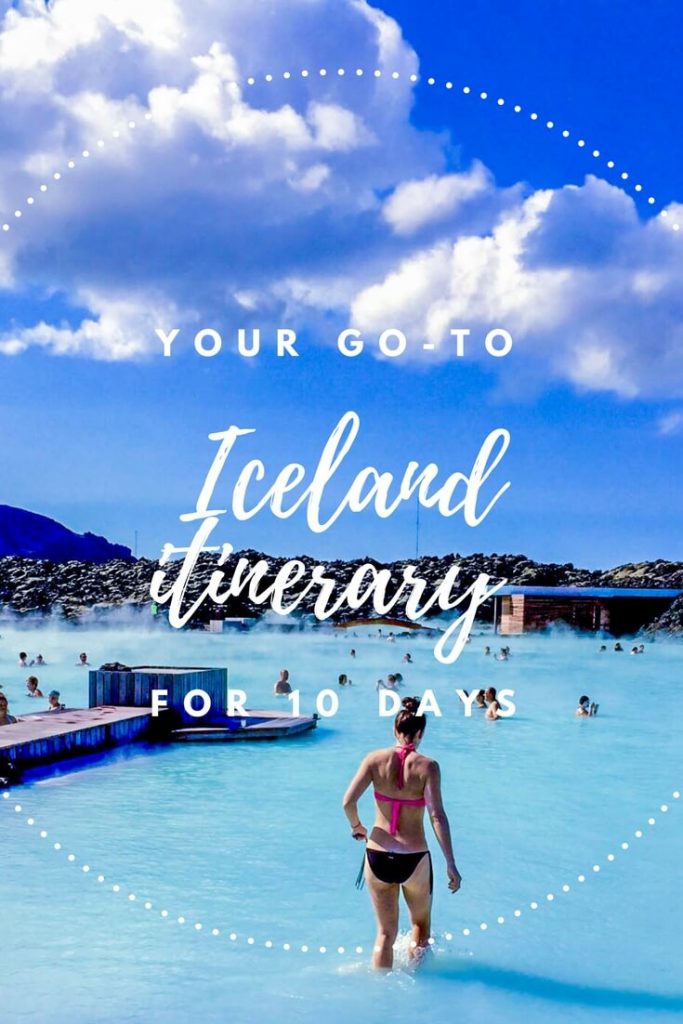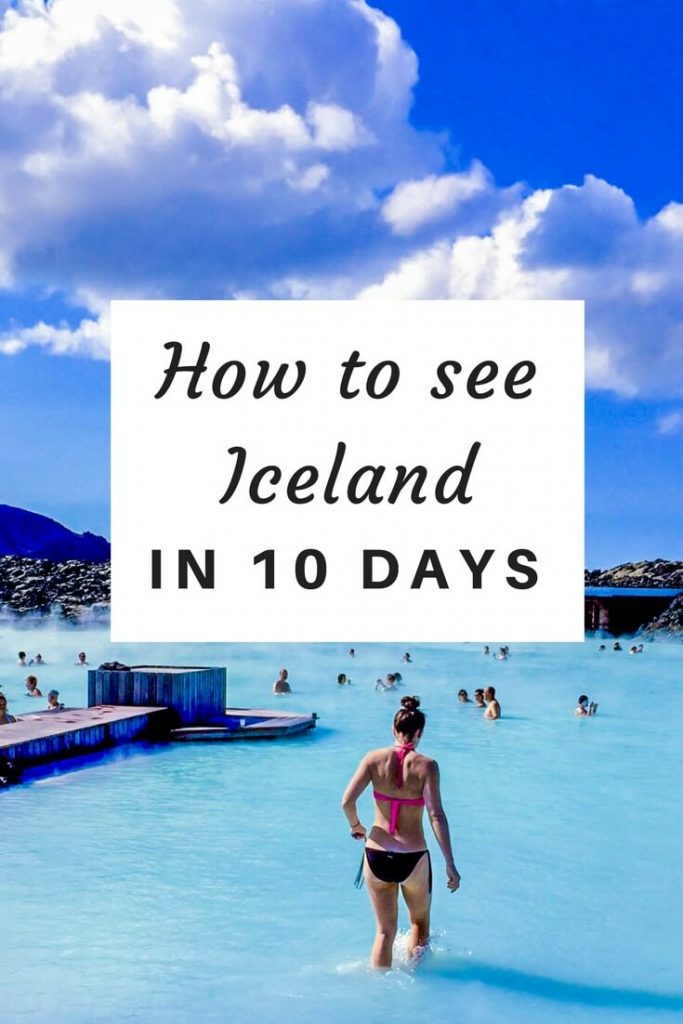 *This page contains affiliate links, to learn more read my disclaimer. Hey, a girl's gotta eat!