Trying to make your blog a business is difficult. It takes a lot of time, dedication and hard work, there's no denying that. However, any blogger who has been at it for a while will tell you, it's totally worth making the move to make your blog a business.
Anyone in marketing will tell you bloggers and influencers have really started to change the game when it comes to consumer outreach. People have become ad savvy and respond differently to traditional advertising than they have in the past. As such, marketers have had to become creative in ways they get their message out to different audiences.
Enter; bloggers. Well bloggers, Youtubbers, social media influencers and celebrities. See, a couple of years back marketers started to realize that people were more likely to buy a product, visit a destination or use a service if it was recommended by someone they trust. After reading a blog for so long, some people truly feel as if they know the person on the other end. I'm not different. There's bloggers out there I read on a regular basis that if I met them in real life I would be astounded at first they didn't know me back. Anyways back to the point, if said blogger recommended a product or service to you, it's likely you'd be inclined to buy it or at least check it out. This is where influencer marketing comes into play.
At the end of the day bloggers need to eat. They need to put a roof over their head and they need to feel like the amount work their putting into their blog is worth something. Wanting to make money and benefit off your blog is okay, however there are certain things you need to do before really starting to branch out and get paid for what you're doing.
Disclaimer: I'm not a full-time blogger, nor do I have any intent on being. Truthfully I don't think I could actually do it because I like a steady paycheque, coworkers and benefits far too much. However, I still think of my blog as a business and treat it as such. I use my blog as a way to fund my travels and to be able to afford little luxuries I may not be able to have otherwise. I've put this post together as a way to hopefully help you get motivated to start taking your blog to the next level and make your blog a business, or at least to think of it that way.
Find your USP
A Unique Selling Point is what makes you different from everyone else. Ask yourself why me? Why would someone come and visit my blog? It doesn't always have to be succinct and sometimes it may take you a while to figure this out. You should have some idea though before creating your blog. Otherwise you may end up with a name like 'Bracelets and Baubles' but talk only about travel. There's no real connection between that name or the topic is there?
It took me about a month to really carve out what niche I wanted to focus on. Once I did that, it took me another week or so to figure out a name for my blog. At the end of the day, you're building a brand. You need something you'll be proud of down the road. I can't tell you how much of a pain in the ass it'll be for you to go back and change your domain name, social accounts and the SEO you've built if you decide one day the name just isn't working for you.
Self-hosting is key
Any good blogger will tell you that you need to start self-hosting. 'Self-hosting' is really a fancy term for getting rid of that .wordpress.com or .blogger.com at the end of your URL. No marketer or organization will take you seriously if your URL looks like this: www.therestlessworker.wordpress.com. Please. Not only is that annoying to type, it shows marketers that you're not invested enough if your own success to pay for the domain name or to get your own platform.
First things first, after you've chosen a name for your blog, you need to make sure it's available. My biggest suggestion is to use a platform like Bluehost.com, it's the easiest platform to use and you'll be able to get everything in one place. Do your research of course, but I've been using Bluehost ever since I've become self-hosted and I couldn't be happier. When you sign up you can choose from different packages. I would strongly suggest at the beginning to sign up for the most basic. You won't need anything too extravagant when you are getting started and you can always upgrade later.
Once you've signed up you'll be able to find and register a domain name (as long as it's not taken of course). The best thing about signing up with Bluehost is that you get a FREE Domain name. Don't make the same mistake I did and pay for that domain name and then pay the monthly fees with BlueHost. Just go straight to the source, you'll thank yourself for it later.
Once you've signed up you can go log in, connect your domain to your website and set up WordPress. I won't go into detail here on how to do that because that's a blog in itself. There are plenty of websites and blogs that can help you figure that out. Worst case, Bluehost has 24/7 support available. Trust me I definitely utilized that when I was getting started.
Create original and good content
This might seem obvious but you'd be surprised how many people don't do this. First of all creating regular content is important for SEO purposes. Being conscious of SEO when it comes to getting your blog is what helps you get noticed by Google and other search engines.
Having a portfolio of articles is a good way to prove yourself for free to potential sponsors. This isn't going to happen right away. It took me about a year after being self-hosted to finally see decent results and traffic. In that time I've really learned a lot about writing especially for online. Spend the first couple of months writing blog posts in different formats, styles and techniques. It will help you determine what works best for you and your audience before you approach companies for sponsorship.
Sign up for social
As a blogger, you MUST be aware by now how important social media is. Making sure you're on relevant platforms is incredibly important. I kick myself for it now but at the beginning, I didn't see the benefit of Facebook for my blog. Dumb. I did, however, sign up for Twitter, Pinterest, and Instagram. Having a presence on social is important. First, it establishes another audience for you and second, brands rely on the extra exposure when working with you.
It will take a while to build your audience but every little bit helps. Spend a couple of hours (or even just one) every day on your social accounts. Make sure to interact with your readers and audiences as well, this will get you better engagement and eventually a bigger following. If you want to make your blog a business you have to think of it like a business. Really, what business exists these days without a couple of social accounts? Barely any.
Network and make connections
This may sound silly when you're talking about the digital space but I really can't stress this enough. Not too long ago I signed up for Travel Massive. The group is worldwide and looks to connect bloggers with each other and industry members. It will be the scariest thing in the world walking into a room filled with a bunch of people you don't know. It will be even scarier trying to interact and talk to these people. I promise you though, it'll be worth it.
Through this event, I've managed to make quite a few blogger and You-Tuber friends. Shoutout to Journal of a City Girl, Maiku Travels, TravelMammal, SoheilaOnline and others of course. Let's be honest, your friends and family probably won't 'get' what it is you're doing at first. Like any good business, surrounding yourself with mentors is key to growth. Talk to other bloggers who are more experienced than you or on the same level. It will teach you a lot more than you think it will.
Reach out and sell yourself
At the end of the day the money or sponsorships aren't always going to come to you. You have to work for it. I was lucky enough (although I'm not sure lucky is the word) to have worked in sales for a couple years. I tell you, nothing prepares you for the real world than going door to door trying to sell WorldVision sponsorships (that was a 2 week gig for obvious reasons). What I'm trying to say is for every 12 companies you reach out to you'll probably get one answer back. That's okay. You got one!
The one thing you have to remember is that these companies probably get pitched everyday by other bloggers, journalists, social media influencers, YouTubers or whatever. You aren't the only one. You need to make yourself stand out and be prepared for rejection. Every win you get through will feel amazing because you did it yourself and you'll be proving your hard work paid off.
So there you have it, my top tips on how to make your blog a business. What do you think? What have you done successfully to bring make your blog a business and more than just a hobby?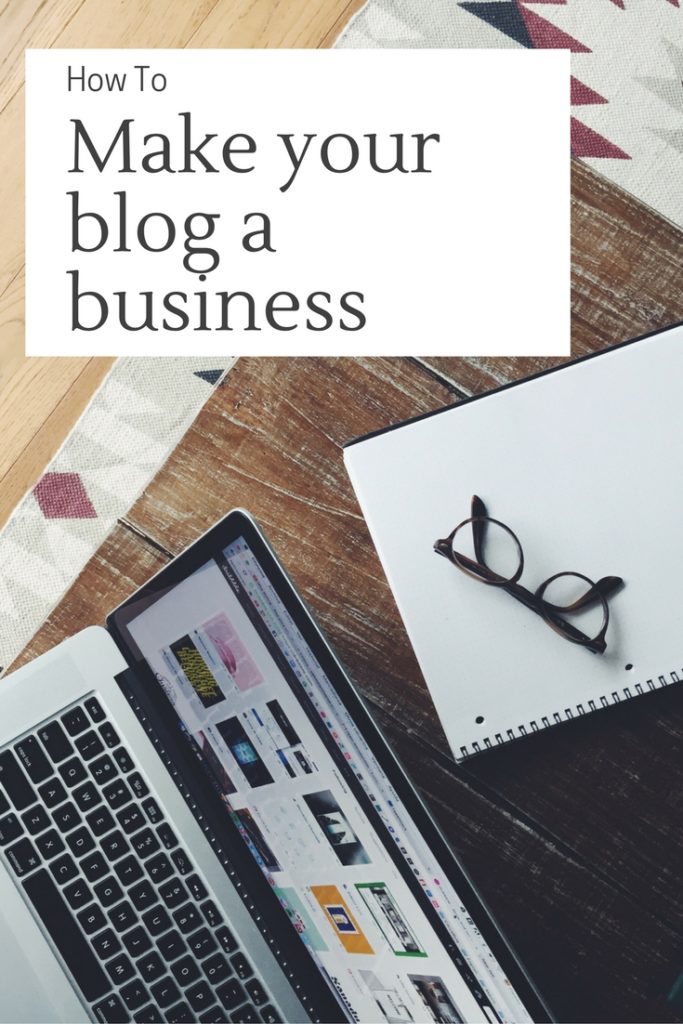 *This page contains affiliate links, to learn more read my disclaimer. Hey, a girl's got a coffee addiction to take care of!