The income and traffic report for April is my best one yet! This was mostly due to an unexpected sponsored post coming in and boosting us above normal. Traffic as a whole for April was down but that was to be expected. We spend almost 2 weeks in Europe visiting family and friends and exploring Copenhagen. While I was able to preschedule posts for the month I've found myself falling behind in emails and outreach.
This month was the first time we've seen double digit increases on Booking.com and I'm super excited about it. The next couple of months are looking great as well. I'm still trying to find new streams of income for the blog which prove to be easier said than done but hopefully we'll get there.
With our wedding being almost 3 months away I anticipate that the next couple of months are going to be super busy. I'm trying to take every opportunity I can to write posts to make sure I'm staying ahead of the game.
As the summer months progress I also anticipate that the traffic on the blog will dip a little. Like myself, I'm assuming that people are going to be spending more time outside and less time online. Present company included (hopefully).
Being a part-time blogger the to-do list for the blog is never ending, and most of the time I feel like it doesn't move anywhere at all! Either way, here are the laundry list of things I need to / want to work on for the blog (if I ever do find the time).
Continue to increase affiliate links placed throughout the site
Look at alternative advertising companies besides Google AdSense
Increase my outreach to work with companies
Have more guests post on the blog and write more guest posts for other blogs
Monthly Income Report for April
All of the money that I've made on this blog is converted to USD*
Copypress – $0
Sponsored Posts – $250 (+$250)
Google AdSense – $32.91 (-$5.62)
Amazon Affiliate
– $1.03 ($-3.39)
Bluehost Affiliate – $0
Booking.com Affiliate – $57.40 (+$57.40)
Themeforest – $0
Airbnb – $40.00 (-$80)
Hotwire – $0
Made: $380.31 (+$217.36)
Expenses
All expenses are priced out in USD*
Facebook advertising: $0
Total: $380.31 (+$217.36)
---
Traffic Report
The income and traffic report for April saw an ever so slight decrease in traffic. Despite that slightly lower traffic amount, the number of users increased. This shows me that while there are more people coming to the blog, they are doing less once they get here. Perhaps the blog posts being created aren't as engaging enough. Something to consider and work on.
After getting the social sharing images fixed last month, I've realized that the sharing buttons on the actual posts have gone away. I'm not sure how to install buttons without breaking the work that's being done so it's something I'm going to consider changing moving forward. Part of me believes the blog posts aren't being shared as easily as they were before now that the buttons are gone.
Overall it was a good money considering we were gone for so many days and had less time to work on actual maintenance. I have a few avenues for guest posting that I need to actually complete so I'm hoping to get this done in the coming weeks to help boost our Domain Authority and traffic overall.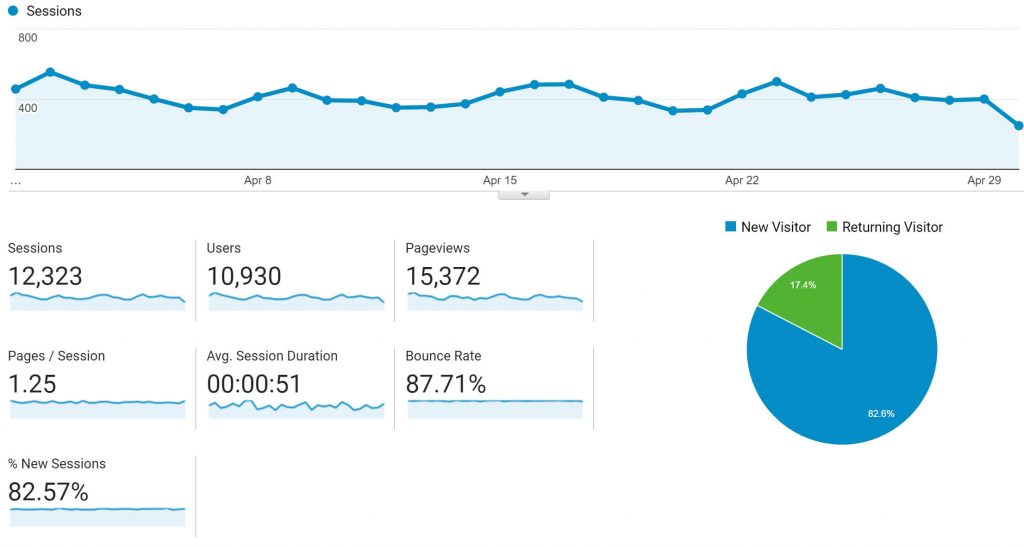 My Biggest Takeaway in March
I think the biggest takeaway is that sometimes you just need to pay money and find the right people to get what you need done. This month as mentioned I fixed the social sharing buttons. Apparently it was something super simple but I needed an expert to go in and look at my website from the backend. At the end of the day it only ended up costing me $5USD which is nothing and was 10000000000000% worth it. From now on when I need something done, I'm just going to find an expert to help me instead of wasting time trying to do it myself!
Top 3 Posts Published
How to see the best of Bali in two weeks: I love this post because it's one of my favourite destinations. It was, and remains the first time I've ever traveled to Asia and it was such a life changing experience. I also loved this post because as I always say, it's possible to see as much of a country as you're willing to try to see!
Why I won't quit my job, sell all of my things and travel: I'm not surprised this one did well actually, although I was hoping it would. Most people can't afford the luxury of going on a worldwide adventure by leaving their life at home. This blog was intended for the people who can't do just that, or don't want to. I'm just happy this post got the attention I was hoping it would.
18 UNESCO World Heritage Sites in Canada: I loved writing this post because it taught me a lot about my own country at the same time I was teaching others. There are so many more Heritage Sites in this beautiful country than I thought there were, the problem is – where am I going to find the time to see them all!
What successes did you have last month or in your income report for March?