I'm going back several years now. Like, 10 years but my first ever trip to Europe, and out of North America was on an epic Ireland road trip. At the tender age of 16 I had no idea what was going on and just followed through our itinerary but as I try to remember the road trip for this post I do remember how amazed I was by everything.
The grass was so green, the homes tiny, the sheep and cows out everywhere. To this day Ireland is still one of the best countries I have ever travelled to. Ireland was probably the best 'starter' country when it came to getting outside of North America. Although, I will admit I often found it hard to understand the accent of some of the locals. At times I thought they were speaking another language!
While we took just about three weeks to do this trip, it's one that could easily be completed in 10 days. I wouldn't recommend less time than that because Ireland is definitely a country you'll want to stop and smell the flowers a bit but ten days really should be plenty. From what I remember, the drive was a fairly easy one as well. Sadly because my Ireland road trip was so long ago – and my photography skills weren't exactly what they are now – these pictures are not mine but I wish they were!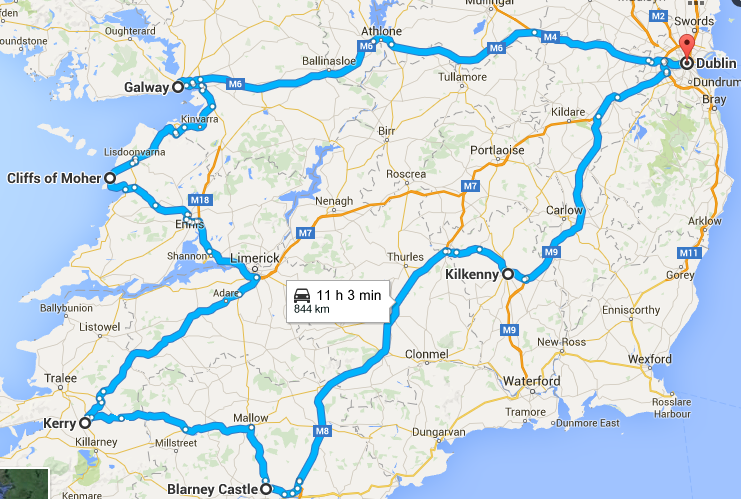 Dublin
Because most, if not all, international flights (well, outside of Europe that is) fly into Dublin you will want to start here. I would recommend splitting your time in this great city with a couple of days in the beginning and a couple of days to end your trip as well. When we first landed first thing in the morning we were exhausted but of course still wanted to get out and explore the city a bit. If it's a nice day out like ours was, get a double decker bus with no roof, that way you can get some sun to fight off jet lag and get the best pictures.
Once you've ridden around and gotten your bearings a bit, take the Guinness Storehouse stop. What better way to start your Ireland road trip than with a bit of beer? I can't say I'm the biggest fan of a pint of Guinness but the views from the bar are unbeatable. After a beer, you are going to want to continue the night and experience a REAL Irish Pub.
On your second day can be spent learning a bit more about the history of Ireland. Pay a visit to St. Patrick's cathedral and pay homage to the patron saint that brought you the day of beer. While we never ventured to Kilmainham Gaol, I've heard really great things about this old prison. It's no longer in service but instead has been converted into a museum so you can feel safe wandering through the halls. After a long day of wandering through the streets and learning some great history lessons, finish it off with a trip to the Old Jameson Distillery. While I can't say I'm necessarily a fan of Whisky, I can imagine how good it would taste right from the source.
Kilkenny
This small medieval town is not one worth missing in Ireland. The buildings are all so colourful they definitely make for great pictures. You definitely won't need more than two days in Kilkenny, you could even do it in one if you are really pressed for time. You are better off walking through Kilkenny as much as possible. Everything is pretty close together and there are so many photo-ops you'd be doing yourself a disservice doing anything but walking around.
Walk along the River Nore and enjoy the view from the canal. Either walk through Peace Park or travel in the other direction to enjoy a Canal Walk. Once you've taken in some fresh air, get yourself back into the town and take a walk down Medieval Mile. 
You can pretty much hit every major tourist attraction that Kilkenny has by walking through Medieval Mile. Start at St. Canice's Cathedral and wander down to Kilkenny Castle. Quite frankly, I couldn't believe the history that surrounded me. Looking back now to refresh my memory a bit I don't think I really quite fathomed the fact that some of the pubs had been open since the 1300s. Yes – the 1300s!!! Seriously that was before the world really had even discovered Canada. Mind blown.
County of Cork and Cobh
You probably have never heard of this small coastal town. Obviously I hadn't either. Although to be fair that doesn't say much because the only place I had heard of at that age was Dublin. Either way, this unassuming little town has been noted as one of the most colourful cities in the world, and for good reason. Cobh is actually where the Titanic made its last stop before heading to the Americas. There is a really great museum where you can tour around and learn more about the infamous ship.
Spending a day and a night in this small town will surely be enough. Wake up early on your second day and head to the Blarney Castle. The day that we visited this medieval castle, it was cold and rainy (surprise, surprise). I wasn't a very adventurous teenager either so when it came time to lean over and kiss the stone, I embarrassingly backed out. In my defence, that stone on a rainy day is really quite slippery and the guides hoist you a little outside of the castle walls for you to be able to kiss the stone. A fear of heights and slippery stones are not a good mix. Either way though, the grounds of the Blarney castle and the castle itself are something you shouldn't miss.
Ring of Kerry
A true Ireland road trip wouldn't be complete without a drive around the Ring of Kerry. Of course our bad weather at the Blarney Castle followed us as we reached Kerry so we really didn't see much. Seriously, the rain was so bad we could barely see out of the windows. Apparently the trip is absolutely breathtaking. I really do wish we had have been able to see but you win some and loose some I guess when it comes to travel.
The Ring of Kerry is about 170km so it should only take you a couple of hours but you plan on stopping along the way it's probably best to budget a whole day. There are quite a number of places to stop for some local fish and chips (and perhaps a beer). If you really want to make the most of the day, pack a lunch and picnic off the road somewhere with the epic views.
Galway
You will definitely want to spend a couple of days in Galway. There are quite a number of things to do in and around the area so you can use this small town as your base while you head out and explore the rest of the areas. It's within a quick driving distance here that you'll find the Cliffs of Moher and Aran Islands.
Cliffs of Moher:
When it comes to natural beauty in Ireland, the Cliffs of Moher are pretty much it. The cascading cliffs off the southwest coast are absolutely breathtaking. Be wary of the weather though, it's often not ideal but if you catch a lucky break, you'll be able to take some absolutely stunning photos.
Aran Islands:
Perhaps it was because I was younger but the ferry from Galway to the Aran Islands seemed as if it took forever. I think it was only about an hour. If you get seasick easily though it may be a good idea to take some medication before boarding. The area is actually three small islands positioned together. There are quite a number of old stone homes that have been deteriorated and worn down over time. It's really quite a nice day to spend wandering through.
Galway City:
The city itself has quite a bit to offer. This is as good of a place as any to experience some Irish music and local pubs. In fact, the city is actually known for its nightlife and entertainment. With hoards of students and tourists you may actually find it hard to tear yourself away from the pubs. Just remember, a person can only drink so much whiskey and beer!
Dublin
Yet again you will find yourself back for another few nights in the capital city of Dublin. After a whirlwind road trip you won't want to rest just yet (that's for doing when you get home!). With still a few sights left to see in Dublin another two days would be advised. You can never see enough castles so why not start your last visit to Dublin by visiting the Dublin Castle. It's easy enough to get to from the main city and now is a government building.
Trinity College is also a must see. When I walked through Trinity College I couldn't help but wish I would be lucky enough to go there. The campus is absolutely stunning, and if that isn't enough the buildings are enough to make any architect salivate. Walking through the library was of course one of my favourite parts of the trip. As an avid book lover, this place was like heaven!
No trip to Trinity College would be complete without taking a look at the Book of Kells. This was something I found unbelievable. To be able to stand there in front of something so old, written by people hundreds and hundreds of years ago.
There you have it! My Ireland road trip. Have you travelled through Ireland? What were your favourite spots?
---
Additional Notes
ACCOMMODATION
Airbnb stays are quite easy to find throughout Belgium so you shouldn't have too much trouble finding something within your budget. For tips about booking Airbnb check out my post here.
Booking.com is another great resource if you're looking to book a hotel instead of an apartment. Most of our stays in were booked through Booking.com and I couldn't have been more pleased.
CAR RENTAL
Hotwire is my go-to source when booking car rentals. I always find the best rates with them and it's so easy to use. Most of the time I just use their app when travelling because it's so convenient.
IRELAND TRAVEL BOOKS
---
*This page contains affiliate links, to learn more read my disclaimer. Hey, a girl's got a coffee addiction to take care of!