The income report for January is a lot more positive than what I saw in December. I guess once the holidays are over people are right back on their laptops booking their next vacations, which is great for bloggers who blog about travel! While it hasn't been our best month I'm happy that we were back over the $200 mark. It's getting hard to push past that mark though!
Moving forward we need to diversify the blog and find more ways to make money. Our goal is to make $500 in one month for the blog and we're just barely halfway. Hopefully, once we spend a bit more time on this in the coming months something will click!
We did see some great traction from Booking.com the income report for January. I realized that my biggest traffic driver (How To See Iceland In 10 Days) contained no affiliate links, which I'm pretty sure is affiliate marketing 101. So earlier this month I added in a few links to see what would happen. Already we hit 15 bookings made in the month of January. The only problem is that we don't see any money until that trip has been completed so these bookings won't appear on the income report for January, or likely a while.
Another priority that took precedence in January was no-follow links. I kept seeing Google cracking down on bloggers in some of the Facebook groups we follow so I wanted to get ahead of the game. I went back and manually changed a lot of links to no-follows from some of the more popular posts and will start doing this more moving forward.
With February being a much shorter month expectations aren't too high but hopefully as we work more on affiliate links and affiliate marketing we make more money.
Perhaps that's just the life of a part-time blogger or perhaps it's my incredible procrastination ability. Either way, here are the laundry list of things I need to / want to work on for the blog (if I ever do find the time).
Continue to increase affiliate links placed throughout the site
Look at alternative advertising companies besides Google AdSense *did this but need to spend some time setting this up
Increase my outreach to work with companies
Have more guests post on the blog and write more guest posts for other blogs
Fix the image caching issue with Facebook, Twitter and Bloglovin *even worked with a developer briefly this month and STILL haven't solved this problem … anyone?
For any of you who follow these posts, you know that most of these goals tend to repeat themselves month over month. I find it so hard to get some of this done sometimes while just doing regular maintenance.
Monthly Income Report for January
All of the money that I've made on this blog is converted to USD*
Copypress – $68 (+$38)
Sponsored Posts – $100 (+$100)
Google AdSense – $36.85 (+10.82)
Amazon Affiliate
– $1.42  (+0.72)
Bluehost Affiliate – $0
Booking.com Affiliate – $0 (-$3.37)
Themeforest – $0
Hotwire – $13.56 (+$7.04)
Made: $219.83 (+$153.19)
Expenses
All expenses are priced out in USD*
Facebook advertising: $4.52
Total: $215.31 (+$148.67)
---
Traffic Report
January was the best month we've had on the blog so far which is fantastic! We are really starting to see some decent traffic coming in and I swear after focusing more on optimizing images and putting in no-follow links our SEO and organic traffic went up. As we move along, getting traffic is going to become increasingly more important. I have spent quite a bit of time growing our Instagram following which is great but I think the shift now needs to be on Facebook and Twitter.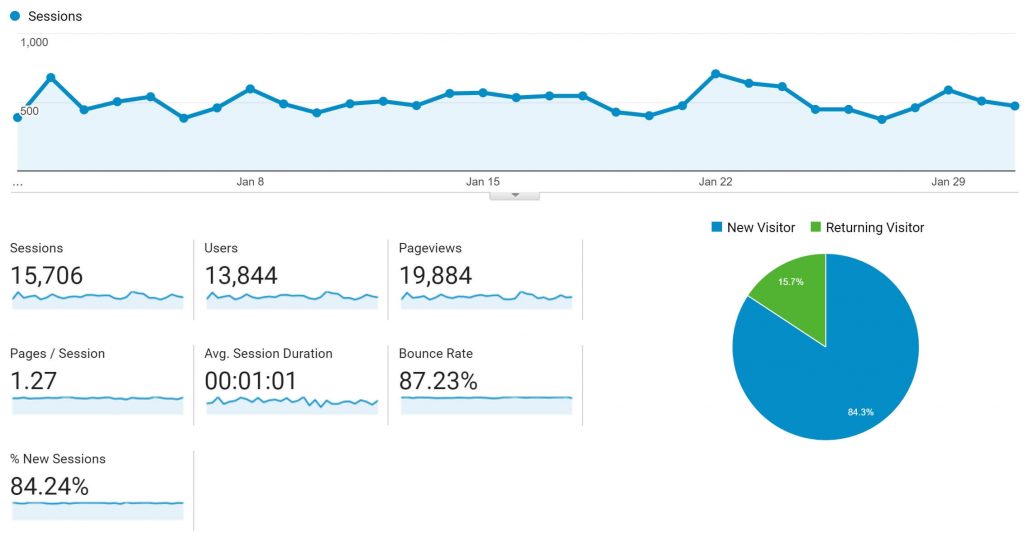 My Biggest Takeaway in January
As I mentioned above in the income report for January, the biggest lesson was really just putting in affiliate links where they actually made sense. Being more strategic with where they are placed and making them more of a priority will help us make more money. Don't get me wrong, I'm not doing this blog for the sole purpose of making a buck but being a competitive person I just always want to do more than before.
Top 3 Posts Published
7 of the best one week itineraries for Europe: I have wanted to create this post for so long. It's how I travel. I like to see as much as I possibly can when I can. Don't get me wrong, I love being able to spend a full 10 days in a country or state alone but some cities in Europe are easy enough to 'see' in a day or two and that's when you can really get a lot done!
Monthly income report for December: I can't believe this post did so well considering December was such a shit month. Maybe it's because the number sounded reasonable for someone just starting out or because it gets mentioned in Matthew Woodward's blog (there are so many big time bloggers listed here).
Tools to help you boost your blog post: I'm starting to think a lot of my readers are bloggers! I love writing about blogging because I really feel that I can bridge my personal experience with my professional experience to help others. Obviously I don't know everything there is to know but if what I do know can help others than hell, let's share!
What successes did you have in January or in your income report for January?