My income report for December is a bit disappointing. December was an experiential month and it shows in my income. I decided to take a step back and really take some time to focus on the mechanics of the blog for long term benefits. As I mentioned in my November Income and Traffic Report, I had recently changed the layout of my blog but wasn't completely happy with it. I spend the month making some tweaks, adding new pages and testing out different elements.
Check out our new: 
Destinations Page
About Us Page 
Privacy Policy and Disclaimer Page 
Work With Us Page
Seeing as it was the holiday season I really didn't expect traffic to be that good, nor did I expect to make good money. I was correct in both regards. People are often too busy at Christmas parties to be sitting around on the computer reading (except for the last couple of days of the month). I also had very little sponsorship money come in this month as well.
On the plus side, I've started making slightly more than pennys from a few of the affiliate programs I've been apart of. While there's still a long way to go, it's at least encouraging that people are clicking on the links. I still have yet to make my first dollar through Bluehost but because they pay such a high commission rate once I do it'll be a good pay out.
Because I knew this month was going to be a little quieter than normal I was careful not to spend too much money on the blog. Next month I finally hope to purchase a Tailwind membership to start scheduling my Pinterest posts.
While I did get quite a bit off my plate just in time for this monthly income report for December, the list continues to grow. Perhaps that's just the life of a part-time blogger or perhaps it's my incredible procrastination ability. Either way, here are the laundry list of things I need to / want to work on for the blog (if I ever do find the time).
Continue to increase affiliate links placed throughout the site
Look at alternative advertising companies besides Google AdSense
Increase my outreach to work with companies
Have more guests post on the blog and write more guest posts for other blogs
Look at optimizing images *I have started doing this but I believe my images are still slowing the website down (help!)
Fix the image caching issue with Facebook, Twitter and Bloglovin
For any of you who follow these posts, you know that most of these goals tend to repeat themselves month over month. I find it so hard to get some of this done sometimes while just doing regular maintenance.
Monthly Income Report for December
All of the money that I've made on this blog is converted to USD*
Copypress – $30 (-30)
Sponsored Posts – $0 (-$200)
Google AdSense – $26.03 (-$3.27)
Amazon Affiliate
– $0.70  (+0.66)
Bluehost Affiliate – $0
Booking.com Affiliate – $3.37 (+$3.37)
Themeforest – $0
Hotwire – $6.52
Made: $66.64 (-$222.82)
Expenses
All expenses are priced out in USD*
Total: $66.64 (-$157.82)
---
Traffic Report
The good news is I've fixed the double reporting issue with Google Analytics. The bad news is, I realized my blog was reporting double the amount of pageview traffic it should have been. Kind of sucks for me but at least it's an accurate representation now. Social traffic remains my highest referral source. My goal is to increase organic, direct and email traffic in the coming months, as hard as that likely will be.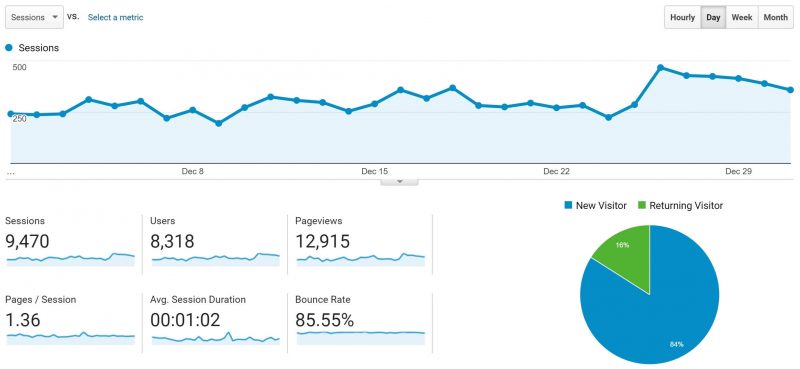 My Biggest Takeaway in December
I didn't put too much pressure on myself to keep up with regular posting in December. I treated it as a relax and refresh month. Ironically I still put out almost the normal amount of blog posts, I just didn't feel as stressed doing it. I think it also helped I took two vacation days to spend working on my blog. Site speed remains this ginormous beast I have yet to tackle. I fear I'll have to reach out to a web developer to truly help solve some of the issues that I'm having but until then, I'll continue trying to figure it out for myself.
Top 3 Posts Published
How we saw 8 countries & 23 cities in one year while working full-time: Whew! The year was as crazy as that post. We were so lucky to have done all of the travelling we did last year and I can only hope we even come close to that this year! The key to seeing as many countries as we did is to be strategic. I'm really proud of this post because it's a reflection of 2016, and truly it was one of the best years.
Monthly Traffic Report for November: I love writing these reports because they keep me striving to do more. Especially when they're posted on Matthew Woodward's blog (there are so many big time bloggers listed here). November was my best month so far so to come back and have my monthly income report for December being such a terrible month is a bit frustrating. However the best way is to just keep moving forward. and try to learn from this past month.
The best Croatia road trip itinerary for 10 days: I loved writing this post because it allowed me to reminisce on one of my favourite trips. I hope the itinerary gives encouragement for other people to tour Croatia by car on their very own road trip.
What successes did you have in your monthly income report for December?