While there are so many things to do in Bali and I've named only a few, these were my absolute favourite during my trip. To this day Bali is one of the most beautiful countries I've ever visited. This large island is right up there with Croatia, England (the countryside that is) and Belgium. For those of you who are unfamiliar with the region, Bali is an island inside the country of Indonesia. Bali is by far the most popular island (not to say there aren't other gorgeous places to visit in Indonesia) and has seen a very large influx in tourism over the past several years. Believe it or not this is largely due to the book and novel, Eat, Pray, Love. For those of you who've read the book or watched the movie you know what I'm talking about.
No matter what your reason for visiting Bali, I think everyone has the idea of luscious green rice fields and breathtaking beaches. Honestly, it's true. In all honesty I think I was extremely jet lagged and culture shocked for the first week while in Bali so I don't know if I could fully appreciate what I was seeing but looking back on my memories and the pictures I collected along the way, I still find it hard to believe that I really did see the island and it's beauty.
During our two weeks we travelled to Canguu, Seminyak, Ubud, and the Gili islands. It was a busy trip at times and relaxing at others. The perfect combination really. As I sit here reflecting about my trip though there are 8 experiences I had that really stand out for me and that I would truly wish others would experience while travelling through Bali. Some may be a bit touristy but I find experiences are usually touristy for a reason.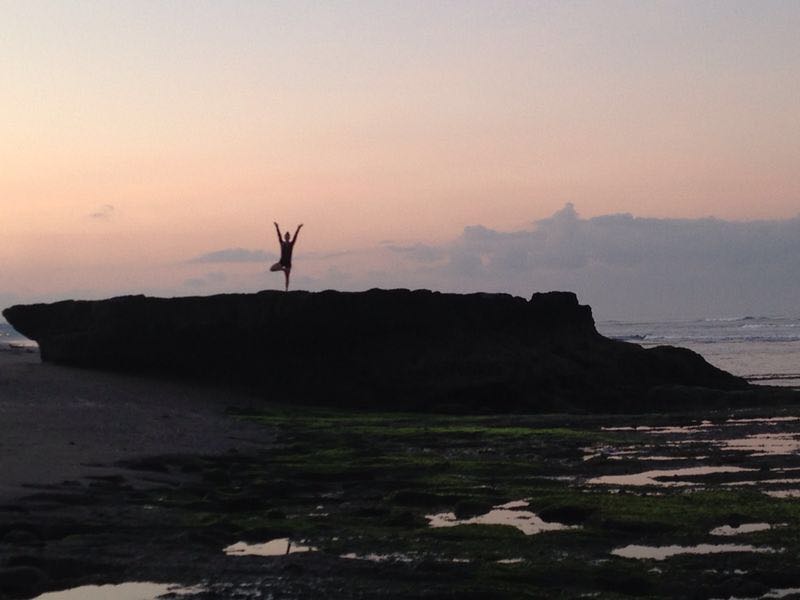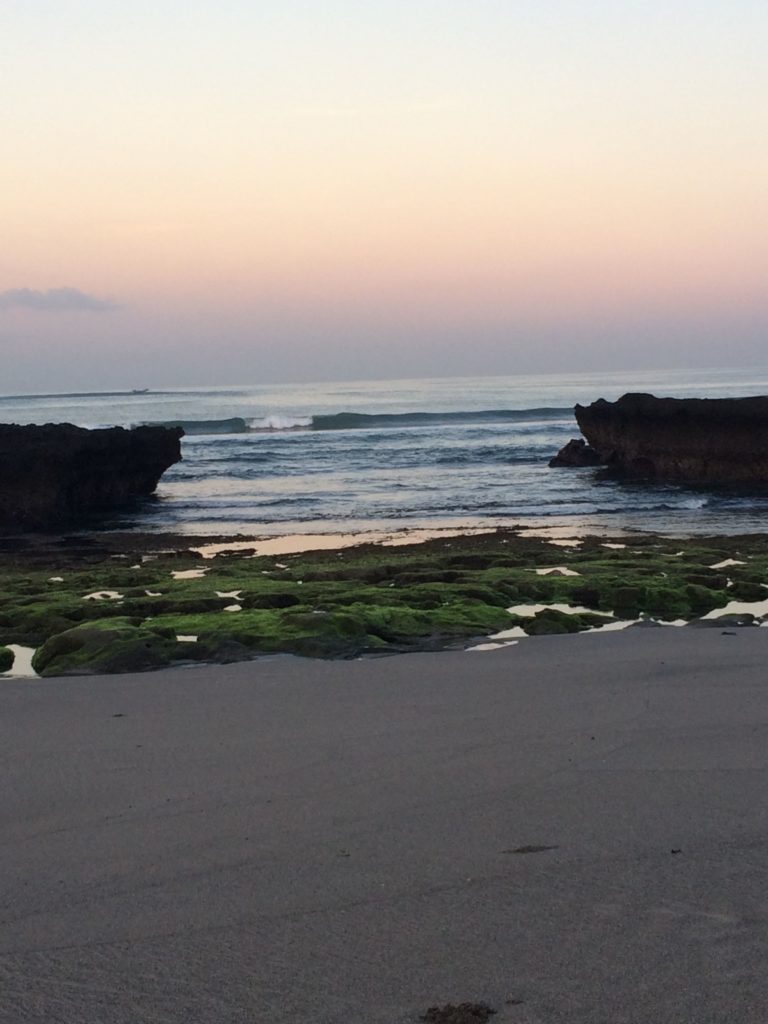 Wake up for the sunrise
While we didn't necessarily do this on purpose, being 12 hours ahead of our normal time messed up our internal clocks just a little. Not to mention the roosters that start crowing at around 3 in the morning, every morning (on that note bring ear plugs!). Either way, on our first morning in Bali,  we woke up before the sun and decided to make our way down to the beach. I can't even explain to you how beautiful this was. As we were on a beach in Canguu, there were a number of rock formations around and we decided to take advantage of these by doing yoga poses on them. Perhaps a bit cliche but the photos are still some of my favourite I've taken while travelling. It beach was so incredibly peaceful as we had risen even before the surfers and were able to enjoy a few moments of quietness.
Take a cooking class
Taking cooking classes are usually a popular experience for travellers no matter what country or region you visit but I had never done one. While staying on Gili Trawangan we decided to book a cooking class. To be honest the days on Gili T can be a little dull at times (I constantly need to be on the go) so this was a great way to fill up our afternoon. I couldn't even tell you one ingredient we used to this day but it was fun all the same. Plus the meal was delicious!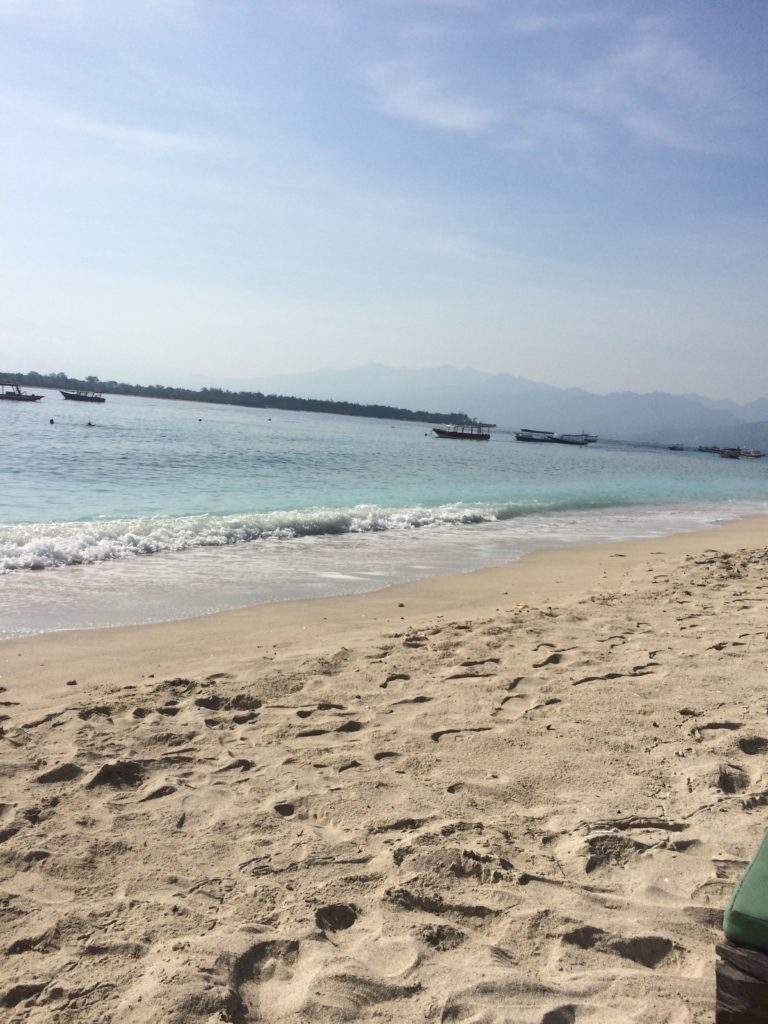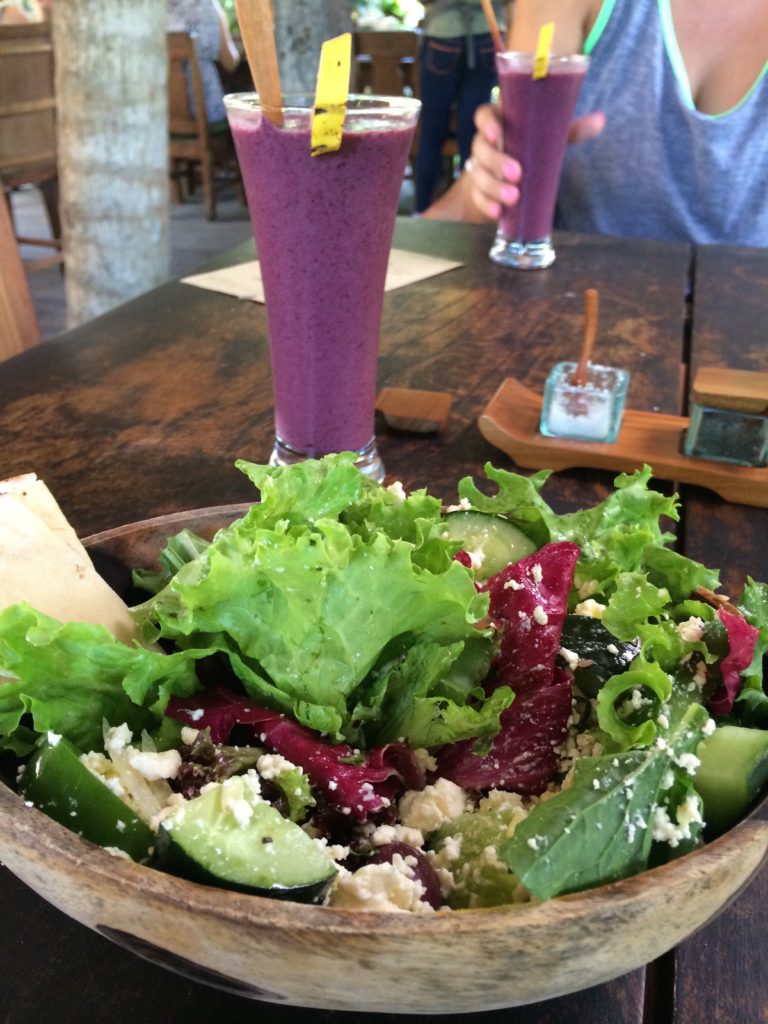 Do yoga in Ubud
Out of everything we did, doing yoga in Ubud was definitely at the top of my things to do in Bali. Yoga Barn in Ubud is a beautiful space even to just look around. Yoga barn comprises of several yoga studios and an organic cafe. The prices of the yoga classes aren't much cheaper than what you would find in North America but it's worth it. Being able to do a tree pose in an open treehouse, looking out onto the lush trees and hearing nothing but birds and monkeys around you is an experience I promise you will never forget. The best part about the whole experience though is the cafe you can go to after. Everything is organic, fresh and to this day makes my mouth water.
Visit a natural healer
Again looping Eat, Pray, Love back in here but in the book Elizabeth Gilbert goes to visit a natural healer named Wayan. Being this is a memoir, Wayan is a real person with a real healing space in Ubud. I hadn't even done that much research before going but one day we were out wandering the streets and just off the main path we stumbled upon Wayans 'office'. The space was untidy, busy and quite frankly dirty but we were dying to visit her all the same. She has a standard package that includes a palm reading, a love reading and a future reading. To be honest it's a bit commercial but was still something worth doing. I was surprised how accurate she was about my love life. I still have the paper somewhere or other about what she wrote down pertaining to my life and it was quite interesting. Word to the wise though – I head her tell everyone there they would live a long and happy life.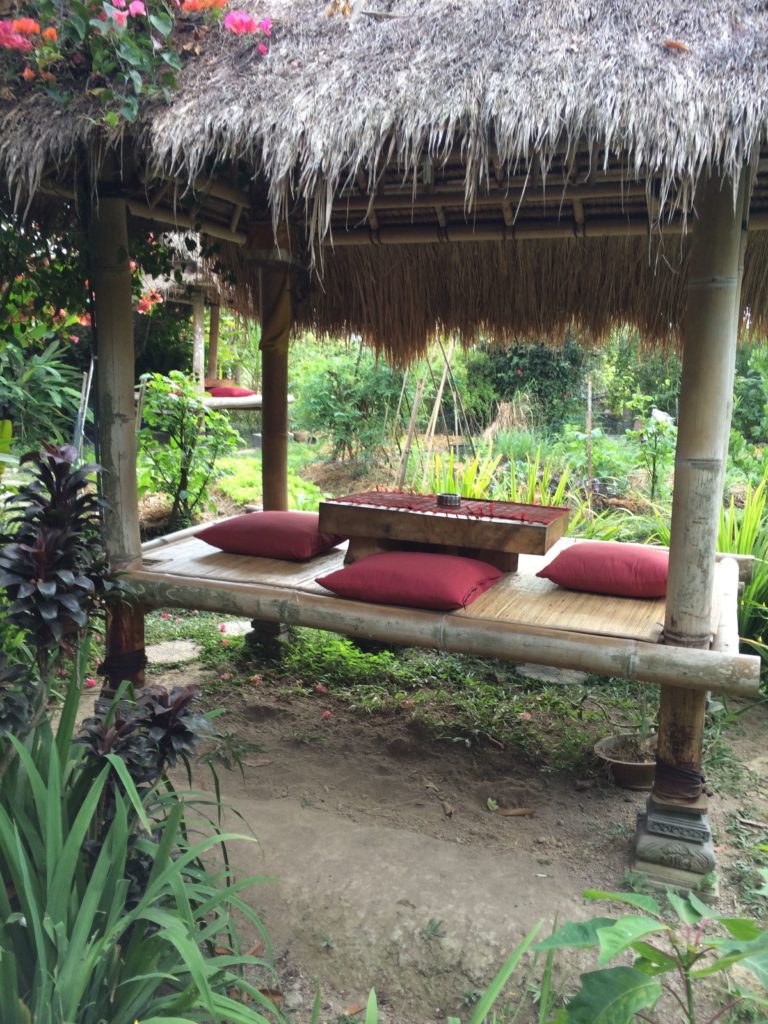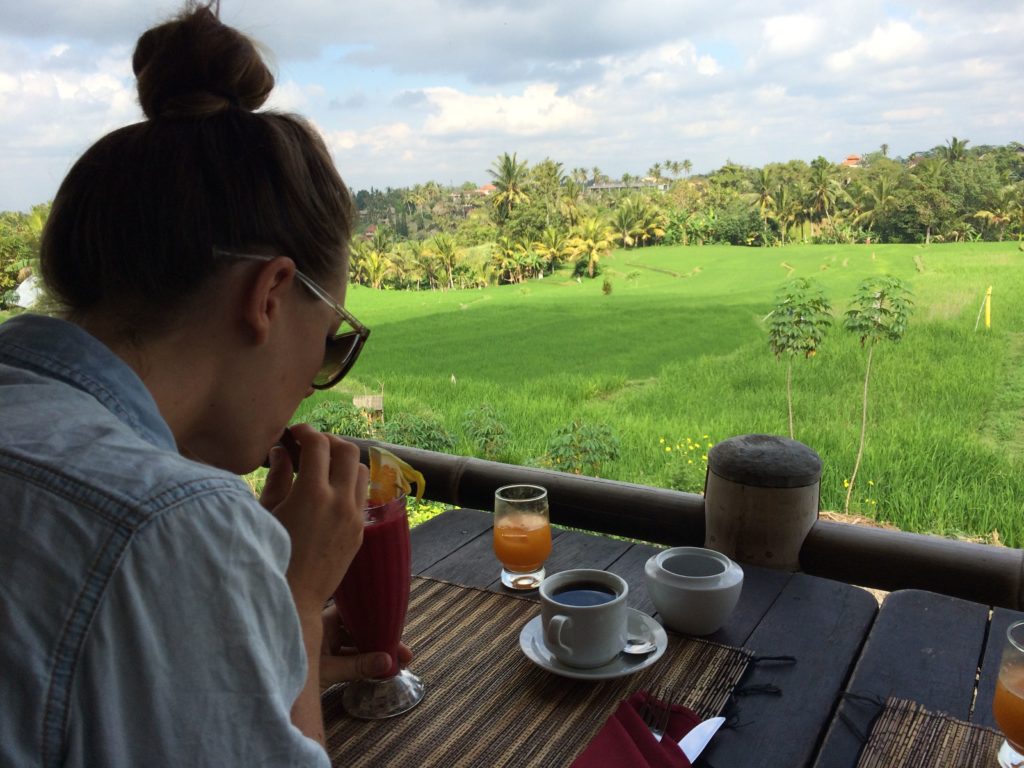 Have a meal at Sari Organik
Sari Organik is the second best of my things to do in Bali. While the organic restaurant was quite hard to find, it was well worth it in the end. I had heard about this place from a dear friend of mine who had visited not that long before I did. Knowing it existed somewhere, one day walking through Ubud we spotted a sign for Sari Organik that lead through an alleyway. We followed the alley through twists and turns until it led to the rice fields. We then wandered aimlessly through the rice fields asking for directions every so often until we eventually found the hidden oasis. The views sitting on the patio were unreal and the food was great as well.
Have a drink at the Potato Head Beach Club
The Potato Head Beach Club in Seminyak is a popular spot for tourists and westerners. It's definitely more posh than anything else we experienced in Bali (although we weren't necessarily travelling in luxury so I'm not sure that says much). I'm never one to turn down great drinks with a few and so when I had looked up Potato Head Beach Club I knew we had to visit. The restaurant is set along the beach with an infinity pool looking out. We visited for dinner and were able to catch the sunset but I'm sure the spot is just as good in the afternoon. Make sure you get there fairly early though because it does fill up rather quickly. Also, the prices are pretty close to what you'd find in North America so if you're on a tight budget you may want to avoid.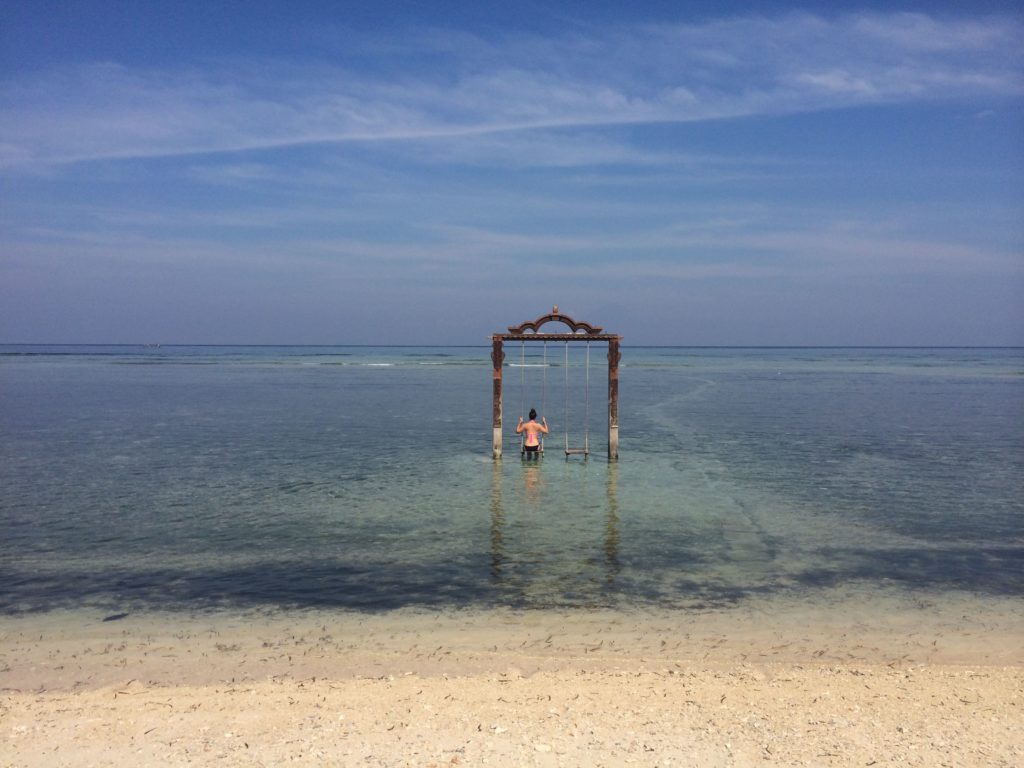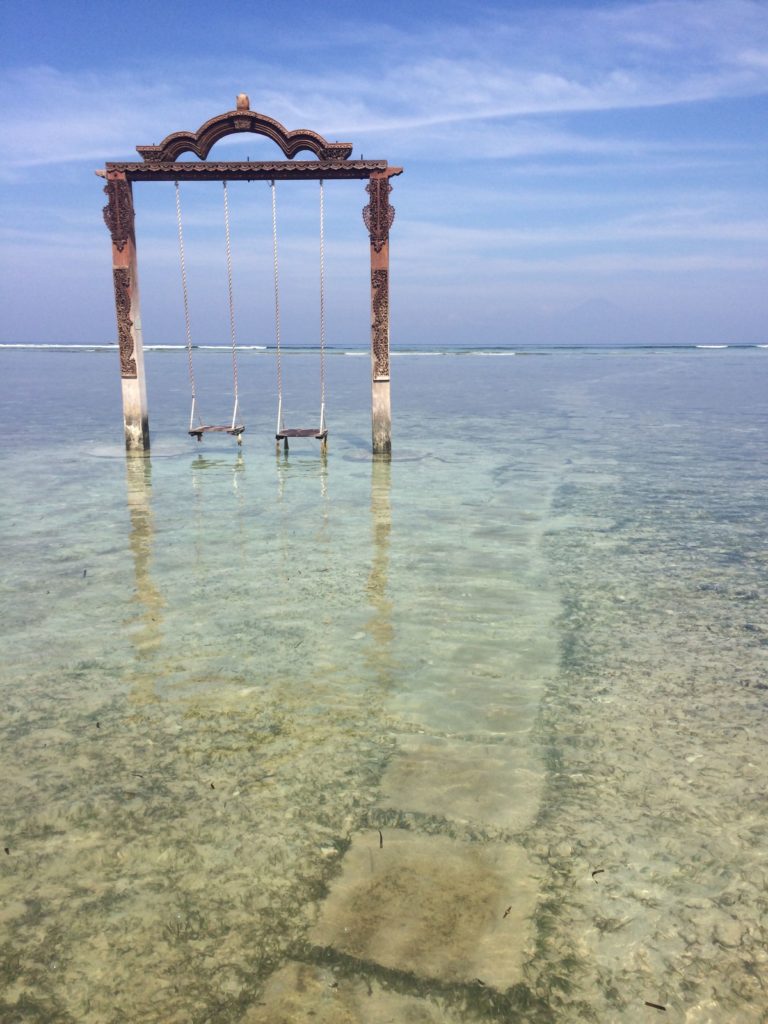 Bike around Gili Trawangan
Gili Trawangan, or Gili T as it's known to most tourists, is an island a bit away from Bali. It's roughly an hour and a half to two hour boat ride depending on weather but I would say it's well worth it. The little island has no motorized vehicles whatsoever, especially because everything along the main strip is so close. If you're looking for secluded huts with amazing views of the beaches and the ability to party when you please, Gili T is definitely where you want to go. There are plenty of places to rent bikes from on the island and the prices are really cheap. We rented ours for the full day not knowing what adventures we would get up to. Turns out you can bike around the entire island in two hours. Obviously what you're not told is that once you reach the other side of the island there are no roads only sand so make sure you're ready for a workout. During the bike ride though you will come across the infamous swing in the ocean. Seriously the most amazing thing I've ever seen and the backdrop to the BEST pictures. We stayed there for so long taking picture after picture because we just couldn't believe how amazing the view was. Definitely well worth it.
Visit the ancient temples
Last and most certainly not least, the island of Bali has a long standing history. I'm very much a fan of the Buddist religion and because the inhabitants of Bali are Hindu-Buddists you will find a number of Buddist temples dating back hundreds and hundreds of years on the island. The hotel we stayed at helped us to book our own private car and we spent a day touring around the outskirts of Bali visiting some of these temples. As a note for women, you will want to either wear clothes that cover your knees or buy a sari because you cannot enter the temples with your knees showing. Shoulders and heads are okay though. Gagung Kawi was one of the most memorable spots we visited. You'll find it hard to believe that the ruins were built so long ago and were able to maintain themselves for so many years.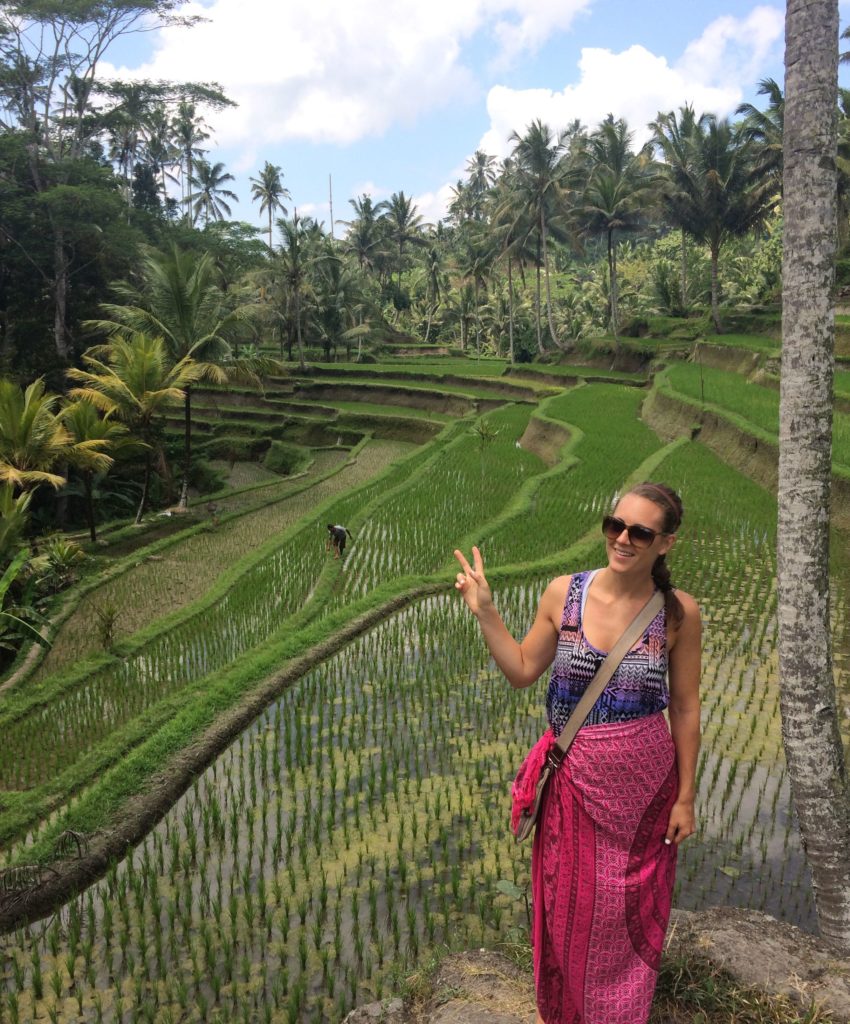 While there are so many other amazing things to do in Bali, Indonesia these were definitely my favourites. Have you visited Bali? What were your favourite things to do in Bali?
Additional Notes
Accommodation
Airbnb is a great resource when travelling to Bali, there are so many unique and beautiful places you can stay at you've just got to look! For tips about booking Airbnb check out my post here.
Booking.com is another great resource if you're looking to book a hotel instead of an apartment. Most of our stays were booked through Booking.com and I couldn't have been more pleased.
Bali Travel Books
---